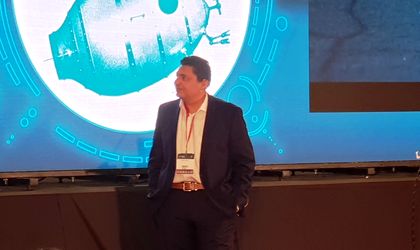 5G technology is coming, with an expected commercial release for 2020. This will change everything – and by "everything" we mean that even the phones based on 3G connections, still in use in rural areas, will be gone. Of course, those who want to keep up with the new technology will need new devices in order to connect to 5G.
Sameh Yamany, chief technology officer at Viavi Solutions, a company that works on every part of the 5G technology, talked about the 5G Network Revolution at IMWorld 2018, an event by Universum Events. The next step in communication is only 2 years away and it's already been tested in many countries around the world, including in Romania. Orange and Vodafone are working on the "beam technology", with Orange being very committed to set it up as soon as possible. Around Europe, Deutsche Telekom is also working on 5G and that means that Telekom Romania will be able to adopt it as a ready-made solution later on.
"If we look in the past we can see a road from 1G, in the 1980s, to 4G coming 4 decades later", says Yamany, showing that the big steps were made every ten years, but with some middle grounds like 2.5G and 3.5G. And we also have 4.5G or 4G+ pushing up the 4G technology, meaning that we are ready for the next step.
"5G technology will be the last in this series. The advance in so high and it will change so much that I don't think there's a 6G down the road", says Yamany, and explains that we can already see this. "Back on the 2000s, when 3,5G was launched, we were already talking about 4G. The same for when we launched 4G – we were already waiting for 5G. But now nobody is talking about a next step, about 6G", says Yamany.
The history of mobile technology
In the 1980s the signal over mobile had a speed of 2.4 Kbps, the 1G technology, capable only of voice and not at a good quality. In the 1990s 2G appeared, with a speed of 64 Kbps, carrying voice, SMS and some digital signals. That was the moment when the mobile phone industry took off.
A few years later came 2.5G, the GPRS or EDGE technology, able of 114 Kbps and some email plus web browsing on top of the voice and SMS services. It is the technology that can still be found in many parts of the world, including in some parts of Romania, it is cheap to use and has a good coverage. And apparently it is also good enough for some IoT devices to log on and send/receive signals, so it will stay on place. Of course, it will still cover voice.
3G came a decade after 2G, with UMTS and EVO technology, going up to speeds of 2 Mbps, covering large emails and MP3 downloads. It was the time for Symantec operating system and the "almost" smart-phones. But the smartphone industry really took off after the launch of 3.5G, the HSPA+ that would go up to 10 Mbps. That's when iPhone and Android phones took over the world.
Closer to today, 4G technology came in the 2010s with speeds of over 110 Mbps going up to 1 Gbps. It is the world we have today, including 4.5G or 4G+ and we have all the speed we need.
With no surprise, 5G will be a commercial service in 2020, around a decade after the previous launch.
"5G will be the first technology that will not focus on communication but on connecting every device. It will be the first Massive Machine Type Communication," says Yamany.
On top of that, there will be enhanced mobile broadband, ultra-reliable and low latency connectivity and, of course, operating managing and monetizing the network will be radically different.
"It will be the age of connectivity. Even automobiles will be aware of their surroundings instead of what is happening inside the car as of today. The cars will be able to receive information from the road, from the network, from the city grid," the Viavi director explains.
No autonomous cars, but flying cars?
It is interesting that Sameh Yamany does not see autonomous driving in the foreseeable future.
"I don't think that we will have autonomous cars in the next 50 years. We will have assisted driving, yes, but it will still be required that a person keeps the hands on the wheel. It is not a technical problem but an ethical one. It is the same as it is with robot-surgeons; even if they make virtually no mistake, you don't really want to put your life in their hands. What will happen when a driverless car will have to choose between hitting a group of five people and a child? A machine would not choose the protect the child instead of the adults. Can we deal with that? Certainly not now", says Yamany.
This will not keep computers out of cars. Just the way airplanes are controlled today, meaning that the pilot would never be able to make all the calculations that machine is making for him, it will be the same with cars. "And let's not forget that when landing an airplane it is required by law to have a pilot flying the plane. It cannot be let in the hands of the auto-pilot", says Yamany.
"We will most likely see flying cars in the next few decades; it is a technology not far from becoming real", says Viavi representant.
Whatever we will see, it is clear that we don't have a long time to wait. In two years from now we will be looking for smartphones able to connect to 5G and we will try to stop our electric appliances from connecting to the internet on their own. We are living through the Digital Revolution.