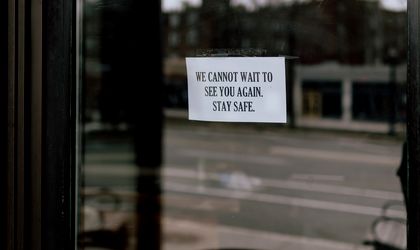 On March 16th Romanian government officials announced that HORECA businesses would be closed in order to stop the spread of the coronavirus. As a result, some the restaurants have moved their businesses online – either through takeaway platforms or by delivering food themselves. BR talked to several key figures from the HORECA industry to find out what's next for them.
Social distancing in the restaurant business: Ionut Ivan (Red Angus Steakhouse)
What's your biggest concern at this point as a restaurant owner?
There are several things we are focusing on right now:
Making the business work with limited resources and delivering the same level of quality to which our guests are used.  
Ensuring that our colleagues that are still working in the restaurant are safe and that they have everything from disinfectants to protecting robes, masks and gloves. Communicating transparently with those who are at home, in technical unemployment. 
Raising funds for our "Together, against COVID-19" campaign, where we deliver daily menus to the healthcare professionals that are fighting in the frontline against the coronavirus. We currently have over 8,400 booked menus and we are continuing our efforts targeting corporate partners and end consumers. Each lunch costs RON17 and may be paid online, on the Lokofood app or by contacting our representatives. 
Preparing for when our restaurant will be open again and preparing for the new consumption patterns that we are anticipating. 
Launching the Red Angus Steakhouse delivery system, with our own staff. Starting May, our customers will be able to order online and have food delivered at their door, in the best conditions. 
What is going to be the greatest challenge after the social distancing restrictions will pass and you can reopen again for the public?
We anticipate that consumption will restart slowly and that we shall not be able to have all our team with us from the beginning, so we have to find the best way to phase things in a way which keeps our colleagues' jobs protected. 
I anticipate consumers will be cautious in the first weeks, maybe months, both with going out and with spending money, so we have to prepare for that. We are already working on adjusting the menu and on developing our delivery systems. 
How do you find the Gov's measurements regarding your business?
Employees are the most valuable resource a restaurant has, so technical unemployment helped, as it offered some sort of support to businesses and staff members, in these complicated times. 
The urgency certificate could lead to the freezing of the rents, for the period in which the state evoked the emergency state. Still, each partnership is different, and I think that measures depend more on the relationship between tenants and landlords. For some, rent is their only income source, so venue operators need to consider this when choosing whether to not pay rent or find a compromise solution. 
Another thing that should be taken into account is that operators will need further support even after the state of emergency ends, to help them with their indirect costs, including those associated with labour. A high percentage of brands will be depending on how the State manages and encourages the economical restart. 
In your opinion, how the restaurants' scene is going to change after this pandemic?
We are all going through an imposed transformation, centered around delivery and developing new capabilities. Our team members must now learn how to work with several systems and apps. We are becoming more digitized. 
The new restaurant landscape, I say, will be more competitive and stakeholders will judge more harshly brands' involvement in the community. Businesses will have to show consumers they not only deliver good food, but that they support the general ecosystem, that they share their values and principles. Service will also be an important part of the restaurant experience and the connection between guest and server will impact the way in which businesses are received and their levels of success and loyalty. 
For us, having our own delivery system is an extremely important step that will bring added value in the medium and long run. Being able to control the process, from cooking, to transportation the customer's door enables us to offer a Red Angus Steakhouse experience that is even closer to the one in the actual venue.