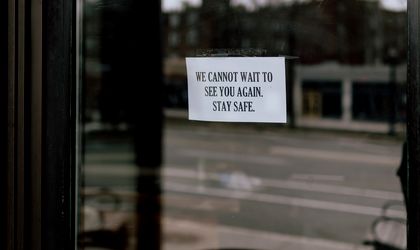 On March 16th Romanian government officials announced that HORECA businesses would be closed in order to stop the spread of the coronavirus. As a result, some the restaurants have moved their businesses online – either through takeaway platforms or by delivering food themselves. BR talked to several key figures from the HORECA industry to find out what's next for them.
The current situation
Although President Klaus Iohannis approved that authorities would lift the emergency measures on May 15, there is still no clear way forward for restaurant owners. Citizens will have to wear masks indoors, so opening restaurants is still out of discussion. According to the Labour Ministry, 1,035,585 employment contracts have been suspended since March 16, of which 112,714 were from HORECA businesses, both restaurants and hotels. While the prime minister has announced that hotels could open back up after May 15, there has been no news of when restaurants could reopen for the public. 
However, it seems that everyone is ordering food online. For example, Romanian Revolut users of spent over EUR 12 million on food since the beginning of the quarantine period, with the number of transactions 43 percent higher than the previous month and a 54 percent increase in value, according to Revolut, the global financial platform with over 1 million users in Romania, with numbers published in mid-April for the March 14-April 14 period. 
Moreover, the same source reveals that restaurant spending has dropped significantly while home delivery services have seen unprecedented growth. Revolut data shows that bars, restaurants, and fast food chains recorded the largest drops in the number of transactions made on their premises, with Starbucks (-94 percent), KFC (-90 percent) and McDonald's (-75 percent) among the most severely affected. Although in restaurants the number of transactions has decreased by 88 percent, online takeaway platforms are on the rise. On average, the number of transactions has increased by 60 percent, while their value is up by 90 percent. Since Romanians can no longer go to restaurants, they order in using apps to enjoy their favourite dishes at home. While the number of orders through Glovo and Uber Eats has increased by about 50 percent, eucemananc.ro recorded the largest increase, with the number of orders almost doubling in the last month compared to the previous period (the number of transactions increased by 104 percent, and their value went up by 193 percent). However, UberEats announced that it is going to close the business in Romania starting June 3.
Trending initiatives
Since the beginning of the coronavirus outbreak, a number of restaurants have been providing food for medical workers – Kane with the help of Mastercard and Kaufland, celebrity chef Adi Hadean's project "Social solidarity/Solidar Social", Kaiamo offering food for SMURD staff and local police, to name a few. 
Several lists of local food producers can be found online, as well as information about how to reach or support them. One initiative with a global overview that includes the crisis in Romania was started by Ioana Negulescu, the founder of Food on our tables. "This is a project that aims to bring people from the food and beverage industry together, and enable them to share ideas, come up with new ones, and start a global conversation that could have a local effect. So far, we have had a series of workshops and roundtables – online, of course – with business owners from Romania, Austria, the Netherlands, and the US (more countries will be added very soon). We have also discussed the most pressing challenges the industry is facing at the moment and will face once this is over. Then, we started tackling these challenges one at a time, which we will continue to do over the next few weeks. All our conversations are recorded and summarised on foodonourtables.com, because transparency and the ability for these ideas to reach further into the industry are at the core of the initiative."
Helping hands are also coming from ialoc.ro, the app that connects restaurant-goers and restaurants. Since the beginning of the crisis, they have transformed their platform, offering paid-in-advance vouchers to the public in order to support local restaurants. "More than 130 businesses are listed on CardCadou at the moment, of which 49 are restaurants and 44 are coffee shops. One month after launch, over 2,300 cards have been sold with an average value of EUR 10," says Cosmin Magureanu, the CEO of IaLoc.ro.
A specialist's view
Most HORECA business owners are probably asking themselves what there is to be done. Some advice is provided by Dragos Panait, founder of Next Root Management Systems. "First of all, they must make sure their businesses survive the crisis and this very much depends on what they do now, on whether they have identified new sources of income, how they handle costs, staff relations and commercial terms with landlords, suppliers, etc. Secondly, it's about preparing for the economic restart that could happen in May. (…) The industry has to prepare for consumers that will be more reluctant about spending money and will definitely expect more value for every RON they pay. We also have to anticipate working with half empty rooms because of social distancing and create business models that function even with limited resources and generate smaller costs. Optimisation will be a priority for owners and operators," the consultant explains. 
The businesses
Asked for comment regarding the government's help for his business, Ionut Ivan, co-owner of Red Angus Steakhouse, explains that "Employees are the most valuable resource a restaurant has, so technical unemployment has helped, as it offered some support to businesses and staff members, in these complicated times. The urgency certificate could lead to a rent freeze, for the state of emergency period. Still, each partnership is different, and I think that measures depend more on the relationships between tenants and landlords."
Chef Alexandru Dumitru, Gault & Millau's Chef of the Year 2019 and also co-owner of the recently opened Anika Restaurant, says that this situation should teach businesses "to be much more proactive and eliminate food waste – to make the most of every little ingredient we get our hands on.  Shorter menus, seasonal ingredients are a must; a lot of vegetables and preserved foods should be used," also adding that "the greatest challenge will be simply surviving on the restaurant market," due to the fact that it will be a long time before we will see dining rooms full of guests.
Back in business
Slow recovery: this is the most common answer BR got from all the people we talked to. "I expect about 30 percent of restaurants not to reopen after the crisis, but I am also positive that new ones will appear. As for turnover, operators are making 80-90 percent less than usual, because of this freeze in activity," adds Dragos Panait. 
Furthermore, "The new restaurant landscape will be more competitive, and stakeholders will more harshly judge brands' involvement in the community. Businesses will have to show consumers that they do not only deliver good food, but that they also support the general ecosystem, that they share their values and principles. Service will also be an important part of the restaurant experience and the connection between guest and server will impact the way businesses are perceived and their levels of success and loyalty," says Ionut Ivan from Red Angus Steakhouse. 
This article was first published in Business Review May 2020 edition.