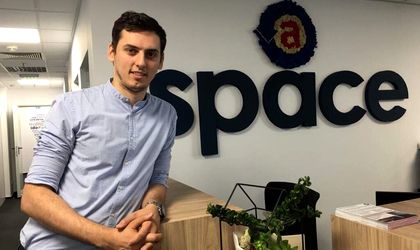 Business Review has launched a new campaign called #makeithappen. Every day, for a month, we will present 30 inspirational entrepreneurial stories of Romanians who turned passion, hobbies and knowledge into successful businesses. We will present the stories of entrepreneurial initiatives of  all sizes in all economical fields, underlining the diversity and creativity of the local business environment. By starting this campaign, Business Review is strengthening its commitment to be the go-to source for inspiring stories of Romanian entrepreneurship. Our second #makeithappen business story is aSpace, a co-working office in Bucharest's Baneasa area, founded by Bogdan Mariniuc, a business graduate who left a Big 4 company to be his own boss. His approach to failure, his perseverance and his love for entrepreneurship (him being at his third attempt) is what inspired us to tell his story.
People all over the world, including Romanians, are starting to seek more flexibility and comfort in their working lives, so it's no wonder that co-working spaces have been popping up all over Bucharest. For entrepreneurs, co-working offices are a solution for finding a space to work along with their teams where they don't have to worry about managing their own offices, while for freelancers it's a way to be more productive than trying to work from home or random coffee shops. And where there is need, there is opportunity, business opportunity.
Bogdan Mariniuc (pictured right), a 29-year-old graduate of the Griffiths School of Management in Oradea, worked in multinational companies for 7 years as an Audit and Investment Manager. He dreamed of becoming his own boss from his first day at work, but felt he needed to wait for the right moment. Two years later he found a partner, a web developer, and together they started a company that 
developed and designed websites. His job was to find the clients. Because he still kept his job ant Ernst&Young, his involvement in the business was not enough, and soon things started to go south. "I was 100% depending on my partner. I didn't know the field very well and didn't speak the technical language," he explained. He gave up the business two years later, and had a second attempt, this time in Cluj, in a totally different field: fashion. Him and his new partner started printing T-shirts for kids and adults and sold them online. Two years later got out of the business and donated it to a NGO in Botosani who now sells T-shirts to finance its activity. "My partner decided to go a different way and I realized I couldn't keep the business on my own. I still had a job in Bucharest and everything was done in Cluj", he said. 
"I would tell any future entrepreneur that they need to put in a lot of work, have clear moral principles and always watch the cashflow." Bogdan Mariniuc, founder of aSpace (photo)
After these two failures, he started analyzing what he did wrong and how to succeed. He realized that, as an entrepreneur, he based most of his responsibility on others and he had no control over the business. He realized that real estate is an area where he has connections and knowledge. This time he received financing from the state, through Start-Up Nation, and aSpace became a dream come true.
In the next part of our story you can read a inspirational interview with Bogdan Mariniuc on what he's done so far at aSpace and his plans for the future.
How did you decide to open a co-working space? Where did you get the inspiration and how many people were involved at the beginning?
I started to study the concept of co-working promoted on the western markets about three years ago. Considering the fact that Romanians' tastes and preferences are sometimes different from those of people in western countries, I tried to find the version that would be best suited for our market, but also for people who come from abroad, meaning I was looking for a balance between private and common space.
At the same time, I analyzed the existing co-working spaces in Bucharest in terms of location, the characteristics of the hub's members (lifestyles, work styles), costs and services offered. There were two people actively involved in the project, but I think there were about 20 people who contributed to the co-working space in one way or another.
When did you open the space and why did you choose the Baneasa area?
The space was opened this spring. The location is great, but it gets little appreciation from those who don't work or live in the area.
"We managed to rent out 9 out of our 21 private offices in as little as two months, so I would say that the demand is quite high."
We mainly target entrepreneurs and freelancers who live in the north of Bucharest, in Ilfov county or in Ploiesti, as well as those who travel by plane, and the Baneasa area is ideal to avoid the morning and evening traffic. Otopeni Airport is 10 minutes away by car, Herastrau Park and Baneasa Lake are in walking distance, we have a restaurant and cafe at the ground floor, parking spaces, a gym near the building, as well as kindergartens, private hospitals and many more.
How is aSpace different from other co-working spaces?
aSpace is one of the largest co-working and served office spaces in the country, at over 1,300 sqm, which allows us to offer our members three main types of services/products:
Private offices – individual offices that can accommodate 2-15 people (from 10 sqm to 60 sqm)
Hot-desk area – ideal for freelancers or debuting entrepreneurs, in a 120 sqm open space where there are over 40 free offices that can be used by anyone who has access to the area
Event/Meeting rooms – four meeting rooms for 10-30 people plus an events hall that can fit up to 80 people.
Besides all these, there is a lounge area with play station, pool table and TV, where members can take a break and disconnect from their work. Any member (private office or hot-desk) pays a monthly fee that covers all the costs: rent, maintenance, utilities, cleaning, furniture, Wi-Fi, reception services, access to the lounge area, etc. One special feature of aSpace is that our members have diverse occupations that are sometimes complementary, so synergies and opportunities can appear between them. Among our members are accountants, lawyers, web designers, software developers, real estate brokers or property administrators.
Is there high demand for such spaces in Bucharest?
Considering we managed to rent out 9 out of our 21 private offices in as little as two months, I would say that the demand is quite high.
Who are your clients?
Most of our clients are Romanian entrepreneurs aged 35-45, with a background in multinational companies. They have experience in various fields and that's exactly what we wanted – for our members' backgrounds to be as diverse as possible.
Where did you get the funds to open your business?
We had several financing sources, but the main source was the Start-Up Nation 2017 program.
Have you had other entrepreneurial experiences or education related to this field?
Yes, I graduated from a management school and did a Master's Degree in entrepreneurship, and had a few other companies with lower turnovers before aSpace.
"I was looking for a balance between private and common space."
How many employees do you have?
We have two employees – one takes care of the operational side and the other works more in marketing and sales.
What are your plans for the future? What would you like to improve or change in your business?
We're already looking at other locations, both in Bucharest and in other cities in Romania, and at the same time we're trying to create a strong community in our co-working space in Baneasa.
What advice would you give others who are thinking of opening a business in Romania? Is there anything you would do differently if you had the chance?
I would tell any future entrepreneur that they need to put in a lot of work, have clear moral principles and always watch the cashflow – no matter how good your idea is and how well the business seems to be doing, when you run out of cash things can go wrong faster than you might think.
Read about another entrepreneur in BR's #Makeithappen series: a third-generation barrel maker supplying the best Scottish whisky brands.