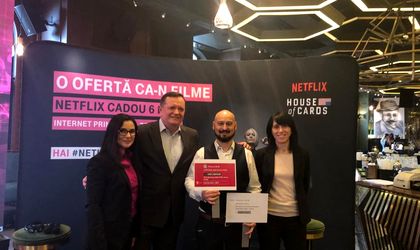 Telekom Romania has renewed its offer to residential customers, meant to simplify the portfolio of services and content diversification in order to improve customer experience. The simplified offer is EUR 5-5-5 for each service and 6 months of free Netflix.   
Mobile subscription with no minimum contract period with Unlimited 4G Net bonus from EUR 5/month;
Samsung smartphones with fixed instalments, zero upfront payment and zero interest and 6 months of free Netflix for mobile subscriptions starting EUR 5/month, available to new integrated (fixed-mobile) customers, as well as to customers who already have fixed services and also acquire a mobile service subscription;
Television and fixed internet services, each at EUR 5/month, plus 6 months of free Netflix, for mobile subscriptions;
Single tariff plan with simplified portfolio for fixed Internet services, at the maximum speed, of up to 1,000 Mbps.
"The new business model is based on customer experience, which over the past years has remodelled the way companies develop their strategy. The new client demands diversified content anywhere, anytime, on multiple screens, and easy to understand commercial offers. Today's customers want to trust the brands they are working with, and Telekom, through its new business strategy, is trying to recalibrate the client-company relationship on the Romanian market," said Andreas Elsner, Chief Commercial Officer, Residential Segment Telekom Romania.