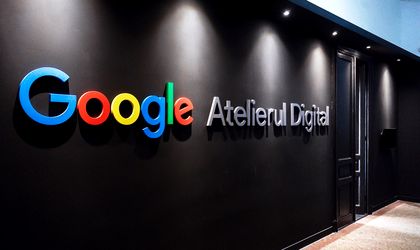 Two years ago, Google launched The Digital Workshop (Atelierul Digital) in order to help people develop their digital skills so they could advance in their careers or find a job. Now, Google is expanding the program to target software developers and will also set up a start-up incubator.

The Digital Workshop for Programmers is launched in collaboration with The University of Bucharest (UB) and universities from Cluj-Napoca and Timisoara. It is a premiere for a humanities-focused university to host and develop such a program, but as Mircea Dumitru, the rector of UB, says, "today's digital technologies are not just about mathematics, but also about humanities."
"We don't know what the labor market will look like in 20 or 30 years, what jobs will be needed or what jobs will be created. We try to keep up with new technologies and the partnership with Google is one of the things that can help us do that," says Dumitru.
According to the data shared by Elisabeta Moraru, Country Business Development manager at Google Romania, 72 percent of Romanians do not have any digital skills. "So far we have reached 100,000 students and SMEs through the Digital Workshop after offering courses in 55 cities," says Moraru.
Of the total number of people and SMEs, 55,000 took online courses, 30,000 took offline courses and 7,000 SMEs got free consultancy for strategy and online marketing.
"After the success that online marketing had through these classes, we decided to start the workshops for programmers and we will include both programming classes and an incubator for startups. The Google Startup Incubator also addresses the students trying to start a business and the spaces will be open outside regular hours, including during the weekend," says Dan Oros, marketing manager at Google Romania.
The workshops Google set up are with the University of Bucharest, the Technical University of Cluj-Napoca and Politehnica University of Timisoara.
10-week courses
Activity in Google's hubs for programmers has two components. First of all, these spaces will host courses for students. Courses are free and run for 10 weeks. Interested students can opt for Java courses, Android development for beginners or advanced learners.
The three Google hubs for programmers will also act as start-up incubators, providing free co-working space for young people working on developing their own applications and wanting to launch a start-up. Young entrepreneurs benefit from support and individual mentoring sessions in Google hubs to identify start-up growth opportunities, Google expert training sessions, and access to Google Cloud for Startups. The program lasts for 6 months and ends with a Demo Day session where young people present their ideas to a community of investors and technology experts.
The Digital Developer Workshop is part of Grow with Google, a global initiative that aims to create opportunities for everyone by offering free courses, resources and advice. Through the Digital Workshop, launched in 2016 in Romania, Google aims to help people find a job, advance their career, or develop their business by acquiring digital skills.