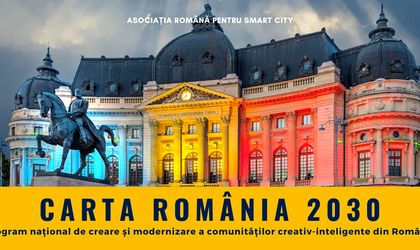 A leader of the Smart City industry in the country, the Romanian Smart City Association will release an important endeavour for the national development of creative-intelligent communities, the Romania 2030 Charter. The initiative shall encourage Romanian policy makers, both central and local, to contribute at the progress of the Romanian society by adopting common values and goals. The release will take place on December 11 at the Palace of the Parliament, during the 4th edition of the Smart City Industry Awards Gala, an event which celebrates all those involved in the development of the Smart City sector of Romania.
Ministers, state-secretaries and mayors from all over the country are expected on Wednesday, December 11, to commit to a clear path of development for the next 10 years. The effort is also supported by the academic environment, civil society, the business sector, media outlets and the diplomatic corps in Bucharest.
The aim of the Charter is to facilitate the transformation of our communities in truly smart and sustainable cities, in which all people can benefit from an unfettered access to the best possible services the state can offer, significantly improving their quality of life.
More than 300 persons are expected at the Award Ceremony, including promoters of the Smart City concept, senior officials of the Romanian government, foreign ambassadors, city officials and the industry's company executives. The fourth edition of the Smart City Industry Awards Gala will highlight the efforts and achievements of individuals, institutions and companies involved in the development of this industry. It will feature 10 main categories with 10 special awards. SCIA 2019 will be hosted by Digi 24's Ligia Munteanu, the anchor of "Jurnal Economic" and "2.0 Gadget."
Business Review, media partner to the event, congratulates everyone involved in the Smart City Industry Awards Gala and the release of the Romania 2030 Charter. We fully support the endeavor of #buildingSMARTcommunities and rising cities for a smart future.