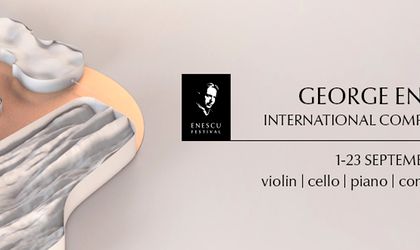 Each fall comes with the magic of George Enescu, so this year don't book anything between September 1-23. For this year, the George Enescu International Competition 2018's programme includes a series of extraordinary recitals and unique concerts. The competition opens on  September 1, at the Romanian Athenaeum, with a gala concert given by the winners of the 2014 edition: Stefan Tarara (violin), Eun-Sun Hong (cello) and Josu de Solaun (piano), along with the "George Enescu" Philharmonic Orchestra, conducted by Gabriel Bebeselea.
Read also: Musicians in the making
Renowned international musicians and members of the jury will also perform a series of extraordinary recitals: British cellist Raphael Wallfish and pianist John York (September 5), Italian violinist Salvatore Accardo and pianist Laura Manzini (September 14) and Swedish pianist Peter Jablonski (September 22). They will be accompanied by the laureates of the 2016 Enescu Competition: American cellist Zlatomir Fung (September 8), Kazakh violinist Erzhan Kulibaev (September 16) and Bulgarian pianist Victoria Vassilenko (September 20).
All rounds of the George Enescu Competition 2018 – Round I, Round II and Round III – and the Semi-Finals of the three competition sections (Cello, Violin and Piano) are open to the public, as well as the Galas with Orchestra, with the participation of the "George Enescu" Philharmonic Orchestra – the Cello Final, 11th September, conducted by Paul Watkins, the Violin Final, 17th September, conducted by Christoph Poppen and the Piano Final, scheduled for 23rd September, conducted by Vassily Sinaisky.
Except for the First Round of the Competition – eliminatory – the other rounds, as well as the finals, will take place at the Romanian Athenaeum.
Paying a tribute to George Enescu's music, several of his works will be performed at the 2018 edition, mandatory in the competition – for the Cello Section: Sonata no. 2 in C Major Op. 26 (Semi-Final) and the "Symphonie concertante" Op. 8, in the Final; for the Violin Section: Ménétrier – from "Impressions d'enfance" Suite Op. 28 (Round II) and in the Semi-Final, contestants may choose between Piano and Violin Sonata no. 2 in f minor Op. 6 and Sonata no. 3 in a minor Op. 25. In the Piano Section, young contestants can present one of the following compositions by George Enescu: Suite no. 2 in D major Op. 10, Sonata no. 1 in f-sharp minor Op. 24 or Sonata no. 3 in D major Op. 24.
Starting with the 2014 edition, the George Enescu International Competition has been organised as a stand‑alone event that can be attended by the public. With a remarkable international reputation, the Enescu Competition is a member of the World Federation of International Music Competitions and Alink‑Argerich Foundation – Piano Competition Worldwide. The total value of the awards at this edition is EUR 115,000, complemented by masterclasses held by the members of the jury, as well as special awards.