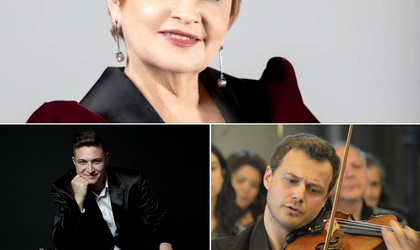 The Festival Square, a captivating series of open-air concerts linked with the George Enescu Festival, will enchant audiences from September 17 to September 24. This musical extravaganza unfolds in the heart of Bucharest at George Enescu Square, an enchanting setting in close proximity to the renowned Athenaeum.
The upcoming performances at the Festival Square 2023 will showcase orchestras, choirs, esteemed conductors, renowned vocalists, and instrumentalists hailing from both Romania and the Republic of Moldova. Among the artists set to grace the stage are pianist Madalina Pasol, violinist Alexandru Tomescu, who will be joined by pianist Sinziana Mircea and cellist Stefan Cazacu. Additionally, flutist Matei Ioachimescu will enchant the audience alongside the PERCUSSIONescu Trio. Last but not least, Zoli Toth will be the soloist in the closing concert of the Camerata Regala Orchestra, conducted by Constantin Grigore.
The Festival Square 2023 kicks off this Sunday with a performance by the Dinu Lipatti State Philharmonic Orchestra from Satu Mare, featuring cellist Constantin Borodin under the baton of conductor Azis Sadikovic.
The festival's concerts continue on September 18 with a chamber music recital featuring Rafael Butaru, Mircea Lazar, Madalina Fara, and Cristiana Mihart. Violinist Alexandru Tomescu will then take the stage in the "WIND WATER EARTH" concert, accompanied by Sinziana Mircea and Stefan Cazacu.
On September 19, scholarship holders of the Margareta of Romania Royal Foundation will perform, followed by a piano recital by Madalina Pasol, which will include compositions by Frederic Chopin, Sergei Rachmaninov, and Franz Liszt.
Matei Ioachimescu, an internationally renowned flutist known for his creative interpretations and audience engagement, will grace the Festival Square alongside the exceptional chamber group PERCUSSIONescu.
The BRD Evening, "From Renaissance Music to Classical and Electronic Music," and a concert by the Chamber Choir "Preludiu – Voicu Enachescu" are scheduled for September 20. The evening will also feature the AEDEA Trio and a musical journey from Bach to contemporary electronic music, presented by Paul Ilea in the concert "Sync The Classics."
On September 21, the audience will be treated to a diverse musical program performed by artists from the Serghei Lunchevici National Philharmonic of the Republic of Moldova. This performance will highlight compositions by famous composers such as Astor Piazzolla, Fantezia Carmen, Frederick Loewe, and George Gershwin.
September 22 will witness a unique ensemble in the Romanian music scene, the Big Band Radio Romania, conducted by Simona Strungaru. The penultimate evening at the Festival Square, on September 23, is dedicated to a concert featuring artist Miruna Ionescu, accompanied by the Ion Dumitrescu Philharmonic Orchestra from Ramnicu Valcea, under the baton of Tiberiu Oprea.
Finally, on the closing night, Sunday, September 24, the Romanian artist Zoli Toth will perform alongside the Camerata Regala Orchestra, conducted by Constantin Grigore, promising to create a truly magical atmosphere.
The Festival Square is a part of the George Enescu International Festival project, considered the third most important music event globally, following the BBC Proms and the Lucerne Festival.