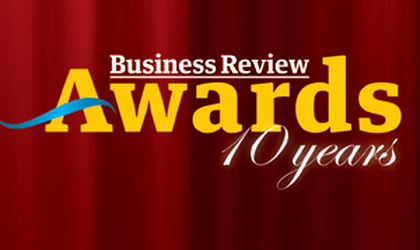 From greening their business to training the next generation of entrepreneurs, from funding SMEs to bringing an ailing company back from the brink, some players on the local market defied the tough trading conditions to shine in 2014. This year's Business Review Awards celebrate these high achievers. Who are they, and what did they do?
Anda Sebesi
SUSTAINABLE BUSINESS PRACTICES
JUDGING CRITERIA
Incorporation of sustainable business practices: environmentally friendly products or services; proven social impact of the business (community impact); developing long-term programs or projects for the local communities (long-term commitment to the local community); program's practices meet a real need of the community; implementation of an innovative system in the production and distribution process that reduces the use of water, waste or carbon footprint; adoption of a solution for the efficient energy management.
Unilever South Central Europe for Zero Waste to Landfill Unilever Program
The company identified the green solution of converting obsolete products that cannot be sold (as they are expired or deteriorated) into biomass. The biomass is converted into biogas and then into green energy. Last year the company announced the successful implementation of the Zero Waste to Landfill program from its factories in Ploiesti. The program is part of the company's strategy that puts sustainability at the core of its business and incorporates it in its brands value proposition.
Skanska Property Romania for Green Court Bucharest
The three-building development includes Building A, which was completed in autumn 2014, and Building B and Building C, which are scheduled for completion in 2015 and 2016. Green Court Bucharest's Building A and Building B are pre-certified to LEED Gold certification (Core & Shell). LEED is a voluntary US Green Building Council certification process intended to encourage the construction of green buildings. Some 33 percent financial savings due to energy efficiency, 40 percent less energy use than the Romanian energy code, 95 percent construction waste diverted from landfill, 50 percent less potable water use than a conventional Romanian office building, good safety practice during construction and healthy indoor environments are some of the project's sustainability highlights.
Raiffeisen Bank for Romanian Clean Business Coalition
The project is a result of a strong partnership between a multinational company and civil society (Romanian Business Leaders). Expected outcomes are: effective implementation of the non-financial new reporting framework at national level, increasing transparency within the business community, increasing the number of companies reporting non-financial issues; extended application of the provisions of non-financial reporting to state-owned companies, public-private partnerships and the consequent increasing of their transparency and integrity by the means of the EU new regulation; ensuring an optimum environment for the transfer of good practices from the private/business sector to national investments and state-owned companies.
Brain Institute for its non-profit endeavour
Brain Institute is a neurosurgery center inside the Monza Hospital which functions as a not for profit organization. It was set up as a surgery center but it is now developing into a neuroscience center that will be capable of treating all neurological affections. Its target is to treat 1,000 patients a year from 2017. Out of these, 20-25 percent should be social cases. In 2014 the Brain institute performed 450 interventions out of which 50 were social cases – free or based on consumables only. About EUR 60,000 was spent on development and EUR 30,000 went into the foundation.
Danone for the A Chance for All project
The project addresses the reduced capacity of Romanian small farmers to meet EU quality standards to produce milk and the need to build sustainable economic development models for the small and disadvantaged communities they are part of. It started in 2012 and is based on a partnership between Danone Romania, the association Heifer Romania and the international investment fund Danone Ecosystem. It focuses on three disadvantaged communities for a period of three years and consists of giving cows to families who lack the means to invest in purchasing a purebred animal under the condition that the first born cow is donated to another member of the community. Beneficiaries also receive milking equipment and training. The pilot project was implemented in three communities for three years, and over EUR 2 million was invested.
Schneider Electric for Solar Decathlon&Energy University
Schneider Electric Romania has supported the Romanian student team that participated in Solar Decathlon Europe in 2014, an international competition that challenges students to build sustainable hou­er distribution and automation equipment and solutions, an electric vehicle charging station), as well as technical support and training from the company's experts. Schneider Electric has also supported the members of the team by offering them the chance to become professional energy managers, after graduating for free from a special program on the company's Energy University platform.
ONLINE STRATEGY FOR BUSINESS DEVELOPMENT
JUDGING CRITERIA
The response generated by the project in terms of revenue, public awareness; investment in the online strategy, platform; innovative character of the online project in reference to the local market and the respective industry; potential for growth in the future in order to become a target for investors, venture capitalists or international buyers; retail markets involved (local vs. international ones) – whether the company is reaching/creating a new market through its online presence; asses marketing online, not just selling online.
BCR for BCR Financial Assistant
BCR Financial Assistant is an innovative personal finance manager (PFM), available for PC and mobile devices (iOS and Android apps) that provides financial assistance through an automated 360 degree overview of the financial status to the customers by categorizing more than 90 percent of the transactions. It generates a global perspective of the budget with the possibility of quickly checking all the personal incomes and spending split per transaction category. With the BCR Financial Assistant customers can have an overview how their monthly spending is divided by category or how they have spent their money or set spending targets. All this in a friendly way, with a rich set of user-friendly charts.
Lidl for WineTunes – vinuri care suna bine
WineTunes is an online application that enables consumers to pair their personal music with a complementary wine. The user drags and drops a song or a song link on the app page where it will be analyzed and paired with the perfect bottle of wine for it. The application scans the music (mp3 file, YouTube link or simply by typing in the name) and pairs it with the correct wine – a high alcohol wine for a metal lover, a high-end wine for classical music or rose for R&B. The company intended to raise awareness for its wine range through this project. The awareness campaign has had over 1.5 million contacts since its launch.
Carrefour for www.Carrefour-Online.ro
Carrefour-Online.ro is the first online hypermarket with more than 20,000 products available at the same process as in the bricks–and-mortar Carrefour hypermarkets. The assortment developed from 7,000 products in 2013 to more than 22,000 in 2014. The website has been improved with new features like a revolutionary shopping list, fast and complex search tool, editable and reusable shopping carts, and social media login. In terms of results in 2014 the business grew by 500 percent year on year.
BRD Asigurari for My MedCare Smartphone Application – Your personal health assistant!
The application has been developed by BRD Asigurari de Viata, in partnership with a dynamic Romanian company, as an innovative additional service to its health insurance offer dedicated services to BRD company customers. It is a free application giving the employees of BRD customers easy and permanent access to numerous added value health services. It provides direct access to a call center for appointments, account statements such as claims and reimbursements, including direct contact to doctors in case of need. The application allows the customer to easily find the immediate geo-location of the closest medical center in case of need.
Also available are alerts for medication and medical appointments. The competitive advantage is that BRD Asigurari de Viata is the only insurer in Romania to provide such tool.
Mega Image for "Supermarket la tine acasa"
"Supermarket la tine acasa" (www.emag.ro/supermarket) is the online shopping platform launched by Mega Image in collaboration with eMAG. The approach was to build a partnership with the e-commerce leader in Romania, in order to combine forces and allow each company to focus on their key strengths: eMAG on ecommerce and infrastructure (IT & logistics) and Mega Image on products and retail aspects. Three key points of differentiation that set the eMAG-Mega Image Supermarket apart from the competition are: home delivery everywhere in Romania; same day delivery in selected areas; pick-up points. In 2014, over 10,000 orders were placed on www.emag.ro/supermarket, with about 65 percent of them coming from outside of Bucharest.
INNOVATION IN TECHNOLOGY
JUDGING CRITERIA
Innovation and research-driven orientation of the strategy implemented; investment made, amount and against other markets where the company is present; HR effort of the company; added value brought to the business environment and/or community.
Avangate for the Avangate Digital Commerce Solution
Released in the fall of 2014, the company's Digital Commerce Solution is designed for the new services economy and provides software and online services companies with over 200 new enhancements to get to market faster across any customer touch point, to move to recurring revenue models easily, and to sell more, globally. The most significant addition was the Revenue Recovery Tools (RRT), which improve conversion and retention for recurring revenues lost due to passive churn and limitations of working with just a limited set of processors. RRT brings together extended credit account updaters, retry logic, gateway failure/intelligent payment routing, as well as bundled advanced third-party tools leveraging direct bank integrations and big data analysis. Typical recovery has averaged 20 percent of lost orders with early adopters recovering over 40 percent of churned revenues.
iRewind for iRewind OnAirCamera
iRewind OnAirCamera automatically captures, edits and delivers personalized video memories. It simplifies the process of capturing, editing and delivering video. The company says it aims to standardize the technology in all major sports, starting with timed sport markets (marathon and cycling races) and slowly expanding into other market such as golf, skiing and tourism. The initial investment is estimated at around EUR 200,000 to EUR 300,000.
Ubervu for the uberVU Social Media Analytics software solution
The uberVU Social Analytics dashboard is consistently rated as one of the top five products of its kind in the world. Its biggest differentiator is that it targets non-analysts inside large enterprises. The uberVU competitors provide more powerful social analytics tools that are targeted at data scientists and business analysts and they are complex to use and very slow. The benefits to the business environment relate to the fact that uberVU is one of the first Romanian technology companies to address a new, global market category that it also helped shape. It is a great example that Romanian entrepreneurs can go after new categories, not just try to compete in existing ones.
Softronics for building the first electric train in Romania – Hyperion
Hyperion is the first electric low-floor train ever built in Romania, aiming to reduce costs and increase efficiency. Comfort and safety are key aspects of the four-wagon train offering open-space compartments, free internet access, diffused lighting systems and comfortable seats. Internal and external monitoring systems ensure passenger safety, providing direct views and recordings to the driver's cabin.The train was running on maximal parameters on the Craiova – Bucharest – Constanta route, 160 km/h, during the summer and is now running on the Craiova – Bucharest – Brasov route. It was manufactured using the latest technologies and was assimilated according to the European norms TSI. It was the second train in Europe certified according to ERA Brussells. The investment was over EUR 5 million.
BEST START-UP SUPPORTERS
To what extent does the project/service support the activity of start-ups. The added value for the entrepreneur; number of start-ups/individuals supported; resources and strategy; employed to support start-up; activity (infrastructure; consultancy services); ease of access to the solution/service/product for start-ups.
Banca Transilvania for First Year Free Account
For up to 12 months following their establishment, companies which become Banca Transilvania's customers have the following benefits: zero charges for payments via BT24 and cheque/promissory note, no charges for incoming payments, zero costs for opening and monthly management of accounts and free subscription to BT24 Internet Banking. The objective in launching this product was to attract 20 percent of the companies newly established in 2014. The goal was achieved successfully as the lender attracted 21 percent of them.
Connect Hub for Open Connect
Open Connect is a networking and pitching event, started in a Starbucks in 2012 and with more than 100 editions so far, more than 400 pitches and over 80 mentoring sessions. The community created around Open Connect has now more than 5,000 members from Romania and abroad. The event was replicated and is currently happening (with a lower frequency) in seven other cities: Sibiu, Brasov, Bacau, Galati, Constanta, Cluj and Iasi. Open Connect intends to generate consistent and relevant feedback, in a sustainable form, to young freelancers, entrepreneurs and self-employed. It supports entrepreneurs, offering exposure to relevant feedback and mentors, networking, early validation (or invalidation) of ideas, community building and soft skills building.
Impact Hub for its solutions designed to support start-ups in Bucharest
Impact Hub Bucharest hosts a space with all the tools and trimmings needed to grow and develop innovative ventures for the world. It invites entrepreneurial individuals into a space of meaningful encounters, exchange and inspiration. It helps create scalable business models so that ventures developed at Impact Hub Bucharest become financially sustainable and create real impact. The Hub's community hosts 180-200 members every month, with 500 unique members throughout the year. Going into the third year, 40 percent of its members are in the idea development phase, and 70 percent of them have accelerated and are now startups and running established operations.
Spherik Accelerator for its intensive program for entrepreneurs
Spherik Accelerator is a four-month intensive program that supports aspiring entrepreneurs to bring their start-up to life and generate investment. It provides selected teams with weekly workshops and in-person and remote mentoring from business leaders and entrepreneurs from Romania and tech hubs from around the world. The accelerator model has been brought from Silicon Valley to Romania, while adapting it for local conditions. Spherik Accelerator also acts as an ambassador, bringing interesting people in technology and business from other tech hubs around the world to showcase Cluj and Romania. It has also initiated a "Think Tank" of program leaders from around the community to share their experiences, learning, and challenges as well as share resources.
BEST SME FINANCING PROGRAM
JUDGING CRITERIA
Amount of financial commitment and lending terms; innovative character of the financial product or service; the impact of the product/service within the target (number of customers).
Raiffeisen Bank for Funding Financial Instrument with Risk Sharing element, co-financing and risk sharing rate of 50 percent provided by European Investment Fund (EIF) under the JEREMIE initiative
Following the success of the previous JEREMIE Program implemented by Raiffeisen Bank (launched in April 2011) and having in mind the current market demand for programs facilitating access to loans for SMEs, the bank expressed its interest in entering into a new facility agreement under the JEREMIE initiative. The second program launched with the EIF allowed the bank to support the development of its SME customers, granting them credit facilities at affordable prices and lower collateral requirements. The new limit allocated to Raiffeisen Bank SME customers is EUR 40 million, based on the new agreement signed by the bank in December 2013. Through this program, the targeted objective was approximately 700 loans.
Banca Transilvania for its rapid loans platform
Banca Transilvania offers loans for working capital and for medium-term investment. Their main characteristics consist of fast approval, accessibility (either no material guarantees or partial material guarantees required) and flexibility (financing granted as credit line of medium-term loan). The initial objective was to grant 5,000 loans. The product is different from others on the market due to its specific characteristics.
BEST MICRO FINANCING PROGRAM
JUDGING CRITERIA
Amount of credit offered; diversity of financial products portfolio; types of businesses financed.
Patria Credit for EUR 7 million accessed from EFSE for sustaining the financing of micro enterprises, agricultural businesses and farmers in rural areas
In December 2014, the European Fund for Southeast Europe (EFSE) granted a new loan to Patria Credit wotth of EUR 7 million in the local currency. The main purpose is for Patria to continue to address the financing needs of micro and small enterprises (MSEs) as well as small agricultural businesses and farmers in rural Romania. Another aim is reducing the currency risk for its clients by financing in the local currency (RON), thus is lowering their vulnerability with respect to global macroeconomic fluctuations. From the end of January 2014 to mid December 2014 the lender deployed 320 loans from new EFSE loans for 26 MSEs and 295 agro producers.
The amount credited was about EUR 2.1 million while the credit destination was 26 percent for working capital, 26 percent mixed destination and 48 percent investments.
Good.bee Credit IFN for the innovative character of its loans for agricultural entrepreneurs and farmers.
The main objective of good.bee Credit is to ensure access to quality financial services for small entrepreneurs from rural and small urban areas in help them carry out and extend their activities successfully. It developed two specific methodologies and products which allow access to loans even for applicants with no collateral: group lending methodology – using the moral guarantee of group members as collateral and peer pressure for on-time collection. This is applicable in areas where there is a large interest in getting a loan for running economic activities but there is a lack of hard collateral; design special products for types of customers running agricultural activities and who do not own valuable enough assets to get a loan. These products are available for individual customers, who are not part of the groups mentioned above.
Agricover Credit for "Creditul corelat cu Matif"
"Creditul corelat cu Matif" is a lending product that allows the correlation of the interest rate with the price of the grain on the Matif Commodities Exchange in Paris (a landmark for trade in grain). Farmers may thus receive a loan that guarantees them lower financing costs in the event that grain price falls below the price estimated by farmers for the harvesting of their crops, coupled with the safety and reliability of a the win-win partnership. Agricover Credit has seen rapid growth, becoming in just a few years one of the major players in farmer financing. The total value of lending it granted in 2014 amounted to over RON 800 million and covered 1,550 farmers working around 11 percent of the total cultivated agricultural lands in Romania.
Opportunity Microcredit Romania for supporting small entrepreneurs in Transylvania
The main objective of Opportunity Microcredit Romania for 2014 was to support small entrepreneurs and farmers in Transylvania. In terms of client outreach the objective was to serve more than 1,750 active clients (50.4 percent agribusinesses, 48.2 percent non-agribusinesses, 1.4 percent home improvement). In 2014, by providing financial services (loans for agri and non-agri businesses for investments, working capital or home improvements) Opportunity Microcredit Romania disbursed 778 loans, worth RON 17.9 million. Over the years, Opportunity Microcredit Romania has grown to eight branches serving clients in 18 counties of Transylvania, having 1,751 active customers at the end of 2014.
BEST TURNAROUND PERFORMANCE
JUDGING CRITERIA
Strategy employed to achieve the turnaround; time taken to achieve it; financial and non-financial results of the company before and after.
Cemacon for management innovation in applying turnaround measures
The ceramic brick factory was founded in 1969, in Salaj county and 22 years later was privatized under the name of Cemacon Zalau. As construction market boosted, Cemacon applied for a EUR 26 million credit, with the strategic purpose of investing in a brand new factory, in order to increase production. Along with the economic crisis, the credit payment became a critical issue. So, in 2010, Cemacon was threatened by insolvency. Cemacon became a company no longer fit to survive the market; with credit payments impossible to be sustained by its revenues, production increased 4 times by the opening of the new facility in Recea, undifferentiated products, weak distribution chain, Cemacon was an organization unprepared to face new market conditions.
The salvation came with the turnaround strategy applied starting with 2010. The management was changed and new market approach was mandatory. The next step was the reconfiguration of the distribution network, managed by sales professionals with expertise as Cemacon produced far more than its distribution network could sell in a market strongly affected by economic crisis.
The production was moved entirely to Recea (Salaj county) in the most advanced production facility in South-Eastern Europe. In 2013, Cemacon launched the Evoceramic bricks, a revolutionary range of new products, unique on the market, along with the biggest rebranding campaign in this field.
From 2010 till present, Cemacon has had the best operational results in the market, with double figures increase every year. In 2014, Cemacon had a +31 percent turnover growth, compared to 2013. Moreover, this year, as demand for Evoceramic products boosted, the company decided to reopen Zalau production facility and add 33 percent to the entire volumes produced. It became the only producer in the field that decided to grow its capacity on a saturated market. In 2015, the company will become the second biggest brick producer in Romania.
Telekom for the operational integration and rebranding of former Romtelecom and Cosmote Romania into Telekom Romania
On September 13 last year, Romtelecom (the second biggest telephony, broadband Internet and TV provider) and Cosmote Romania (the third biggest mobile operator) were rebranded under Telekom, a Deutsche Telekom brand. The rebranding involved a EUR 15 million investment, over 2,000 people and 35,000 working hours. It involved a complex operational integration process, meant to capture the fixed-mobile synergies across the value chain. The operational integration and the rebranding of the two operators are part of business strategy, meant to create the number one integrated operator on the Romanian market, with an efficient and focused operating model.
Posta Romana for posting profit in 2014 after five years of losses
Posta Romana posted an operating profit of EUR 22 million (RON 100 million) at the end of 2014 after five years of losses. The company's overall objective for 2014 was "to return from its distressed stage to normal, in terms of profitability, solvency, liquidity and efficiency". To achieve this, in the first half of 2014 the management came up with and implemented a financial, operational and commercial sustainability plan (this included among others measures meant to improve cash flow, maintain monthly operational profit, the devising of a medium-term action plan to raise revenues and decrease costs and the optimization of its retail network) while in the second half it focused on stabilizing the company in monthly profit (this included a strict control of the balance between costs and revenues, strict cash flow management and winning several large contracts).
Softelligence for its reinvention process
The strategy involved in the reinvention process of Softelligence has followed different dimensions: financial, operational and internal processes, sales & product. Regarding the financial area the focus was on strategic investments such as the takeover of the Kazier software solution, which ensured the company a significant share of the Romanian banking and financial services market. The financial results are correlated with the enlargement of the customer portfolio both on the internal and international markets. The company registered 50 percent turnover growth at the end of 2014, a revival of the brand and a repositioning of the company on the market. Moreover, the sustained applied strategy and growth has brought Softelligence a place in Deloitte's top 50 and top 500 technology companies in Europe and EMEA and a distinguished nomination in Ernst & Young's "Entrepreneur of the year" title.
Apulum Alba Iulia for reorganizing the production line and increasing product quality and production capacity
2010 was the first year with profit after six years of losses for Apulum Alba Iulia. From 2010-2014 its turnover increased by 100 percent, due to the new customers that appreciated positive changes in quality, capacity of innovation and production capacity. The internal market is supplied through a network of local distributors covering the entire territory. The company pays great attention to finding new customers from different foreign markets.
Cris-Tim for its turnaround strategy in 2014
Cris-Tim posted an increase in turnover of up to 15 percent last year on 2013. Plus, last year, the company invested over EUR 8 million in upgrading production technology and food safety systems in parallel with increasing efficiency. In 2014 it also developed a range of products without additives and preservatives (with a shelf life of approximately 30-40 days). It also extended certain brands and categories to better cover the Cris-Tim product demand in segments with high growth potential, namely in the range of sliced and raw-dried products.
BEST EMPLOYMENT INITIATIVE
JUDGING CRITERIA
Training programs and retaining HR policies; turnover patterns in the company; HR policies meant to maintain/increase the competitiveness and workforce productivity; net personnel increase vs. the net of the industry (percentage also) and the industry growth and its importance for the Romanian economy.
Bosch for building up more than 600 associates in a greenfield investment of EUR 77 million
In January 2014, the number of associates of Bosch Group in Romania totaled 1,700. At the time when the project started, the company had 152 associates and to achieve the proposed target, it made 698 new hires, representing a 560 percent increase. In Romania, the Bosch Group had total sales of EUR 212 million, representing an 18 percent surge on the previous year. Employees are rewarded following a plan for the implementation of individual performance-related benefits. They also have the opportunity to climb the ladder in the company's structure based on excellence assessment.
Pirelli for reducing its employee turnover
At present, the company has 2,400 employees in Romania. Pirelli also managed to reduce its employee turnover by an average of 2.7 percent during the period 2012-2014. The Pirelli investment in Romania is a greenfield project and the reason behind the recruitment campaign was the increase of investments in the Slatina Tire Factory. The new investment plan launched in 2012 will create more than 500 new additional jobs by 2017. In order to contribute to the development of workforce skills, Pirelli is helping local universities to develop programs designed to meet the skills needs of the automotive sector. In then social area, the company set up a range of projects for the local community in the Oltenia region, in order to contribute to regional development.
Stefanini for increasing its local team
From 840 employees, IT company Stefanini ended 2014 with more than 1,100, marking 30 percent growth in the team on a yearly comparative basis. This strategy is part of the goal to give a boost to the local team making it one of the biggest Stefanini delivery centers worldwide. Overall, last year the company viewed more than 10,000 resumes.
The company also decreased its employee turnover from over 40 percent in 2011 to around 20 percent in 2014, and is running an employee retention program which includes investment in their development (training, mentorship, certifications), motivation, employee recognition programs, client-funded programs and various benefits.
Radisson Blu Hotel for its internship program for students with special needs and hearing and speech impediments
The Radisson Blu Hotel in Bucharest has run this program for four years already for children in need who want to complete their school studies. One of the main objectives of the program is to increase the hiring potential of young employees, especially those with disabilities, in the hospitality market by adapting the internship programs to business needs. The internship trainees who took part in the Radisson Blu training programs gained experience in fields like front office and operational. The future internship trainees were accepted in the recruitment program like any other employees, by going through two interviews. In 2014, Radisson had 82 internships trainees.
ENTREPRENEUR OF THE YEAR
JUDGING CRITERIA
Development of the business over the past two years; unique characteristics of the business; results achieved against investment and the overall industry; the ethics and values exemplified in the business; the added value of his/her business on the market; no business with the state.
Dan Isai, CEO & founder of SaladBox
SaladBox was created from the desire to promote a healthy lifestyle and to offer an alternative to fast food. The objective is to create the first and the biggest healthy food network of restaurants in Romania and Europe. SaladBox has a network of 30 locations in Romania, Hungary and Germany and for the moment is the first and the largest healthy network of restaurants in Romania. As it is a new concept on the market, the company managed to extend in a very short period of time: 30 locations in three years, two abroad and 28 in Romania. The company posted a EUR 500,000 turnover in 2012, while last year it was EUR 8.5 million.
Ionut Patrahau, co-founder of the Brain Institute
The main objective of the Brain Institute was to establish a neurosurgery clinic as a not for profit organization. Later, it grew into a neuroscience institute. The market approach had three pillars: great medical quality at minimum prices; a multidisciplinary approach centered on the patient's problem instead of medical specialties; to expand social access based on the added value generated by the main business. As a business principle, the Brain Institute has put medical leadership in front of any strategy. The institute has performed 450 interventions in 2014 out of which 50 were social cases.
Teodor Blidarus, managing partner strategy & business development at Softelligence
Teodor Blidarus co-founded Softelligence Romania with his brother Adrian Blidarus. The company develops and implements competitive business software solutions that stand alongside giant software producers worldwide for industries such as financial services (banking and non-banking), retail and distribution. Softelligence has distinguished itself on the Romanian market by developing and selling its own software products (intellectual property), such as Softelligence EBS. Also, Softelligence is the first and the most important partner of Microsoft Azure in Romania serving over 1 million end users from the cloud. The company registered 50 percent turnover growth at the end of 2014, a revival of the brand and a repositioning of the company on the market.
Vladimir Oane, Dan Ciotu, Dragos Ilinca, uberVU
The uberVU Social Analytics dashboard is consistently rated as one of the top five products of its kind in the world. Its biggest differentiator is that it targets non analysts inside large enterprises. uberVU competitors provide more powerful social analytics tools that are targeted at data scientists and business analysts and are complex to use and very slow. uberVU's innovative approach, on the other hand, takes advantage of the consumerization of the enterprise and of the fact that more and more non-technical people need to use social analytics to get their job done. From that standpoint, uberVU is the only product of its kind poised to take advantage of this emerging trend: the proliferation of social media throughout departments of enterprise companies.
Andrei Dunca, CTO at LiveRail
Andrei Dunca has been CTO of LiveRail since 2007, when he co-founded the company. LiveRail provides a suite of online video advertising technology products and is a leader in the online video advertising industry. The company was acquired by Facebook, Inc. in 2014. As CTO of LiveRail, Dunca led the global engineering team responsible for building LiveRail's product and technology, and provided leadership and vision for the company during the past eight years. As co-founder and CTO, Dunca was instrumental in successfully closing the acquisition of LiveRail by Facebook.
Ruxandra Hurezeanu for Ivatherm
Ivatherm posted a turnover of RON 7,047,045 and a 10 percent market share in Romania in 2014. The company is ranked fourth among the Romanian dermo-cosmetics producers and is the first and sole Romanian dermo-cosmetic company. Recently it started to extend its activity abroad, being present on markets in Asia, the Moldova Republic and China (online only). Last year it participated in four international fair trades: Shanghai Beauty Expo, Beauty Eurasia (Istanbul), CosmeTokyo and Beyond Beauty Abu-Dhabi. The company is now in discussions to find partners to distribute and promote its products in other foreign countries.
DEALS OF THE YEAR
JUDGING CRITERIA
Value of the transaction; impact within the industry/local business scene and economy as a whole; new elements characteristic to the transaction.
Electrica for its IPO
The Electrica IPO was the biggest in the history of the Romanian capital market. Electrica sold 177,188,744 shares and GRDs (about 51 percent of the total shares after a capital increase) in the IPO which took place between June 16 and June 25, 2014, for approximately EUR 444 million. The impact within the industry was very. Moreover, the IPO also caught the attention of foreign investors and was much discussed in the international arena. Finally, the IPO underlined commitment of the Romanian government to continue structural reforms and the opening of the economy.
Getin Holding for buying VB Leasing Romania and Poland
On 9 September 2014, Getin Holding closed the deal to buy 100 percent in VB Leasing Poland and VB Leasing Romania from VB Leasing International Holding. The transaction was to enhance the holding's position in the leasing sector and to carry on with its expansion in the Romanian market. VB Leasing Poland will strengthen Idea Bank-controlled Idea Leasing, whereas VB leasing Romania will become part of Romanian International Bank Group. Merging the thriving Romanian lease company into the group will reinforce the holding's position in this promising market and will allow for building foundations for a strong capital group concentrated round Romanian International Bank.
UniCredit Tiriac Bank for buying RBS Romania
After successfully acquiring the retail portfolio of RBS Romania in 2013, UniCredit Tiriac Bank also integrated the corporate portfolio from the same bank in 2014. The integration will allow UniCredit Tiriac Bank to consolidate its leading position in the market. The lender posted a EUR 346 million turnover in 2014.
Arbis Capital Partners for Cargus – Urgent Curier deal
Abris Capital Partners, the leading mid-market private equity fund for Central and Eastern Europe, acquired Urgent Curier at the end of May 2014, one of Romania's leading domestic courier companies. The deal comes 20 months after Abris Capital Partners first entered the Romanian courier segment by buying Cargus, one of the country's biggest courier companies, in October 2012. The acquisition was followed by a merger of equals between Cargus and Urgent Courier, creating Urgent Cargus, a partnership that will give the two companies synergies that will allow Romanian customers to benefit from the best products and services of both members of the merger.
uberVU acquisition by Hootsuite Media Inc.
The major objective was integrating both the team and product so the new company could go to market with a joint offering as soon as possible. In terms of product integration, uberVU released an integrated app within three months of the acquisition. It also released the new Boards technology (real-time social media dashboards) within the same time-frame. This acquisition makes Hootsuite the leading integrated social relationship platform in the world, with 11 million users and offerings for both small businesses and enterprises. By filling a huge gap within Hootsuite's offering, uberVU helped increase Hootsuite's market valuation to USD 1 billion. Hootsuite was also able to compete and win several Fortune 50 deals against huge competitors such as Salesforce and Oracle by offering a more user-friendly, better integrated product.
LiveRail
LiveRail provides a suite of online video advertising technology products and is a leader in the online video advertising industry.
The company was acquired by Facebook, Inc. in 2014. As CTO of LiveRail, Andrei Dunca led the global engineering team responsible for building LiveRail's product and technology, and provided leadership and vision for the company during the past eight years. As co-founder and CTO, Dunca was instrumental in successfully closing the acquisition of LiveRail by Facebook.
BUSINESS LEADER OF THE YEAR
JUDGING CRITERIA
Main achievements during a year of tenure (strategy development, achievements, improvements of the company's results, bold targets); to be involved in the community.
Ludwik Sobolewski, CEO of Bucharest Stock Exchange (BVB)
Following Ludwik Sobolewski's vision, for the last year and a half, the BVB has been becoming an interest point on institutional investors' radar. He managed to create a working group, initiated at the end of 2013, of various capital market stakeholders, working together with the aim of eliminating the barriers that are obstacles to the domestic capital market development. The goals of this working group have been further integrated into the strategy of the Financial Supervisory Authority under the STEAM project, and assumed by the capital market force of Coalitia Pentru Dezvoltarea Romaniei. All these decision makers have been working together, since 2014, to push Romania up the ladder to emerging markets status, in indices such as FTSE, S&P Dow Jones and MSCI.
Nicolai Beckers, CEO of Telekom Romania
Nikolai Beckers was appointed CEO for Romtelecom and Cosmote Romania in April 2013. From this position, he coordinated the rebranding and the operational integration of the two operators, Romtelecom and Cosmote Romania. Under his helm the operator implemented a series of measures meant to lay the basis of a sustainable performance such as the development and deployment of a three-year plan; the restart of the investment plan; the implementation of the biggest outsource in the SEE region, the Blue Bird project and the development of a new business philosophy.
Nicolas Maure, CEO of Dacia, MD of Renault Romania
Dacia became the automotive brand offering the youngest vehicle range on the European market with five new passengers models manufactured locally (Logan, Sandero, Sandero Stepway, Logan MCV and Duster) and three new models manufactured in Morocco (Lodgy, Dokker and Dokker Van). The company continued to invest in industrial projects which enabled Dacia to increase production capacities of in the vehicle and mechanical plants (such as Aluminum Foundry, TL gear boxes, mechanical parts, SKDs for new plant in Algeria). Dacia is the leader of Romanian automotive market with a 31.2 percent market share, the largest company in Romania (in terms of turnover) and the main exporter (8 percent of Romania's exports). In October last year it revealed new versions the Lodgy Stepway and Dokker Stepway at the Paris Motorshow while in June in launched the Limited Series Logan 10 years for Romanian market.
Steven van Groningen, CEO at Raiffeisen Bank Romania
Steven van Groningen is an expert on the Central and Eastern Europe banking market and over the past 20 years has held top management positions in subsidiaries of Western European banks in Romania, Hungary and Russia. Over the years van Groningen has become one of the most prominent figures in the Romanian business community. He is universally credited for the successful merger between the former loss-making Banca Agricola and Raiffeisenbank. Under the leadership of van Groningen, the bank that resulted after the merger – Raiffeisen Bank S.A. – soon developed into one of the most successful banks in Romania. For years in a row, Raiffeisen Bank has been one of the most profitable banks in the country.
Xavier Piesvaux, general manager of Mega Image
He has been general manager of the company since 2008. Since then, Mega Image has grown as a profitable business through expansion and the better performance of existing stores, providing a safe and stable place to work for its employees and associates and keep developing a sustainability policy, relevant for the market and the environment. The company focuses on four areas: customers, communities, its associates and sustainability.
EXCELLENCE IN BUSINESS
JUDGING CRITERIA
Business growth over the previous year; sustainable development strategy; top market position; quality HR policies; development of new best-practices in a specific industry; adoption/ implementation of industry best-practices; exceptional business growth compared with peers.
Dacia
Dacia became the automotive brand offering the youngest vehicle range on the European market with five new passengers models manufactured locally (Logan, Sandero, Sandero Stepway, Logan MCV and Duster) and three new models manufactured in Morocco (Lodgy, Dokker and Dokker Van). The company continued to invest in industrial projects which enabled Dacia to increase production capacities of in the vehicle and mechanical plants (such as Aluminum Foundry, TL gear boxes, mechanical parts, SKDs for new plant in Algeria). Dacia is the leader of Romanian automotive market with a 31.2 percent market share, the largest company in Romania (in terms of turnover) and the main exporter (8 percent of Romania's exports). In October last year it revealed new versions the Lodgy Stepway and Dokker Stepway at the Paris Motorshow while in June in launched the Limited Series Logan 10 years for Romanian market.
eMAG
eMAG is currently present in three markets (Romania, Bulgaria, Hungary), with Poland operations opening in 2015 and other markets launching in the period to come. By the end of 2014, eMAG had launched its own dedicated mobile app, currently installed by more 200,000 users. More than one third of total traffic on eMAG.ro comes from mobile devices. The company achieved the fast development of eMAG Marketplace: in December 2013 11 different vendors were integrated on the eMAG platform. Just a year later, by the end of 2014, 234 vendors were integrated. Also, in 2014 eMAG launched four new categories: auto, supermarket, home&deco, and sport. The opening of the software development hubs in Iasi and Craiova, the eMAG IT Research center, but also eMAG Academy, the first online business school in Romania, are just a few examples of operating agilely on an increasingly difficult market to address, especially for technical resources. The company posted a turnover of EUR 295 million last year.
Mega Image
Mega Image continued its accelerated expansion rate in 2014, by opening 118 new stores and achieving a network of 410 stores at the end of the year, which positioned it among the largest retail supermarkets chain, with a leading position. The expansion mainly focused on Bucharest and the surrounding cities, with two brands of stores: Mega Image for proximity and Shop&Go for convenience stores. One of the main achievements in 2014 for Mega Image was launching its first online store, in collaboration with eMAG, under the name "Supermarket la tine acasa", having nationwide coverage. The second large achievement was the acquisition of 19 Angst stores. This takeover is part of Mega Image's development strategy by including stores that are very well positioned in urban areas.