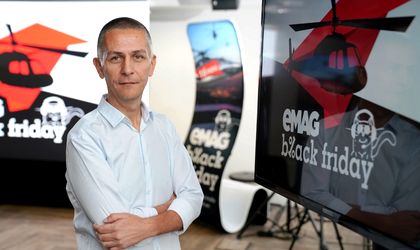 eMag is preparing 3 million products for the Black Friday event on November 16, with a total discount value of RON 220 million, according to CEO Iulian Stanciu. Sales of RON 400 million are expected during the single-day event.
"We have been talking to our suppliers over the last 10 months in order to get the best prices for consumers," said Stanciu, noting that the main partner is Samsung and other important partners are Asus, Arctic, Lenovo.
While last year 85 percent of the products sold had the lowest price of the year, this year the discount will reach over 90 percent of the products.
"eMag is not making any money out of Black Friday, but it is investing a lot of money into it in order to make everything perfect. But we have new clients for online retail, a number that is expected to reach 55,000 this year, clients that are buying online from the first time and afterwards remain our clients for online retail," says Stanciu.
30 percent of online payments done by card 
The retailer expects sales of RON 400 million for the event that represents 10 percent of the sales over the year. The number of products in the offer, 3 million, is 50 percent higher than last year and includes 50,000 tv sets, 76,000 smartphones and 20,000 laptops. "In addition, over 6,000 sellers from Marketplace are placing offers for Black Friday," says Stanciu.
The total investments eMag and its partners made for this event total EUR 100 million this year, including the EUR 65 million invested in the company's new warehouse.
"About EUR 2.5 million were invested in servers and hosting, including cloud hosting, in order to make sure that the site is fully operable during the day," says Stanciu.
The consumption of electronics and household appliances in Romania is only a third from that recorded in the Czech Republic, while the consumption in Germany is six times higher on this segment. This means that there are still many people buying various products for the first time, a thing that can be seen in the rise of the purchases made from the rural area. "We expect 30 percent of sales to come from rural areas," said the CEO of eMag.
On the rise is also the volume of the payments made online by card, reaching 30 percent of the total, the highest in an event over the year. Paying by card makes it easier for both the retailer the couriers, while customers who save the card in their account, placing the order is quicker.
With the help of the bank card, customers can also buy in interest-free monthly installments. The highest number of installments is 60, available for the Raiffeisen bank card and for the eMag branded card, launched in partnership with Raiffeisen Bank. There are also other cards available, with 18 or 12 installments, from other banks.
The product return or refused orders rate reaches about 3 to 4 percent – under 1 percent for standardized products and around 20 percent for fashion or fashion-related products.
Metallica tickets on sale
Among the special products available on sale, Stanciu mentioned tickets for the Metallica concert next year, which is already sold out on other websites.
Other offers this year include:
50,000 TVs;
76,000 smartphones;
20,000 laptops;
21,000 refrigerators;
15,000 washing machines;
165,000 small home appliances;
235,000 fashion products;
100,000 perfumes and cosmetics;
300,000 games and toys;
190,000 tires;
300,000 home and garden products;
30,000 sports articles and equipment.
Special products on offer:
Gold coins of 22K and 24K gold bullion;
Cars and Motorcycles: Honda, Aprilia, Mini, Skoda, Suzuki, BMW, Kawasaki, Piaggio, Ssang Yong, Triumph, Volvo, Ford;
Luxury watches and jewelery: Cellini, Diamanti, Galt, Teilor;
Sports Event Tickets: Formula 1 (Austria, Italy, Hungary), Champions League Finals Madrid 2019;
Event Tickets: Metallica Concert, Concert Andre Rieu, Concert Maroon 5, Electric Castle;
Tourist Packages: 19,000 nights accommodation – summer holidays, winter holidays, cruises and exotic holidays;
Amusement parks: Disneyland, Europa Park, PortAventura;
Telephone subscriptions: Vodafone the Smart Black, the Super Black;
Medical Services: Medical Subscriptions and Dental Subscriptions, Queen Mary, Medicover, Just Smile;
Experienced experiences: Castles and mansions, Escape rooms, Catamarans.