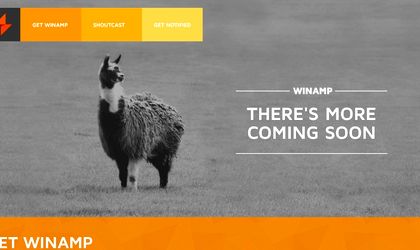 Winamp, which was one of the most famous PC music players 15-20 years ago, will be revamped in 2019 as a mobile app that will allow users to listen to music by playlists, podcasts, streaming radio stations and more, according to TechCrunch.
Winamp was released in 1997 and it was a popular media player famous for being free and for its utilitarian music playback. Acquired by AOL in 2002, it was sold to Radionomy in 2014. The last update was in 2013, at a time when YouTube and other video platforms took over music playback on laptops. Winamp was no longer the first choice when it came to listening to music.
According to Alexandre Saboundjian, the CEO of Radionomy, there will be a completely new version next year "with the legacy of Winamp but a more complete listening experience", as TechCrunch writes. Through the new app, users will be able to listen to the MP3s in their library, but also in the cloud or to podcasts and streaming radio stations.
It is not clear if the app will be able to integrate with other audio platforms like Apple Music or Spotify, but it will be the same app for mobile and for laptops.
Also, it is not clear how popular it will get since the 'fanboys' are not the millennials, but older people, and the main audiences today are the younger generations that don't know much about Winamp.