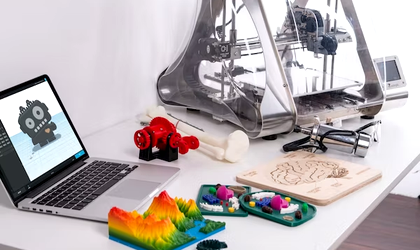 NFTs, which stands for Non-Fungible Tokens, have taken the digital world by storm. The rise of digital tokens has seen incredible financial gains for artists, celebrities, athletes and business people alike. As the world daily becomes more and more digitalized, the world of NFTs will continue to grow. While many may not fully understand how NFTs work, there are those that specialize in the digital art form, with many people investing a lot of money for a rare token. Poker NFTs are particularly sought after, as are famous sporting moments and video game avatars. 
As one digital industry grows, another has seen a steady rise in its popularity, and that's 3D printing. The niche market for printing in 3D is expanding and has even reached the precipice of the popular NFT craze. The question on everyone's mind as these two powerhouses combine forces is when will people be able to 3D print their NFTs?
Current Status of 3D NFT Printing
Non-fungible tokens are unique digital assets that are not interchangeable. Touted as the future of collecting, people can purchase anything, from a famous meme to a tweet, and once purchased, they are given a unique code and become the sole owner of that digital asset.
The current status of 3D printing NFTs is minimal. The short answer to the question we posed in the title of this article is yes, definitely. However, it's not as simple as that. Currently, only two people have created NFTs that can be printed in 3D, which means it's already happening. If it's happening now, you can bet it will be a major trend in the future.
Danit Peleg currently sells designs on Rarible for 3D printed clothes that people can buy and then customize. They can choose their material and the color of it. She is one of the pioneers of 3D NFT printing, and she's seen good success from it. Another pioneer in this space is Ioan Florea, who displays open-source models of NFTs as physical art pieces.
3D NFT printing is an up-and-coming form of art that is gaining steady traction amongst the younger generations. With customization being a fundamental part of 3D printing and a major selling point to prospective inventors, there's no telling just how far it can expand.
What the Future Possibly Holds
While 3D printing has not yet reached its pinnacle of popularity, there's a definite optimism growing that predicts it will be a legit and valuable digital marketing and business-building tool in the years to come. The future possibilities of custom 3D printing in an already popular NFT industry are great.
New avenues of income can be provided, 3D artists can begin to build up their own businesses and profits, and collaboration between various parties and industries could soar. The creative community can see the value of 3D designs, and with the high influx of NFT art forms coming into play, it wouldn't be a surprise to see 3D NFTs being printed regularly for high prices. This is what's happening right now with NFTs, and as the pattern of the world continues to evolve, there's no doubt people will take advantage of the marketability and allure that 3D-printed NFTs offer.
The two pioneers of this art form are only the beginning of what looks to be a very viable economic prospect for the future of the NFT and 3D printing businesses.
Conclusion
While there does seem to be a high demand for easier ways to 3D print NFTs, there is still a really long way to go to get there. Even though people like Danit Peleg and Ioan Florea are seemingly doing well in this space, there are still many NFT developments and progress to be made. The digital world of NFTs is growing rapidly, with a lot of people still seemingly getting used to the new way to collect valuable digital assets.
The 3D printing world, too, is still seeing rapid growth and wider reach, but it won't happen overnight. As both of these concepts develop and reach more people, it will only be a matter of time before the demand to make 3D-printed NFTs a reality will come to fruition. When that time eventually comes, you would do well to be prepared for it.
The world is a funny place, and the economy can be even funnier. 10 years ago, if you told people they would be spending millions on digital pieces of content, they might have laughed at you. However, look at where the economy and the trends have led us. Anything is possible in this crazy world, especially when one is living in crazy times!