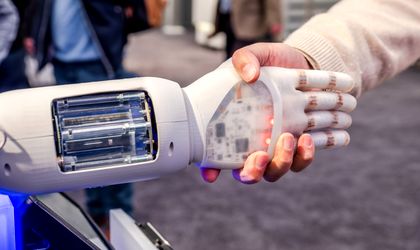 Artificial Intelligence (AI) will have a massive impact on the global economy and Romania has huge potential in this field, fuelled by its talent pool in fields like robotics, technology, and IT. We've been hearing it constantly over the last few years, but what does the beginning of the year look like for AI in Romania?
By Claudiu Vrinceanu
Artificial Intelligence represents an opportunity that Romania cannot afford to miss in terms of its economic development. As a general context, the European Union is pursuing a digital strategy that builds on technology, innovation, and ingenuity, projecting European values onto the international stage. The recently presented White Paper on Artificial Intelligence (AI) and the European data strategy show that Europe can set global standards on technological development while putting people first. What does the strategy say?
Over the next five years, the Commission will focus on three key objectives to promote technological solutions that will help Europe pursue digital transformation: technology that works for people; a fair and competitive economy; and an open, democratic, and sustainable society.
Romania doesn't have an official strategy for the use of artificial intelligence. However, the implementation of AI in the public sector has been included in the objectives of a newly-established institution – the Authority for the Digitalization of Romania.
The Romanian Business Leaders organisation, through the RePatriot programme, has organised several debates in the past year on the "Country Strategy for Artificial Intelligence". The need to develop such a strategy is constantly being discussed, and the business environment highlights Romania's privileged geographical position, numerous specialists, and successful domestic IT companies in a global high tech business context.
"The number one goal of AI is to replace repetitive, tiring work. Such work is precisely where Romania lacks resources. Due to globalisation, other countries have resolved this issue through workers coming in from all over the world. Implementing AI would bring a tremendous benefit. To be able to do this, apart from government support, I think we would have to take a few steps. The first is related to human resources. Romania has a formidable problem with what's happening in IT: 85 percent work in outsourcing. This work does not bring much benefit to Romania, apart from the taxes paid on salaries. The way to help the AI sector is to support startups that can attract people currently involved in outsourcing," said Liviu Dragan, the founder of Druid.
Romania's annual investments in AI startups can reach EUR 50 million by 2025
Investments in Romanian Artificial Intelligence (AI) startups will reach almost EUR 50 million annually by 2025, according to estimates by Horvath & Partners, a management consulting firm. Investments in AI startups in Romania amounted to around EUR 20 million in the last quarter of 2019.
AI startups on the Romanian market had a very good first quarter of 2020. Series A investments worth almost EUR 20 million in startups Typing DNA and FintechOS have accelerated Romania's growth, and the country has seen increasing acknowledgement in the global rankings of states that are able to support and benefit from the AI-based technological revolution.
According to Horvath & Partners, between 40 and 50 percent of existing jobs could be replaced by automation solutions by 2030. Accounting and marketing could be some of the most affected areas.