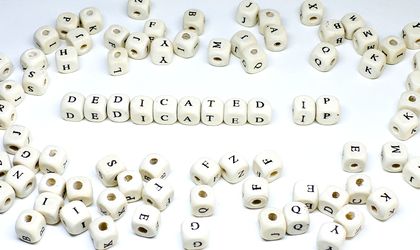 Starting a new business is always exciting, as is taking your existing one to the next step. During the day-to-day operations, you will likely need to make many decisions related to your business' security, running, reputation, and management.
Likely, getting a dedicated IP address for your business is not among them. Few business owners think about the importance of IP safety and what failing to secure it can mean. Dropping the ball on this crucial bit of online safety can have significant consequences.
What is an IP address?
Short for Internet Protocol address, an IP address is a string of numbers which links a computer to a computer network for means of communication. This address is both the network interface ID and the location address. A network administrator assigns every device connected to a network with an IP address. These can be permanent or dynamic, depending on the situation. In short, the function of an IP address is to identify the user and its location, creating a path from the network to the host.
There are various tools online which can help users find the geographic location of an IP address in their possession. For example, this IP lookup tool is used legitimately to help businesses understand who is visiting the site and how better to serve them. These tools can also figure out if traffic is a bot or a threat in some way, whether an address is valid and in use if a user is on a blacklist, or whether the user is using a proxy server. Many of these are extremely beneficial when used properly by businesses seeking to expand their intelligence.
But not everyone using IP lookup tools always has the best intentions and, in some cases, it can end up in highly problematic situations for all involved.
What can happen if you don't protect your IP address?
A couple from rural Kansas found out the hard way in 2016 when they figured out their home IP address had been given to some 600 million people across the world, making them the prime target for countless annoyed internet users.
James and Theresa Arnold successfully sued MaxMind for $75,000 plus costs in a 2016 lawsuit over claims the company turned their life into a "digital hell". The company, based in Massachusetts, was found to have allocated the Arnold's IP address to internet users, resulting in any crimes committed from that address being placed on the unsuspecting farming family. The suit made it to court but ended up being solved via an alternative dispute solution in September 2017, despite being an accident.
The company had the great idea of collecting as many IP addresses as possible and plotting them on a map. They would then sell this to advertisers for a profit. The problem was that the IPs ended up being assigned to just a cluster of actual addresses owned by people with no connection to those internet usage addresses.
As a result, much calamity ensued with a steady influx of disgruntled people blaming inhabitants for hacking, overloading servers, internet attacks, digital slights, petty online arguments, and more severe consequences involving mistaken identity. But this was not just a one-off occurrence, as the situation continued for many years. Ambulances, police, IRS, the FBI, and those investigating cryptocurrency crimes all turned up looking for answers.
One day, even a broken toilet was dumped on their driveway, supposedly as some kind of message to the person they thought was living there.
Now imagine for a moment this was your business. You could face irreparable reputational damage and a whole host of other issues that could be difficult to fix. While it is unlikely a regular couple would opt for their own dedicated IP, had the family in this example done so, they would not have been inundated with absurdity for several years!
Considering a dedicated IP address for your business? Keep reading to find out why you should…
Why you should get a dedicated IP
A dedicated IP address is completely exclusive to a single account or user. Shared IP addresses are more common and typically register many websites and users on one server; thus, they all have the same address. Once a business is given a static/dedicated IP address, it is for its sole use and cannot be used anywhere else.
There are many benefits to having a dedicated IP address. For example, it allows employees to connect to company files and resources securely. It also allows the business to have control over specific resources and sensitive data. This can be done by allowing certain IP addresses access while restricting that to certain gateways and servers.
It also reduces the risk of you having your IP blacklisted. With shared IP addresses, you run the risk of being tarred with the same brush for the inappropriate behaviour of another user. This can prevent you from being banned, your emails from ending up in spam, or other issues. It can also protect your safety and location privacy and prevent others from tracing you or your employees.
A dedicated IP address can also facilitate a faster file transfer as you are not sharing the network connection with countless other individuals or sites. It also provides the chance for the business to develop its own FTP to share files internally, offering even faster speeds and more security.
Last but not least, having your IP for your business will improve email deliverability- something that is essential if you are involved in media marketing. A shared IP with a poor reputation can significantly affect your delivery rate, with more of your emails going to spam. This can cause thousands of dollars wasted every year on emails that were sent but never got seen by their intended recipient.
These are just some of the reasons why you should consider getting a dedicated IP for your business of any size.
Photo: dreamstime.com