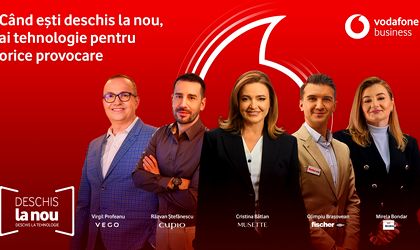 Vodafone Business launches Open to new. Open to technology – a platform that encourages entrepreneurs to adopt digital solutions for their businesses. Small and medium-sized companies (SMEs) account for over 50% of Romania's gross domestic product (GDP), but rank last in the adoption of digital solutions.
"Tech for Better is the motto we follow when developing both digital solutions and opportunities to promote Romanian entrepreneurs. Communication platform – Open to new. Open to technology – brings digital solutions to the fore, which, together with a trusted partner in consulting and implementation, increase productivity, efficiency, safety and cost optimization for businesses in Romania. This platform was designed so that all companies, not only those at the beginning of the road in terms of digitization, can test Vodafone Business solutions, take advantage of the multiple benefits of digitization and overcome challenges more easily," said Mihnea Rădulescu, Director Enterprise Business Unit within Vodafone Romania.
According to a study carried out by Vodafone among companies in Romania*, before making the final decision on a solution from the IT&C range or digitalization services, 72% of them know that a test period is important. At the same time, 70% important the degree of innovation of the solutions in the portfolio and the consultancy received from the supplier. Thus, in response to these needs, the new platform – Open to new. Open to technology – brings the expertise of consultants and comes with a long free trial period for a range of solutions offered by Vodafone Business.
Entrepreneurs who want to take a step towards digitizing their business, for a six-month activity solutions: Cloud Voice (virtual telephone exchange that allows various call management functions, including call-center activities), Microsoft 365 (the best option for increasing productivity, efficiency in communication and information distribution within companies), Virtual Private Server (a virtual server through which all data and applications of companies can be stored and kept safe), Smart Archive (quick access to company documents, through smart cataloging and archiving), Business Secure Sign (electronic signature with legal value that includes a Digital Certificate to sign documents, safely and from anywhere), Vodafone Smart Protect (a cyber security solution for fixed and mobile devices, which provides anti-virus protection, anti-malware, anti-spyware, anti-ransomware and bank transaction protection) or Smart Invoice (solution that allows the issuance and management of tax invoices and other payment documents (such as proformas, receipts, notices), on the net).
The wide range of integrated end-to-end solutions by Vofone Business, together with the expertise provided by technology and digitalization consultancy, can meet the specific requirements of any business, regardless of the industry it belongs to.
The Vodafone Business community already has more than 100,000 entrepreneurs who need money, who are open to new things and technology, choosing to digitize their businesses. Thus we invited, within the platform, some of them not to tell their success story. Musette, Cupio, fisher Fixings, Archivit, VEGO Holdings and Sweetology highlighted how the technology solutions in the Vodafone Business portfolio help them to be more efficient, optimize costs, increase safety companies and improve productivity.
In fact, this is also the promise that Vodafone Business makes to businesses: attention and adaptability to the needs of each, along with innovative technological solutions.
The platform Open to new. Open to technology and the eShop of fixed solutions for Vodafone Business purchases is also associated, from where exclusively online television services can be offered, special prices. This is another step that Vodafone Business takes to facilitate access to services and sales through digital platforms can be accessed from the eShop section: https://www.vodafone.ro/business.