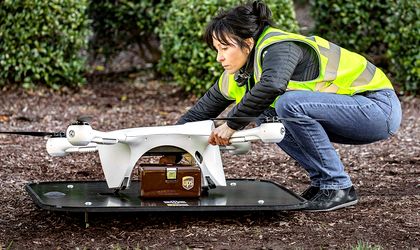 UPS has launched a new innovative medical delivery service with autonomous drones in collaboration with Matternet, a leader in autonomous drone technologies. The program takes place at the WakeMed Hospital and WakeMed campus in Raleigh, North Carolina, USA, under the auspices of the Federal Aviation Administration (FAA) and the North Carolina Department of Transportation (NCDOT). This flight marks the beginning of many daily flights leaving the WakeMed Raleigh campus.
The UPS and Matternet program is a major event for the unmanned aviation industry in the United States. Currently, most medical samples are transported to the WakeMed Healthcare Network with courier machines. Drones transport offers an alternative to on-demand and day-to-day deliveries, the benefit of avoiding delays caused by road traffic, increasing medical efficiency, reducing costs and improving patient experience, plus important potential benefits such as rescue of life.
The aim of NCDOT is to boost the use of the drones to expand North Carolina residents' access to healthcare. NCDOT offered Matternet support to conduct a first round of test flights using Matternet drone technology on the WakeMed campus in August 2018 as part of the FAA's Unmanned Aircraft System Integration Pilot Program (IPA) pilot program. The FAA program has a duration of three years and aims to test the applicability of the drones through partnerships between local authorities and private companies and learn more about how this technology can be integrated securely and useful in day-to-day activities. The five IPP partners are FAA, NCDOT, UPS, Matternet and WakeMed.
The program will use the Matternet Quadcopter M2, powered by a rechargeable lithium-ion battery, which can carry medical loads weighing up to about 2.2kg for up to 20km.
Throughout the WakeMed program, a doctor will ship a secure container with a sample or medical sample – such as blood samples – to one of the nearby WakeMed units. Drona will have a predetermined flight plan, monitored by a Remote Pilot-in-Command Pilot, to a fixed landing platform at the WakeMed Main Hospital and Central Pathology Laboratory. This program will be permanent, so UPS and Matternet will use the information they have to analyze how drones can be used to improve transport services in other US hospitals and medical facilities.
Improving the UPS Global Smart Logistics network to support hospitals and other healthcare organizations remains a key element in the company's transformation strategy. The field of health and life sciences is a priority for UPS, and the company builds new relationships and technologies to deliver better healthcare services to patients through simplified logistics and supply services.
This collaboration is the latest UPS program to use the drones to support logistics in the medical area. UPS has collaborated with GAVI and Zipline in 2016 to deliver blood to isolated Rwanda localities. The Matternet team has already completed more than 3,000 flights for health systems in Switzerland.