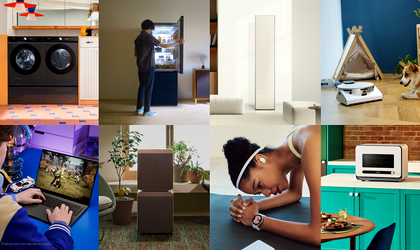 Samsung Electronics Co., Ltd today announces Unbox and Discover 2023, showcasing its latest TV line-up. The event includes the launch of new screen experiences that represent Samsung's vision for visual display: "Screens Everywhere, Screens for All."
"At Samsung, we understand that technology should empower and enhance people's lives, not complicate them," said Jong-Hee (JH) Han, Vice Chairman, CEO and Head of DX (Device eXperience) Division at Samsung Electronics. "By choosing Samsung, consumers can expect to experience an unparalleled level of wow factors, all while being a part of Samsung's effort to reduce its environmental impact."
New premium screens for premium experiences
Samsung topped the global TV market for the 17th consecutive year in 2022 – testament to its ongoing commitment to providing consumers with premium viewing experiences and user-focused design.
The latest Neo QLED models deliver Samsung's outstanding picture quality and stunning design alongside seamless connectivity and captivating sound. Consumers can now enjoy their favourite content in 8K, including via YouTube, with Auto HDR Remastering. AI remastering can improve the audio of low-quality recordings, while Q-Symphony allows TV speakers and compatible soundbars to work in unison and precisely direct individual sound effects, creating a more immersive audio experience.
The Samsung OLED range has also received a variety of upgrades. This includes the Neural Quantum Processor 4K, which uses advanced artificial intelligence to upscale low-quality pictures and bring out incredible details for a stunning visual experience. Samsung OLED also offers immersive audio, with support for Dolby Atmos and Object Tracking Sound+ (OTS+), where the TV analyses the content and delivers sound that tracks what's happening on screen, making audio more engaging. These features are available on the S95C and S90C models.
A vast offering of services including Samsung TV Plus and Gaming Hub provide a variety of user benefits for entertainment and gaming fans looking to enhance their home experience. The Gaming Hub has no download or storage limits and allows gamers to play 1000s of games, from XBOX and other partner services directly on their Samsung Smart TVs without the need for a console.
Pre-installed on all Samsung Smart TVs, Samsung TV Plus gives access to 1000's of TV shows and movies, all in one place, giving customers free entertainment whenever they want to watch.
Steps in reducing environmental impact
Alongside new premium screen experiences for customers, Unbox & Discover presents Samsung's progress in moving towards its sustainability goals. Samsung is working towards creating a less environmentally harmful product lifecycle. The new, third-generation SolarCell remote is completely battery-free and chargeable through 2.4GHz Radio Frequency Harvesting – drawing power from stray signals emitted by Wi-Fi routers for a home set-up that reduces the need for disposable batteries. Consumers can also activate AI Energy Mode from their phone or TV, allowing them to monitor and control their energy usage and patterns.
Connectivity that works for you
All Samsung TVs are connected to SmartThings, making it seamless to connect the devices and appliances in your home, allowing you to access a vast open ecosystem of products and partners from the moment you unbox your new device. With the help of the Home Connectivity Alliance, SmartThings is compatible with a variety of brands allowing your existing favourite devices to pair with your new ones seamlessly. SmartThings is designed with security in mind – Samsung Knox Vault stores sensitive information such as PIN codes and IoT Keys in an isolated chip, preventing unauthorized access.
Special pre-order offer, valid for the next 4 days only
Neo QLED and OLED TVs from Samsung's new 2023 range will be available for pre-order both in the Samsung online store and at partners until April 9.
When purchasing any model from the new 2023 series on samsung.com/ro, users will receive a HW-S800B soundbar as a gift and 500 lei in Samsung Rewards points, valid for future orders on the website.