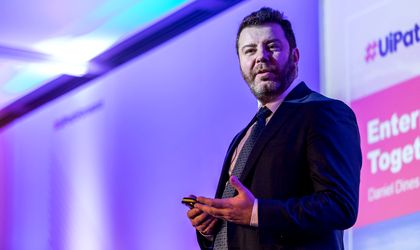 UiPath, the leading enterprise Robotic Process Automation (RPA) software company, announced today that it closed December 2019 with $360 million in Annual Recurring Revenue (ARR), with net new ARR in the fourth quarter exceeding $60 million. In July 2018, UiPath announced that it had crossed $100 million in ARR. The company's success is driven by a rapidly growing global customer base that has reached more than 6,000 organizations and a worldwide community of nearly 750,000 RPA developers.
UiPath's Co-Founder and CEO, Daniel Dines, is one of the nominated personalities in the Jury Award of the Year Category at the Business Review Awards Gala 2020. The voting in this category is open for everyone until March 1st. Cast your vote here.
"We're humbled to have had the opportunity to propel the RPA market, unlocking enormous pent up customer and employee frustration by the lack of digital and AI progress from legacy technologies and thinking. Today, we are delivering our most ambitious platform evolution ever – an end-to-end platform for hyperautomation – enabling a wide variety of roles throughout an organization to interact with robots every day. We still have much work to do but I am particularly excited at some of the newer use-cases that apply RPA to increasingly complex processes, demonstrating that in the Automation First era, Automation is the Application." Says Daniel Dines, UiPath's Co-Founder and CEO.
"I am thrilled about the acceleration we witnessed in this past quarter. We are now adding over 10 new enterprise customers per day, we are also encouraged by the speed at which customers are scaling, evidenced by a three-fold increase in million-dollar-plus customer contracts in 2019. We are squarely focused on maintaining strong growth alongside smart, efficient operations so that we can invest confidently and deliver with quality to continue to earn our customers' trust for the long-term." Dines added on the subject of UiPath's financial performance.
UiPath's #1 Market Share position, highlights from 2019 include:
 · Ranked #1 in Deloitte's 2019 Technology Fast 500
 · Listed #3 on the Forbes Cloud 100 2019
 · Recognized as an RPA Leader in the Forrester Wave: RPA, Q4 2019, and a Leader in Gartner's 2019 "Magic Quadrant for Robotic Process Automation Software"
 · Voted an Inc. 2019 Best Place to Work
 · Achieved highest rankings, participation, and scores by leading peer-to-peer independent customer review online platforms, including Gartner Peer Insights, G2Crowd and ITCentralStation.
From an easy-to-use and resilient RPA platform, to the end-to-end platform for hyperautomation, UiPath's product highlights from 2019 include:
 · Evolved platform to address the entire end-to-end Automation lifecycle: Discover, Build, Manage, Run, Engage and Measure
 · Enhanced hyper-resilient operations to the UiPath Platform enabling rolling upgrades and continuous operations during upgrades that architecturally support backwards compatibility with prior activities, integrations and components – offering substantial total cost of ownership advantage.
 · Launched UiPath StudioX, a no-code automation designer that further extends the award-winning UiPath Studio capabilities to an emerging class of citizen developers
 · Unveiled UiPath Cloud Platform, building off of years of operating a multi-tenant Community Cloud, offering enterprise management SLAs to customers' robotic operations
 · Introduced UiPath AI Fabric and new drag-and-drop AI capabilities in UiPath Studio, allowing AI algorithms and ML models to easily convert to AI Skills in UiPath Orchestrator and quickly applied to automation workflows through Studio. Data Scientists can interact with ML models, including results and outputs, through integration with any data science platform
 · Launched UiPath Process Mining and UiPath Task Capture, following the integration of the acquisitions of ProcessGold and StepShot
 · Released UiPath Automation Hub (formerly Connect Enterprise Hub) to crowdsource automation ideas and form a hub of customer automation IP documentation
 · Launched UiPath Action Center, an inbox that allows business users to interact with robotic operations, a first-of-its-kind 'human-in-the-loop' with unattended robots
 · Announced UiPath Insights, a new highly customizable, real-time dashboard that matches business performance outcomes with continuous robotic operations