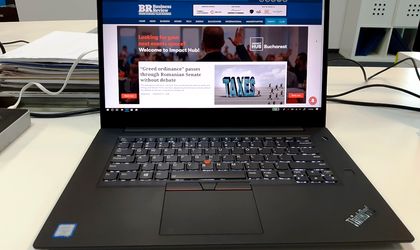 Today's top laptops are machines that stand out in terms of performance, usually with more power than you need for everyday use. This comes at a steep price that is higher than a couple years ago. But it covers the needs the user may have for the next 2-3 years, providing a good value for money.
I had the chance to test two of Lenovo's top business laptops: ThinkPad X1 Yoga and ThinkPad X1 Extreme -both made by Lenovo and ranking as top-of-the-line devices. I tried to compare the two to see the differences between a business 'classic' and a version that comes with features from the entertainment line.
From the start I have to say that both are state-of-the-art machines. The design falls in the classic line of ThinkPad, which may not be appealing for some users, but the performance is clearly over the top even if we talk about the 2-in-1 Yoga.
ThinkPad X1 Yoga
The device is a combination of the business line and the new Yoga style, which means convertible laptops. It might be odd to see a convertible in the business line, but it is just a trend that all producers are going towards in order to keep up with changes.
ThinkPad Yoga is at its third generation and we may say that it's no longer a compromise, but a good offer of business and flexibility in one device.
To be honest, it will be mostly used in the laptop position as it is rather unusual to use it as a tablet or a tent. Still, the tent or tablet positions are very useful when it comes to traveling and using the laptop on the small table in front of your airplane seat.
Otherwise, the design is the well-known ThinkPad, an elegant machine with matte black finish and the signature red dot motif.
The screen is a 14-inch WQHD (2,560 x 1,440) IPS with multi-touch capabilities. The processor is Intel Core 8th generation i7 – 8650U (@ 1.90GHz – 2.11GHz) and comes with 16GB of RAM. The quoted battery life is 15 hours, but I didn't get to that kind of performance. Still, you can squeeze up to 6 hours of battery even if used on high performance, which is quite good for this kind of machine.
It weighs 1.4 kg, making it a highly portable laptop, perfect for any job that involves a lot of travel without compromising performance. It even has a LAN port, even if smaller and usable through a provided short adapter, meaning you can use it even if areas were Wi-Fi internet is not as good as one might be used to. Anyway, the LAN port is something that has already become a rarity for most laptops.
I travelled with it and I didn't feel the weight while carrying it in my backpack. I also used it in the office, hooked on a 22-inch external display and didn't find any performance issues. I can easily say that it worked just like a good laptop and didn't feel like it's a convertible. Booting Windows and launching apps is instantaneous, apart from when Windows decides to update without asking (and slows down the performance just to make you restart the machine so it can install it).
Due to the lack of a graphical unit (it comes only with the integrated UHD Graphics 620), X1 Yoga is not the best choice for software like CAD or design work, but it manages programs like Adobe Light Room well.
The biggest problem of the X1 Yoga is the price. The model we tested (i7, 16GB, SSD 512GB) is listed at RON 13,095 on eMAG.ro. Lighter versions may go for under RON 10,000 (EUR 2,000), but it is still expensive, more than the similar models from competitors like Dell or HP.
ThinkPad X1 Extreme
Just as its name suggests, the device is Extreme. It is meant to get pretty much anything you can throw at it and work flawlessly. X1 Extreme pushes performance to the max on every front, from the 8th generation Intel Core processor (i7-8850H), Nvidia Max-Q GPU, 32GB of RAM, all wrapped in a carbon-fiber and aluminum case.
The processor, a six-core with vPro, can be found only in the US and European editions, but usually as a customization as it will add to the final price. While in US the laptop can be bought at USD 3,200, in Europe (including Romania) the number will be the same or higher, but in EUR, not USD. So, if you check the price and the money you have in your bank account when you a buy a new laptop, you may not want to choose the X1 Extreme, or at least not this crazy configuration; there are cheaper edition, with i5 processors and less RAM or other downgrades. "Cheaper" meaning around EUR 2,500, not much less.
The GPU is grading Extreme as a gaming laptop, but it was not marketed as one. Or course, it doesn't look like a gaming laptop and it might be strange to show up to a gaming session with it (and remember that gaming rigs are just as pricy), even if it would look great in a business meeting the next morning.
But the GPU takes care of something other than games, and that is the display. The 15.6 inch has a 3,840 x 2,160 pixels able to stream 4K videos and 3D imagery and it is too much for the integrated Intel UHD 630 GPU. There are also multi-touch capabilities in the screen.
The images shown by the display are at the highest quality for any display today and the difference can be seen with the naked eye. I used it together with a professional 24-inch graphic display from Samsung, that comes with great color and excellent contrast, but because it is not 4K the image on the laptop is still better.
With this power in the case it is no wonder that it can cope with any task, including 100 fps in games (but downgrading the resolution of the display to 1080, not in 4K). Of course, the use of the dedicated graphic card and the more than one core of the processor takes a toll on the battery. While in normal use, with the 4K resolution on and high-performance, it can go over 3 hours of usage, it quickly goes down to under 2 hours when the Nvidia starts to work. A big, large, sharp screen is something that almost any laptop should have but it is a luxury that only the Lenovo laptops have The battery doubles the autonomy time if used with full HD and not on high-performance and the laptop is still able to keep the work done flawlessly.
Bottom line: ThinkPad X1 Extreme is able to replace most desktop systems and a few workstations class PCs at the size of a 15.6 display laptop and 1.84 kg. It can even be upgraded to 64GB of RAM and add more storage (it has a second M.2 slot for a NVMe drive). And even if the price is really high, it may not be a good idea to look for a cheaper version since it would not be extreme.
The device I tested is an amazing machine. But it also shows something else: the technology trend is on. I am sure that in a few years the price for this Extreme will be less than a half, but still be able to cope with the more demanding videos or software. And laptops must keep up. X1 Extreme or its competitors from Dell, Apple, HP, Asus or even Huawei and Microsoft are examples of what technology is able to do today and what we will all see tomorrow.