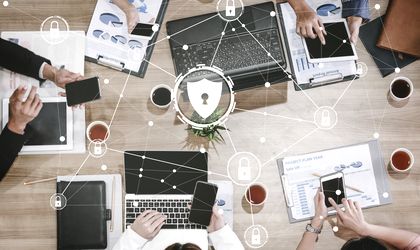 In this age of information and technology, cybercrime is one of the critical issues that nearly all businesses could face today. While many small businesses think they're too small to be the targets of cybercriminals, note that all companies can be vulnerable to cyberattacks.
According to CyberEdge Group's 2021 Cyberthreat Defense Report (CDR), 89.7% of American companies face at least one cybersecurity attack in a year. Consequently, if a business experiences a cyberattack like ransomware, stolen funds, or data breach, it'll likely suffer several consequences. Notably, it can lead to operational disruption, reputational damage, financial loss, loss of sensitive personal data, and lawsuits.  
For that reason, some thriving businesses in America work with reliable cybersecurity companies, such as Chicago cybersecurity services from OSG, to take a proactive approach to data protection. If you're a business owner, you should take note of the value of proactive data protection for your business.  
Thus, in this blog post, you'll learn how protecting your data can positively impact your business.  
Mitigate Security Threats  
Hackers or cybercriminals are responsible for most data security breaches that happen to businesses. They use phishing scams and malware attacks to collect sensitive data to make monetary gains from companies. What's worse is that resolving a data breach can be costly. Many companies pay millions of dollars to security professionals to become security compliant again. However, the good thing is that you can secure your business data against this security risk by taking a proactive approach to data protection. You can take several preventive measures to protect your business against cybercriminals and mitigate security risks like stolen business data.
For instance, you can set up antivirus software, create data backups, and implement firewalls to prevent cybersecurity threats. Apart from that, you can also consider holding cybersecurity training for your staff to ensure they're aware of potential cybersecurity risks—such as ransomware, phishing, and data leakage—and ways to avoid them. Moreover, you can also work with reliable cybersecurity experts to detect early signs of cyberattacks via continuous monitoring.
Maintain Customer Trust  
Brand reputation is pivotal to the growth of a business. With an excellent reputation, companies can attract more customers and increase their business's perceived value. And one of the best ways to build a positive business reputation is through building and maintaining customer trust. Customers who trust your company will find it credible and want to buy from you. Since they expect your business to keep their confidential data like credit card details and customer information, ensuring your business data is safe against cyber threats and attacks is an excellent way to build and maintain customer trust.  
In addition to protecting your customers' personal information, data protection can help mitigate business downtime caused by cyberattacks. Besides negatively impacting your operations, downtime also affects your overall business reputation. Notably, losing network access due to cyberattacks can lead to lost productivity and long-term damage to your business reputation. Furthermore, if your company's security issues affect your customers, they'll likely stop doing business with you and leave negative feedback on your brand. But fortunately, you can avoid that by taking cybersecurity measures and practices to protect your business data.  
Gain Competitive Advantage  
A competitive advantage allows a business to provide better products or services than the competition. Certain aspects of the business processes that serve as a competitive advantage help a company distinguish itself from its competitors. In particular, it helps maintain brand loyalty, attracts more customers, and may even attract potential investors.
Accordingly, with the growing cybersecurity threats, you can stay ahead of your competitors by taking preventive measures to protect your business data. Proactive data protection allows you to build brand trust, keep valuable data, and maintain business continuity. In addition, taking preventive measures like continuous monitoring or data backups helps ensure that your business keeps operating and won't suffer critical consequences caused by cyberattacks.  
Ensure Cybersecurity Compliance  
As the number of data breaches increases, governments and industry-standard organizations try to maintain data privacy and security by establishing rigorous security compliance requirements. Businesses, particularly those subject to cybersecurity compliance, must meet data protection and privacy standards enforced in their industry and location. Although keeping up with the current cybersecurity compliance can be costly, complying with those regulations is essential in achieving good business standing. Notably, following the latest cybersecurity standards helps you improve your business's credibility.
Some examples of data security standards include the Payment Card Industry Data Security Standard (PCI DSS) and the Health Insurance Portability and Accountability Act (HIPAA). Following data protection laws and regulations, businesses can avoid violation penalties, build and maintain brand reliability, and enhance their security and data management.  
Conclusion  
All in all, proactive data protection is essential for all businesses today as data breaches continue to increase. Data security measures like updating software regularly, conducting security awareness training, and working with reliable cybersecurity service providers enable you to protect your business against cyberattacks. Taking a proactive approach to securing your data also helps you avoid damaging your brand reputation and penalties for failing to comply with security regulations.