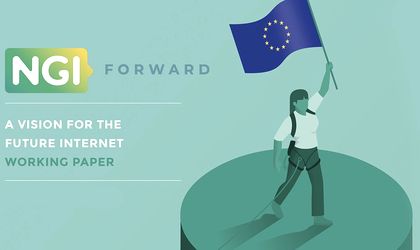 A greener and more resilient to environmental, economic and cyber shocks Internet is part of the vision of European digital transformation for the next 10 years. The proposals can be found in a working paper entitled "A Vision for the Future Internet", recently launched at the NGI Policy Summit. The event took place in late September as part of the European Next Generation Internet (NGI) program, which brought together over 650 of civil society leaders and policy makers. The new vision comes at an important time, as the European Commission has announced bold plans for post-COVID-19 recovery through digital transformation.
Next Generation Internet (NGI) is an initiative of the European Commission, which aims to shape the Internet for the future as a powerful, user-centric (Internet of Humans) ecosystem that meets the fundamental needs of the population, including those of confidence, security and social inclusion. NGI comprises an ambitious research and innovation program based on an initial European Commission investment of over € 250 million between 2018-2020 and is part of the future Horizon Europe program (2021-2027).
The NGI program funds the best research and innovation projects in the field of the Internet, focusing on advanced technologies, including privacy, search and discovery, decentralized architectures, blockchain, Internet of Things, social media, interactive technologies and technologies that support multilingualism and accessibility.
"The internet has changed. While early internet pioneers dreamed of an open, free and decentralised internet, the story of the internet today is mostly a story of loss of control. Just a handful of companies determine what we read, see and buy, where we work and where we live, who we vote for, who we love, and who we are. Many of us feel increasingly uneasy about these developments. We live in a world where new technologies happen to us, rather than for us. Europe has an urgent opportunity to take charge of these efforts through the transformational Next Generation EU post-pandemic recovery plan", the authors of the working paper wrote in introduction.
Europe has often been presented as one of the lone powerful voices still championing digital rights and the open internet in an increasingly fragmented digital sphere, a third way between Silicon Valley and Beijing. While this has proven helpful to mantain the balance between private sector-led innovation and government oversight, as the internet is becoming increasingly chaotic and multipolar, with a multitude of actors, European Union needs to more proactively chart its own path. To help give shape to these efforts, the working paper sets out a tangible vision for a more democratic, resilient, sustainable, trustworthy and inclusive internet by 2030.
Substantial investments to improve the internet's physical infrastructures
First of all, a human-centric internet needs to be resilient in order to ensure the continued reliability and sustainability of its networks and social infrastructures to withstand cyberthreats, climate shocks and rising demand.
"While the internet's underlying systems have so far held up remarkably well during the COVID-19 crisis amid increased demand, we might not be so lucky next time. Climate change-induced extreme weather events and shocks will become more frequent and also geopolitical conflict is likely to be a growing source of man-made disruption to systems", the researchers added.
Europe needs to make substantial strategic investments to improve the internet's physical infrastructures by updating outdated systems and design and deploy systems that can withstand these new types of pressure and risks.
"To ensure the internet's underlying systems remain fit for purpose and can withstand rapidly rising demand, we support more proactive systems maintenance and updating of existing protocols and infrastructures, many of which were not initially designed with the future scale and complexity of the internet in mind".
Setting high standards for transparency and auditability of technology systems sold within the European Single Market stands for a further tool for instilling a degree of trust in the global innovation ecosystem. Launching an independent technology auditing body can make this concrete.
Building up human capital plays also an important role. "We grow Europe's cybersecurity capacity and broader technology development base, through an ambitious retraining programme, building skills within organisations and among the general public, as well as recruit more multidisciplinary tech talent within the various layers of government".
In their vision for 2030, governments across all layers of jurisdiction — from the regional and city level, all the way up to the Commission itself — should adopt an open-technology-first approach. This means solutions are built on top of open standards and, where appropriate, open sourced.
"We kickstart these efforts by launching a co-owned FOSS and Open Standards fund, which plays a triple role of sharing learnings and best practices among various government bodies, funding and supporting the development of new solutions, and funding the maintenance, updating and continued stress-testing of existing tools".
E-waste, the fastest growing source of waste in Europe
Digitalisation has an important role to play in addressing the climate emergency and making the ambitious objectives of the European Green Deal a reality. But we must also not forget about the internet's own substantial environmental footprint. As a society, more of us than ever before are using the internet, using more devices, and using these devices in ever-more energy intensive ways. This additional connectivity comes at cost.
In order to create a fully circular economy for digital technology by 2030, Europe will have become a global frontrunner in developing greener devices and manufacturing processes, optimising both the lifespan and durability of devices themselves, as well as limit the environmental footprint of their production.
"By ensuring the sustainability of hardware, the greatest contributor to the internet's footprint across the value chain, and investment in improving urban mining and recycling processes, we can substantially reduce the internet's environmental impact and reduce e-waste, the fastest growing source of waste in Europe".
Data minimisation and conscious connectivity
As internet use continues to grow rapidly, the storage and transport of data is accounting for an ever-larger share of global energy supplies. The European Commission has already set itself the goal that all data centres in Europe should be climate-neutral by 2030. "We will actively encourage other countries and companies outside of the EU to follow suit. In doing this, we will move away from the language of net-zero, which can be propped up by emissions trading schemes of questionable efficacy, and towards concrete emission reduction targets".
A new paradigm is required where we deliberately reduce the amount of data we keep and store to only those datasets that are actually beneficial, not just to enhance privacy, but to reduce strain on the environment.
Public awareness about the environmental impact of individual internet consumption remains limited. Researchers recommend the popularisation of "conscious connectivity", where the consumers become more mindful of their individual digital footprint, aware that an extra hour of video streaming or storing another twenty photos is linked to tangible CO2 emissions.
By addressing the internet's substantial environmental footprint, Europe can more fully harness the power of digital technology to make the ambitious aims of the European Green Deal and twin transition a reality. In doing so, societies will begin to transform urban spaces, supported by advances in technologies such as AI and the hyper-connectivity allowed by 5G and later 6G.