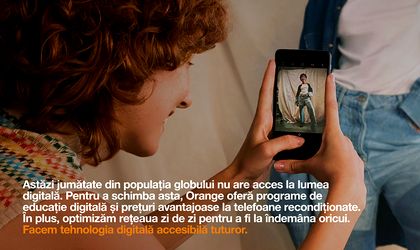 Access to digital resources is essential today, when the pandemic is having an impact on all individuals as well as on the business world. That's why digital inclusion campaigns are key to providing equal opportunities for everyone, regardless of background, age or physical ability.
Orange Romania has launched a campaign called Making technology accessible to all, designed to contribute to the development of digital skills and access to technology for Romanians. "The campaign complements our efforts to facilitate access to digital tools in Romania for everyone, from children to the elderly. Since 2012, we have built a series of programmes that provide Romanians with access to opportunities brought by technology, which have changed thousands of lives for the better," said Liudmila Climoc, the CEO of Orange Romania.
A relevant factor when it comes to access to digitalization is having access to a good 4G or 5G network. Orange has invested in the development of a network that now covers 98.21 percent of the country's population with 4G technology, according to data from August 31, 2021. And 5G technology is available to customers in 17 cities, including Bucharest, Cluj-Napoca, Iasi, Timisoara, Brasov, Constanta, Craiova, as well as some mountain and seaside resorts. Another relevant factor is access to programs, like business accelerators, or technology solutions, like the latest developments in terms of 5G. Orange offers a range of solutions for established companies or startups and one of these programs is Orange 5G Lab.
Telios and Orange 5G Lab
Orange 5G Lab gives economic stakeholders and researchers consultancy and the opportunity to test and develop products and services using 5G technology. The investment made by Orange helps  startups grow and provide tangible solutions that make a difference for all their customer and contribute to the future digital economy.
An example of a startup supported by Orange 5G Lab is Telios Care. With the help of 5G infrastructure and 5G Lab resources, Telios Care's telemedicine solution provides professional remote medical consultations via phone, text or video conferencing. Telios Care offers improved remote medical services, which would not have been possible without the 5G infrastructure.
"With the help of the 5G infrastructure and the resources available in the 5G Lab, Telios Care improved the remote medical services it offers, ie medical consultations by phone, online and video messages. 5G offers a higher connectivity standard than previous generations of mobile networks, which will ensure better quality video streams and high speeds through which doctors will be able to download and process real-time information," said  Mihaela-Katerina Dobroiu, Chief Customer Officer, Telios Care.
Through Telios Care, patients can contact their doctors and therapists from anywhere in the country, benefit from telemedicine-based care and all they need is a mobile phone. This year, for the first time in Romania, the company introduced the American "prescription fulfilment" model, with digital medical prescriptions that follow all safety protocols being delivered automatically to the patient's preferred pharmacy. Currently, 3 of the 5 largest pharmacy chains in Romania participate in this system and use Telios Care digital medical prescriptions that result from remote consultations carried out via phone, video or written messages.
Companies like Telios Care provide better solutions with 5G technology, and startups that manage to enter support programmes like 5G Lab are growing quickly enough to provide timely help for those in need.