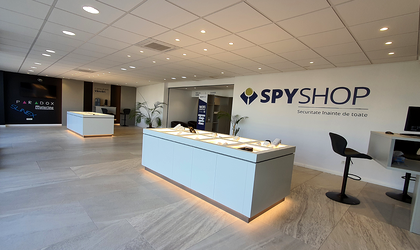 The momentum taken both by the demand for security systems, but also for solar panels systems in residential and industrial projects, contributed to the 60% increase in the turnover achieved in 2022 by Spy Shop, the largest importer, distributor and retailer of security and photovoltaic systems in Romania.
Investments in storage spaces and team growth, emphasis on customer service quality, development of the network distribution, development of the product range, automation of processes and development of marketing and sales channels contributed fully to the achievement of the turnover.
"We developed the range of products through a very careful selection of manufacturers, wanting them to offer high quality products. In addition, the automation and digitalization of as many processes as possible will help us more and more in the future to meet our growth objectives" says Sergiu Dăngulea, CEO of Spy Shop.
Among the brands for which Spy Shop is a distributor and authorized partner are: Hikvision, Dahua, Motorline, ZkTeco, Ajax, Unipos, Reolink, Huawei, Canadian Solar, Xiaomi, Imou, Sonoff, Nice, Seagate, Western Digital, Vortex, Pulsar, etc. .
The number of orders increased by approximately 35%, and among the most sought-after product categories were surveillance cameras, solar systems, alarm systems, video intercoms and gate automation.
Diversifying the product range is an ongoing goal to attract new customers. Choosing the best products and the best producers in terms of quality/price ratio can make a difference in the market, as can the systematic improvement of the services offered for customer loyalty.
Spy Shop has invested more than 1.5 million euros in 2022 in a new office space and a new warehouse, which allow the activity to be carried out in the best and modern conditions, but other investments are underway to improve the flow. At this moment, after the entire storage space has been put into use, the actual daily stock is 4 million euros.
"We have always focused on the customer and his needs, so we have sought to permanently improve the buying experience, the relationship with him and we want to offer him both: quality products and all services that he will be satisfied with. The new space allows us to expand and streamline our work, store more products and increase the ability to process a much larger number of orders, and also ship faster. We have a team of over 80 people, 2 headquarters and 3 storage spaces totaling over 5000 square meters."
Spy Shop's development strategy continues this year: growing the business and strengthening its position in the market of security systems and related equipment, developing and integrating more automation software solutions, more payment methods, developing the network of installers and distribution, opening new sales channels and entering the regional market.
Spy Shop is the largest importer, retailer and distributor of security systems, video surveillance and solar panel systems, established in 2009. It operates through the spy-shop.ro website and has over 50,000 security and surveillance products in its portfolio video, solar panels and systems, equipment addressed to the end customer as well as B2B partners, but also a national network with over 2000 installers and distributors.