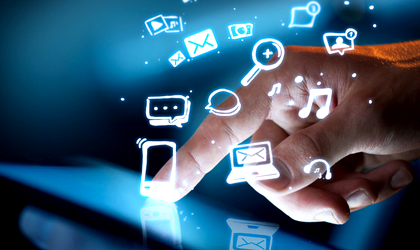 In 2019, companies will want to use data more efficiently, maintaining the 2018 trend. Optimising and managing multicloud environments was a priority for many companies last year, and so was the need to integrate security at a basic level. None of these trends will disappear in 2019, and we will see an interesting mix between "evolution" – expanding and developing already-existing trends – and "revolution" – demands that are always changing and forcing companies to adopt digitalization and new technologies more quickly, according to a report released on Thursday by Cisco.
Cisco identifies six main trends in technology for 2019:
AI-ML will become routine
AI (Artificial Intelligence) and ML (Machine Learning) have progressed quickly over the past few years. AI-ML innovation has solved old problems, leading to a conviction that these technologies can be a solution for many challenges. Consumer apps with high visibility such as driverless cars or digital robots that "look like humans" have caught the public's attention, but this enthusiasm is only partly justified as companies are still learning what needs to be done to adopt AI-ML.
Cisco uses AI and ML to solve real problems with a pragmatic approach. For example, they analyse huge volumes of data in the network, identify and block security threats or ensure continuous workflows. Cisco DNA Analytics can extract anonymous data from client networks, identify patterns and develop statistics. This leads to cost savings in network operation and security is improved. Encrypted Traffic Analytics from Cisco uses ML to find malware programs in encrypted traffic without a need to decrypt it, a first in the industry. We will see fast and interesting development in AI-ML in 2019.
Internet expanding in ways we couldn't have imagined
According to the latest Cisco Visual Networking Index Report, more IP traffic will be generated in 2022 than in the other 32 years since the internet was launched.
By 2022, 60 percent of the global population will be using the internet, and new users will be met with a completely different internet, which connects people through wearable devices, household appliances and autonomous vehicles. Over 28 billion devices and connections will be online, and more than 50 percent of them will be machine-to-machine (M2M).
From ultra-HD to live video and VR – video growth requires more bandwidth
By 2022, video content will represent 82 percent of total IP traffic. The live video area is estimated to grow 15 times between 2017 and 2022 and will account for 17 percent of the total video traffic. VR and AR traffic will also grow, as more and more consumers and companies will be using these technologies. The traffic associated with AR and VR will grow 12 times in the next five years. This year, we'll see more VR adoption in business, from virtual demos and test drives to online product and real estate reviews.
Mobile connectivity will continue its growth
Mobile data traffic will continue to grow in comparison with other types of traffic in 2019. 3G and 4G will continue to be the most common protocols, as 5G migration is still in development.
Cisco's VNI report estimates that by 2022, 22 percent of global internet traffic will come from mobile networks, compared to 12 percent in 2017.
Blockchain will be used in new and innovative ways
Blockchain will continue to expand to areas like supply chain management, networks, digital identity and currency transactions. It is very likely that all big cloud services providers will implement blockchain at a commercial level by 2019, and it will become an essential element in most AI and IoT offers of the next few years.
Companies will have to rethink their networks
In 2019, more and more companies will have to focus on transforming their networks in order to be able to provide premium experiences to customers.
Current networks were not built to respond to the network needs of the upcoming years. Whether we're talking about 5G, virtual reality, IoT or AI/ML, behind all these trends is a high-capacity digital network made up of a multitude of public and private networks. Considering that, by 2020, a million objects are estimated to connect to the internet every hour, this infrastructure is under a lot of pressure, and manual network management is becoming impossible.
Companies must now be able to activate any device from anywhere and at any time, regardless of the sector they are in. The new architecture needs to be automated, anticipate actions, block security threats and continue to evolve and learn.