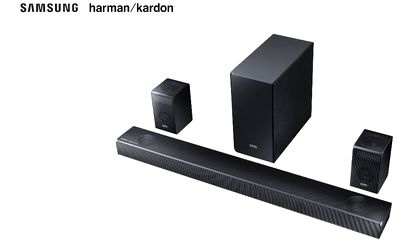 Samsung Electronics announced the launch of two premium soundboards: the HW-N950 and the HW-N850, in collaboration with Harman Kardon audio brand. Available in Europe since August 20, the HW-N950 and HW-N850 integrate Samsung's logo and Harman Kardon to represent the new partnership.
Following the acquisition of Harman International by Samsung in March 2017, the two companies collaborated on mobile products, the AKG headphones included in the boxes of certain Samsung phones and tablets incorporating AKG technology, as well as professional cinema solutions along with JBL Professional. The HW-N950 and HW-N850 are the first major collaboration between Samsung and Harman Kardon in the premium category. Also, thanks to the patented technology of DTS, DTS: X, and Dolby Atmos, users can enjoy rich, immersive three-dimensional sound.
"Our collaboration with Harman Kardon, the 65-year-old audio leader, is a major leap, while continuing to exceed the limits of premium sound and design. Innovative video technology and Samsung design combined with superior sound quality for Harman products Kardon, is a winning combination for users," said Jongsuk Chu, senior vice president of Visual Display Business at Samsung Electronics.
With the HW-N950, consumers will enjoy the audio experience of a showroom in their own home, thanks to Dolby Atmos and DTS: X, plus speakers that naturally move the sound above and around the listeners. The HW-N950 is equipped with a main unit, four speakers and two surround sound speakers, delivering incredible experience. Also, thanks to its 7.1.4 channels, the largest number of channels currently available in a soundbar, the HW-N950 features a built-in wireless subwoofer and a wireless speaker kit to support the premium audio experience.
"Samsung is the world leader in soundbars and we are extremely proud to have chosen to collaborate with Harman to enhance audio quality and business development with premium soundbars." The partnership with Samsung, one of the most admired brands in the world, will expand The Harman Kardon premium Samsung Harman Kardon is a win for Samsung, Harman and consumers, who will now benefit from the best video, sound and design experience – all in one single impressive package," said Dave Rogers, president of Consumer Audio Harman.
In Romania, the HW-N950 soundbar model is available for sale.