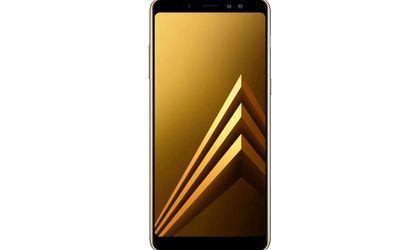 One of Samsung's top sales smartphones for last year was (an still is) Galaxy A5. So the successor was something everybody is looking for and it was launched at the beginning of the year as Galaxy A8. While A5 is a resemblance of Galaxy S7, A8 is moving forward and it is like a S8 or a S9, but cheaper.
So if you don't want to spend Galaxy S9 money, A8 is a good choice even if each part of the phone is a little more basic; the chipset is less powerful, the frame less curvy, the camera less versatile and the screen is less sharp. But it is not something that you'll notice that much. The Galaxy A8 may not match up to the S9 on paper, but for many the difference is not as big as the one in price. This is still a very good phone.
The device was launched at arouund EUR 500 or RON 2,200 – 2,400, but today is more aroung RON 1,800. While S8 is still around ron 3,000 and S9 is more then that.
The Samsung Galaxy A8 is a mid-range phone, the kind that could easily have been a top-end model were it released a year or so earlier. However, as usual Samsung has made its A-series phones slightly more ordinary-looking to avoid stepping on the S-series' toes too much.
The Samsung Galaxy A8 has a glass back, a glass front, and a band of metal around the sides.  The back is curved, if slightly less so than the Galaxy S9's, and the front is just 2.5D glass, not 3D. Some people describe this as curved, but it's really just rounded-off at the edge.
There's also a little bit more blank space above and below the display, and the finish is plain. It comes in black, grey, blue and gold, and these colors are flat, without the light-reactive layer used by some other phones.
One of the best things is that the A8 is water-resistant to IP68, a feature not seen in cheaper mid-range phones. This means it can withstand being submerged at a depth of 1.5 meters for 30 minutes (but it is not for swimming).
The Samsung Galaxy A8 has a fingerprint scanner on its back. While we're very happy with its reliability, it is not the fastest around. The storage is just 32GB at that comes too short these days and for this price, but you can expand it with the SD card slot.
It's also a friendly size, something that I appreciate. The phone has a 5.6-inch screen but as it has an extra-tall 18.5:9 shape, the phone doesn't end up too wide. The  screen is also incredibly color-saturated, AMOLED at 1080 x 2220 resolution.
Inside is Samsung's own Exynos 7885 processor. It's a small upgrade on the 7880 found in the A7, still with eight cores but at higher clock speeds. It also has the Mali-G71 GPU found in the Galaxy S8 and 4GB of RAM.
In benchmarks it does not perform very well, but in every day use it is smooth and fluid, with good graphics.
The cameras at the front are 16 and 8Mp cameras (it is a dual camera for selfies), both f/1.9, and one of the main reasons for this is so you can use Live Focus. This gives you a bokeh effect blurring the background and you can adjust the amount of blur afterwards. It works pretty well and is unusual to find on a front camera.
At the back is a lone 16Mp with a Galaxy S8 matching f/1.7 aperture. It offers phase detection autofocus and a single LED flash. We'd like to see optical image stabilisation and video recording higher than 1080p at 30fps.
The battery size is 3000mAh, average for smartphones, and it can stand for a day of normal use without any problem. The Fast Charging gves a 39 percent from a 30 minute charge.
Galaxy A8 is the best in A-range , pretty much like a S8 mini that was never launched never . However, the competition is strong for this king of phones and prices, with good models from many competitors.