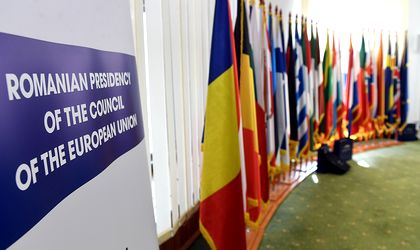 The Romanian Ministry of Communications and Information Society, under the aegis of the Romanian Presidency of the Council of the European Union, will organize on March 1, at the Palace of Parliament, the Informal Meeting of EU Telecom Ministers, preceded by the Third Eastern Partnership Ministerial Meeting on the Digital Economy.
The meetings will be attended by Andrus Ansip, VP of the EC and Commissioner for the Digital Single Market, EU Communications ministers, delegates of international financial institutions, representatives of the Information and Communication Technologies and civil society associations.
The Informal Meeting of EU Telecom Ministers (TTE) aims to launch a strategic and political debate on the future of a highly digitized Europe after 2020, addressing topics such as artificial intelligence and cyber security.
"Romania is becoming the main pole of European debate on digitization. For two days in Bucharest, together with my European counterparts and high level representatives of the Commission, we will have applied discussions on Europe's digital future, about challenges and opportunities in meeting our common goal of increasing the competitiveness of the European economy, in line with ensuring the technological autonomy of the EU in terms of technology. We want Europe to become a global leader on all digital levels: 5G technology, artificial intelligence, cyber security, high-performance computing, Big Data," stated Alexandru Petrescu, minister of Communications and Information Society.
Artificial intelligence, a topic of maximum interest with a special political and economic importance for Europe has been also included on the agenda of the meeting.
"Beyond the many applications in the economy of artificial intelligence, there are technological aspects that involve a continuous effort of innovation and research. In order to ensure a technologically rigorous discussion, to establish investment priorities and to prepare a robust regulatory framework, I consider appropriate to address the subject of artificial intelligence in our high level sectoral meetings," stated minister Alexandru Petrescu.