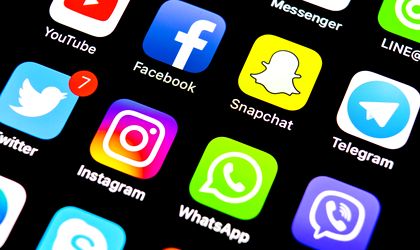 Eurostat data released on Monday show that 56 percent of people aged 16-64 in the EU participated in social networks in 2018, a rate that has steadily increased since 2011, when data collection began on this matter (38 percent).
Social network participation includes activities such as creating a user profile, posting messages or other contributions to social networks.
Among EU Member States, the social network participation rate was highest in Denmark (79 percent), ahead of Belgium (73 percent), Sweden and the United Kingdom (70 percent). At the opposite end of the scale, this share was below 50 percent in three Member States: France (42 percent), Italy (46 percent) and Slovenia (49 percent).
For people aged 16-24, the average EU rate reached 88 percent, with the share ranging from 77 percent in France and 79 percent in Italy to 97 percent in Czechia, Denmark and Croatia.
Among older people aged 65 to 74, 19 percent participated in social networks, with the lowest share in Bulgaria and Greece (8 and 9 percent) and the highest in Denmark, with 46 percent.
Romania ranked above the EU average for people between the ages of 16 and 64, with 61 percent participation in social networks, as well as for young people (89 percent). The older generation (65-74 years old) in Romania used social media at a rate below the EU average – 16 percent.