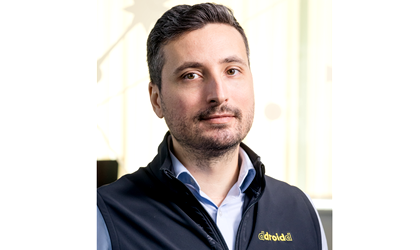 Romanian-based digital transformation and technical specialist, ddroidd, has exceeded its £3m turnover target in its first year, and has ambitious growth plans to double in size over the next 12 months as it embarks on a recruitment drive.
ddroidd, which billed more than £3.2m in its first year of trading, specialises in designing, developing and integrating enterprise-grade digital experience platforms for the most complex of online markets.  Specialists in agile digital transformation, ddroidd's approach to custom development and CMS platform implementation, enhancement and support, has seen it build and manage the websites for some of the world's biggest brands.
With offices in Romania and the UK, ddroidd employs 92 staff, delivering projects for clients and agency partners. As well as its office in Cluj-Napoca, ddroidd has recently opened a second Romanian office in Iași to grow its team of technical experts.
Working with clients in the UK and internationally, ddroidd has secured contracts with clients and agency partners in the UK, Ireland, Holland, Denmark, Romania, Germany, and the US.
ddroidd has ambitious targets for its second year as it plans to double in size, employing 200 people with a £5m turnover. This will be achieved by securing new clients, building on its current partnerships together with sourcing and retaining some of the best technical talent.
"We are delighted by our first year-end results after what has been a busy and exciting 12 months. To continue this growth, we are on a drive to increase our team of technical experts. They are the foundation to our success, and we are committed to being the employer of choice in the city." Says Co-founder and CEO of ddroidd, Catalin Stancel. "We are building our Romanian presence with the new Iași office, which is home to 10 of our experts and growing. We are also investing in our management team to further strengthen our offering to clients as we aim to deliver smarter, scalable and more sustainable digital platforms."
ddroidd is passionate about sustainability and educating businesses on the environmental impact that inefficient websites, digital platforms, and technical architecture play in consuming unnecessary power. During its first year, the company developed and launched its A+++ framework to deliver 'greener' technology, which has helped clients to reduce their carbon emissions and hosting bills as a result. The framework has also been recognised by industry experts after winning an Environmental Champion award.