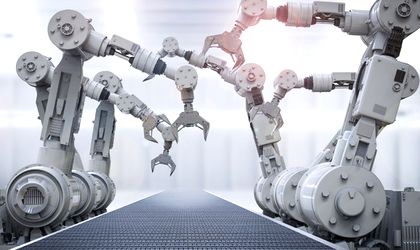 Universal Robots launches an app that allows a full configuration of a robot and an easy implementing of the work tasks. Three applications required by industry are already included in the new application builder: supplying production lines, assembling and packaging products, and step-by-step guidance for using effectors, robot programming and the use of the work interface.
The new UR application creation tool facilitates the configuration and implementation of robotic cells, enhances the robot's abilities and guides clients through the whole process of building a successful application, optimized for performance and reduced costs. The On-Line Configuration Tool provides a step-by-step process for choosing your robot and work tools, and details the advantages and disadvantages of the various configuration options and the skills needed to complete a complete robotic solution. The new solution is ideal for SMEs and start-up entrepreneurs.
"We continue to innovate to make robots accessible and profitable for a wider customer sector," says Stefan Stubgaard, head of the UR Global Competence Center. "The new application builder provides anyone with the tools and abilities he needs to quickly configure and deploy a successful robotic application that will fully meet his requirements."
Three applications for collaborative robots are available from launch: supplying production lines, assembling and packaging products. Application Builder provides a complete programming template for the specific application. Customers are guided through questions through the process of configuring effectors by taking into account cost and specific cost requirements and providing details on how to connect the robot to other equipment.
Kobots change the world
With estimated global sales of USD 12 billion, collaborative robots (dumpers) will soon be the main driver of the automation solutions market, as more and more companies of all sizes, from a wide range of industry, adopt this technology. Since 2008, when Universal Robots sold its first robot commercial model, the company has developed exponentially from one year to the next, selling over 25,000 robotic arms around the world.
The collaboration between the operator and the robot increases productivity by 85 percent above the level that would be recorded if they worked independently. The guys can be reprogrammed easily and quickly to switch from one operation to another in a production process, thus significantly reducing the time of production interruption and overall improving the profitability. Being designed to carry out monotonous, repetitive and tiring tasks, guys improve the work environment for employees, reducing their exposure to muscle-skeletal disorders and potential workplace hazards. In turn, this amounts to fewer days of lost work for the company and a reduction in dead times of up to 85 percent.
In Romania, entrepreneurs want more robots
Managers and entrepreneurs in Romania are increasingly relying on automation and robotics solutions to increase production and lower costs, as the right employees find it increasingly difficult. Thus, according to the study "Automation in Romanian Companies", conducted by iVox for Universal Robots, 34.7 percent of respondents said they intend to acquire new automation solutions for the company they work in the next 12 months. The main reasons behind the desire to implement an automation solution are the need to reduce costs (54%) and increase production (44 percent).
Universal Robots was established in 2005 by the company's current technical director (CTO), Esben Østergaard, as a co-founder. Its intent was to facilitate access by all companies to technology by developing adaptable, low-cost, easy-to-use, affordable, robust industrial robots that ensure safe operation. Since the launch of its first collaborative robot in 2008, the company has seen significant growth, with its products being sold worldwide today. The company, part of Teradyne Inc., has its headquarters in Odense, Denmark, and has subsidiaries and regional offices in the United States of America, Germany, France, Spain, Italy, Czech Republic, Turkey, China, India, Singapore, Japan, Korea South, Taiwan and Mexico. In 2017, Universal Robots recorded revenues of USD 170 million.