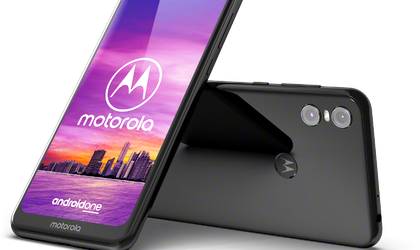 Lenovo launches Motorola One, a smartphone that offers connectivity, accessibility and security, and comes with more battery power, unlimited image and video storage.
The Android One smartphone brings the latest AI software and latest innovations from Google. Motorola One integrates the applications and features of the Android OS operating system that users rely on, as well as their Favorite Motorbike Experiences, but with no features they do not want.
The built-in AI built-in Google Lens feature lets you interact with the world around you simply by straightening the room to different objects. Scenarios in which such a function is useful are surprisingly many. For example, on a walk in a street in a new city, simply by shooting a tourist destination, Google can find its history in a snap. Or by photographing your favorite dish, Google can find the recipe so that the user can recreate it to remind that savvy time at home. Moreover, Google Lens can provide all the details about the paintings found in museums.
For priority-rated users, Motorola One receives updates to the latest Android OS, providing the necessary security with Google Play Protect and monthly updates to security packages that it enjoys for three years.
The wireless transactions with the latest security updates are to maximize the use of Near Field Communication (NFC) technology and make trusted payments. This technology turns the way of managing daily tasks, from lunchtime to fast file transfer between devices – every day is more efficient by eliminating dead times.
The 13MP Dual Camera Intelligent Camera and 8MP Self-Cinema Camera will bring the user's photographer capabilities to a new level with portrait, cinemagraph and time-lapse modes to create memorable and lasting memories. Thanks to the unlimited, high-quality storage capacity offered by Google Photos, all the magic moments will be immortalized: the baby's first steps, the grip of the bouquet, the goal that marked the victory or the celebration of the celebrity.
Situations in which the phone closes when a unique moment has to be captured before confirmation of the ride-on reservation or a wrong street in a foreign city are now history. The Motorola One offers battery autonomy for up to one day so that autumn walks or watching your favorite football match can be done without stress.
The smartphone will be available in Romania by the end of the year.