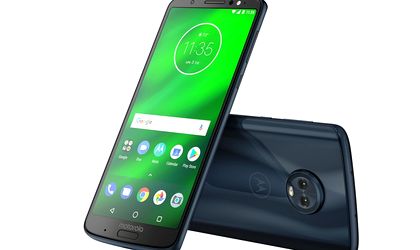 Motorola announced the launch of the new Motorola moto g6 family in Romania. Packed with features and premium functionality, the new moto g6 family is designed with the consumer in mind, offering good prices for quality and performance. 
Five years ago, Motorola set out to address a gap in the market: quality smartphones that could do great things – at a price that even more people could afford. These phones had to be current and not last year's models at cheaper prices. So, the first moto g became the best-selling smartphone in Motorola history.
This year the legacy continues with the newest generation of the moto g family. The new moto g6 family devices are said to be "smarter than ever and focus on display, design and power." They are powered by Qualcomm Snapdragon processors and run Android 8.0 Oreo and come with Moto Experiences that unlock AI opportunities.
moto g6 plus: Smart camera
The new moto g6 plus is featuring a 5.9 inch display, 18:9 aspect ratio makes the moto g6 plus slim and tall and easy to hold. Its Full HD Max Vision display delivers vivid colors and all the fine details. The user can capture the most creative shots using its advanced software and focus in an instant with Dual Autofocus Pixel technology.
Taking great pictures is not all of what the dual cameras can do. Thanks to its large f/1.7 aperture and 1.4um pixel size, taking pictures even in low light just got easier. The smart camera system supports text scanning as well as landmark and object detection. It also features a 3D glass back.
moto g6: Built to create
The moto g6 is designed to impress. Its 5.7 inch Full HD Max Vision display delivers vivid colors and fine details, while its attention-grabbing 3D glass back creates a gorgeous shape and look that stands out among other premium smartphones.
Advanced imaging software means studio quality portraits, artistic black and white shots, and hilarious face filters come to life through the dual rear 5MP and 12MP cameras. And it keeps getting better, instantly lock or unlock your phone or authorize mobile payments with the super-secure multifunctional fingerprint reader with the multifunctional fingerprint reader.
The 3000 mAh all-day battery will keep you going, and when it's time to charge up, get hours of power in minutes with the in-box TurboPower 15 charger. The powerful 1.8 GHz octa-core processor will also give you the speed you need to access photos, apps, and everything in between without stutter or lag.
moto g6 play: Play today, charge tomorrow
The moto g6 play works as hard as you do, helping you set aside plenty of time to play. Its powerful 4000 mAh all-day battery can last up to 36 hours on a single charge, giving you the ultimate peace of mind when out and about. Take it a step further with its powerful 1.4 GHz-core processor that gives you the speed to access photos, apps, and everything in between, without any stutter or lag time.
With a 5.7 inch Max Vision display screen and a 18:9 aspect ratio, the moto g6 play is also slim and tall. A 13 MP camera that includes phase detection autofocus (PDAF), which enables fast focusing for the sharpest pictures.
Keep your phone – and what's inside – safe! Instantly lock or unlock moto g6 play with a simple touch of the fingerprint reader located on the back of the phone.
And as with all Motorola phones, Google Photos is the default gallery for all your photos and videos. So, all your memories are automatically backed up, searchable and can easily be accessed, shared and edited from any device.
Availability and Pricing
The moto g6 plus will roll out from June 4th in Romania with a starting RRP (recommended retail price) of RON 1.399. The moto g6 will roll out from June 4th in Romania with a starting RRP of RON 1.099. The moto g6 play will roll out from June 7th in Romania with a starting RRP of RON 899.