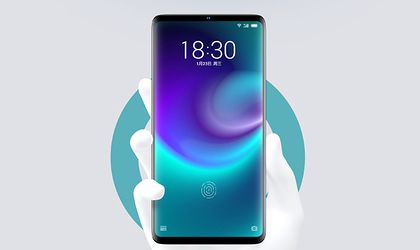 The changes made to the smartphones are just a few in the last years since the innovation in related fields are non-existing (charging batteries, audio connection etc.). So it is a surprise that the first smartphone without any holes in the case is brought to the market by a rather unknown Chinese company, Meizu.
Meizu Zero, the name of the latest device, comes with an all-screen ceramic body, with wireless charging, eSim and IP68 certification.
"We've created the Meizu zero; a truly uninterrupted design. With the hope to embracing minimalism to the extreme and realise our unbound ideas, we've finalized an all-screen ceramic 3D design after countless sleepless nights and prototypes. We believe zero is a perfect illustration of "mobility", "seamlessness" and "ergonomics", it brings the revolutionary technology from future to the present." Shows the press release quoted by Indiegogo.com.
Charging the battery and data transfer through USB cable has been moved to wireless via a dedicated charging base that can handle fast-charging and USB 3.0 transfer speed.
Calls are also using a new technology for listening, by putting your ear against the screen. The mSound 2.0 In-screen Sound Technology transforms the entire front display into an external speaker and, being holeless, it prevents dust from trapping in the speaker and mic grlls for better sound quality.
Very interesting is the eSim support, since the sim tray is eliminated. The sim is parked somewhere else and it has a digital management capability through which "users can efficiently manage multiple devices". The fingerprint reader is also integrated in the screen, an innovation that both Apple and Samsung are racing to develop.
Meizu was founded in 2003 in Zhuahai, China and started making smartphones in 2008.