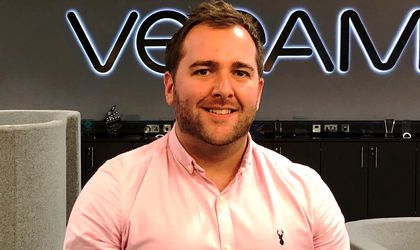 Veeam Software is the global leader in Intelligent Data Management. The company develops backup, disaster recovery and data management software for virtual, physical and multi-cloud infrastructures. Headquartered in Baar, Switzerland, Veeam has offices in over 30 countries and in Bucharest has the largest Sales & Management hub in EMEA. A multicultural and diverse team of more than 400 employees works for more than 325,000 clients worldwide.
Business Review talked to Matt Knopp, Talent Acquisition EMEA at Veeam Software, to find out more about the company and the Romanian team.
Business Review: How is VEEAM different from other companies?
Matt Knopp: We have grown locally at a very fast pace, evolving from zero to a company with over 400 people in only 3 years. We are a company that registered continuous growth in the last 40 quarters, and this is something that no other company has. Our customer satisfaction scores 3.5X higher than the industry average, which is proof that our products and services are highly valued by customers, helping them save time and money.
How do you characterize the workforce market in Romania?
It's a tough competition in the labor market, however, we are very competitive in terms of what we are offering. Veeam has special programs for each level of career and about 30 percent of our employees have been promoted in the last 3 years. We offer to our employees training platforms, with over 150 online courses, which focus on five strategic directions: business skills, communication skills, leadership skills, sales skills and technical skills. Although we are active in the IT field, we are looking for candidates in different fields of activity: specialists in sales, marketing, finance and technical assistance.
How do you attract qualified staff to the company? How do you keep it?
About 50 percent of our employees come through the internal recommendations program. Veeam offers its employees the best work environment on the market – we call it a Veeamazing work environment. Veeamazing starts with a modern office, free snacks and coffee, a wellness program (subscription to a gym, massages and yoga sessions in the office), in addition to the classic benefits such as organizing workshops for a healthy lifestyle (trainings on nutrition and sports activities). From a financial point of view, we have a goal-based rewards plan. From a non-financial point of view, we publicly recognize the performances and merits of those who make extra efforts, offering them rewards: the possibility to work from home or to travel abroad based on their results. This year we operated an upgrade to the healthcare services benefit and increased the value of meal vouchers, while is planning to add two more benefits, namely insurance for the employees' children and books subscription.
What career plan do you propose to those looking for a job at VEEAM?
At Veeam our team members can build an end-to-end career, following all phases of a product lifecycle: from marketing to sales, finance and technical support. We are committed to offering our employees a clear path to grow and develop within the company, by providing them with constant opportunities to evolve and acquire new skills. As a result, over 20 percent of our employees have been promoted, either vertically or horizontally since we started our operations in Romania. We want from our employees to be curious to discover and learn new things, to be oriented towards the results, when they discover a problem to come up with a quick solution and to want to become the best.
What are the company's future plans?
Our plan is to increase the staff by 50 percent this year, thus reaching 600 employees at the end of 2019. In this sense, we have expanded in a new office space, located in a modern A+ building recently built in the proximity of the easily accessible area of Grozavesti. We plan on continuing to grow our local team, by adding valuable, talented people to our hub.