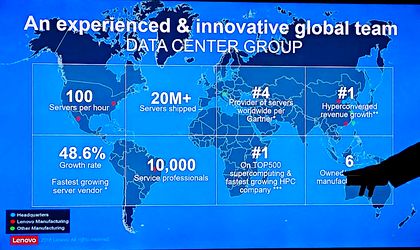 Lenovo is developing a research center in Bucharest, one of the few such centres it has in the world, and looking to hire another 125 people in 2019, doubling the current number of employees. Three years after the acquisition of the IBM server division, Lenovo Data Center Group has doubled its market share and is among the top three manufacturers of local data center solutions.
Lenovo DCG recorded a 12 percent market share in the second quarter of the fiscal year 2018 – 2019, up from 8 percent in the same period last year.
The Lenovo Data Center Group (DCG), a global leader in data centers, recorded very good financial results in Romania for the second quarter of fiscal year 2018 – 2019, ending September 30. It is the seventh consecutive quarter in which Lenovo DCG is increasing its presence on a market estimated at USD 54 million in 2018, a trend driven by investment in local team growth and networking of more than 250 partners and distributors. Lenovo's DCG portfolio in Romania includes servers, software and hyperconvergent systems that help companies get the information they need, simplify IT management, reduce total cost of ownership (TCO) and maximize operating time.
"Lenovo differentiates itself in the data center market with customer-focused solutions in the Intelligent Transformation process. We are ready to maintain our growth pace with investment in local team development, partnerships with industry leading manufacturers and a complex portfolio of devices, software and convergence solutions, unique on the Romanian market," said Madalin Florescu, sales leader Lenovo DCG Romania.
In 2016, the company opened Lenovo Lab, a research and development center that employs more than 100 specialized engineers and creates globally marketed solutions. In 2019, the division aims to double its team and become the most important development hub for Lenovo DCG in Europe.
Hyperconvergent infrastructure to simplify and streamline data management
In 2018, Strauss Romania, one of the world's largest coffee makers, selected Lenovo ThinkAgile VX technology to streamline data management. Present in Romania for 25 years, the company manages the largest network of coffee machines in HoReCa, which includes 7,000 vending machines and 14,000 smart coffee machines. The IT Strauss Romania team needed a solution to ensure infrastructure management and could scale it with little resources in the future.
"Lenovo offers us complete solutions. Servers, storage and networking solutions, PCs and laptops come from Lenovo. We chose Lenovo's hyperconverted infrastructure because we wanted a fast-set, manageable and cost-effective solution," said Aurelian Mester, IT manager, Strauss Romania. "So far, we have been very impressed with ThinkAgile VX. During the tests, we were able to complete a pilot migration process without data loss and a downtime of less than one second, so the operations did not suffer any interruption."
With the Lenovo ThinkAgile VX hyperconvergent solution, Strauss Romania has achieved a 50 percent reduction in power consumption in its on-premise data center as well as reducing cooling and monitoring costs, so it has seen a 50 percent decrease in the cost of total property.
Digital transformation
The digital universe is doubling in size every 2 years with more and more devices coming online. According to estimates, by 2020 there will be 20 billion devices connected through Internet-of-Things (IOT). Also, 27 percent of the companies will use blockchain technology.
Lenovo is boasting that its servers are the most reliable over a 5-year period, according to a survey made by IDC. "We are proud to have the least downtime for servers, working perfectly for 99.999 percent of the time", says Ales Simoncic, technical sales leader, Lenovo DCG SEE.
The company decided to gather under the umbrella of ThinkAgile and Think Systems in order to offer complete solutions to clients, from cloud transformation to business analytics and artificial intelligence.
Lenovo DCG has 52,000 employees worldwide, invests USD 1.2 billion in research and development, and opened 3 new AI innovation center.