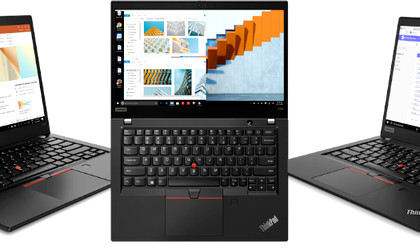 Lenovo has launched the latest ThinkPad devices: T495, T495s and X395. The new Windows 10 laptops are equipped with second generation AMD Ryzen 7 PRO and Radeon Vega graphics in order to complete the ThinkPad T and X family of products with thin and lightweight devices.
The two new models are weighing less than 1.5 kilograms and offer companies the superior mobile experience they need and impressive performance in key areas: safety, performance, flexibility in use and durability. Devices include all the specifications needed to provide the top experience that users expect from the Think family of products.
With four extra hours of autonomy in one load and 18 percent higher performance compared to previous generation, the new T and X series offer users significant upgrades without compromising on hardware security and experience use.
"These new ThinkPad range marks the first integration of AMD's benefits into our thin, lightweight T, Ts and X notebooks," said Jerry Paradise, Lenovo Intelligent Devices Group Commercial Product Portfolio Vice President. "With these ultra-mobile systems, users can enjoy a premium, first-class experience."
ThinkPad T495
As work environments evolve, users want smarter and safer devices that provide the essential specifications and benefits for the central role the laptop handles in their lives. Employees will get outstanding office or moving performance thanks to the second-generation Ryzen 7 PRO mobile graphics processor, Radeon Vega graphics designed to increase productivity, enhance multimedia experience and energy efficiency for an exceptional user experience. Thanks to Radeon Freesync technology, users will be able to enjoy high-quality pixels and a fluid refreshing rate without jams – perfect for movies, slideshows and casual gaming.
By adding a new impact-resistance testing procedure to the already comprehensive ThinkPad Mil-Spec durability test list, this new laptop family is tough enough to resist the shocks of a demanding day of work. This quality, along with all consumer-specific specifications, enables the ThinkPad brand to strengthen its leadership in transforming and supporting a smart business environment.
Higher audio-video experience
Users benefit from a superior screen quality with clearer images and more vibrant colors, without giving up battery life, resilience or sleek looks and slim design. Representing a novelty for the AMD series, the Full HD (1920×1080) 400-watt screen displays text and icons more noticeable under low light conditions, but uses less power compared to other similar PCs. Users will enjoy excellent screen resolution and comfortable viewing distance with the illuminated keyboard as well.
Brighter FHD screens offered on both ThinkPad T495 and T495s
Group calls can often experience problems such as poor sound, deformed voices, and distracting background noise. To reduce discomfort, dual-field microphones have been integrated into AMD models. They offer better 360 ° reception to improve the performance of VoIP conferencing, especially for noisy participants. Devices can also be driven by the new, flexible, mechanical support system that allows seating at almost any angle for multiple connections, platform stability and durability.
More smart security measures
The ThinkShutter slider provides physical security and protection to ThinkPad users, preventing eventual camera access from the outside. For an extra level of security, an optional ePrivacy filter, ThinkPad PrivacyGuard, was built into both the T495 and X395 models. This will protect the content displayed on the screen from the undesirable looks of those around you. In addition, users who want notifications about any glances around them can enjoy in just a few months the ThinkPad PrivacyAlert supplementary feature that automatically turns on PrivacyGuard. Unique for the second generation of Ryzen PRO processors, AMD Memory Guard technology (Transparent Secure Memory Encryption (TSME)) helps ensure protection against attacks if a hacker has physical access to the system. This notebook comes standard with incredible graphics, and as a result of this, it also comes with a very powerful processor to which raises it to the top of our best Ryzen laptop reviews . AMD Memory Guard Technology provides independent DRAM encryption and encryption, performing real-time RAM encryption / decryption operations.
ThinkPad T495s
Featuring all of these features and more, this ThinkPad laptop line is protected by one of Lenovo's most complex end-to-end security platforms, Lenovo ThinkShield. Data loss and devices or identity theft can happen at any time and can cost companies millions of dollars. Lenovo security features are effective, accessible and integrated to protect company data; ThinkShield offers security technology technicians safety for the entire product life.
Prices and availability in the US and Canada:
ThinkPad T495 (14 inches) is due to be available from May 2019, with a starting price of USD 939.
The ThinkPad T495s (14 inches) will be available from June 2019, with a starting price of USD 1,089.
ThinkPad X395 (13 inches) is due to be available from June 2019, with a starting price of USD 1,089.