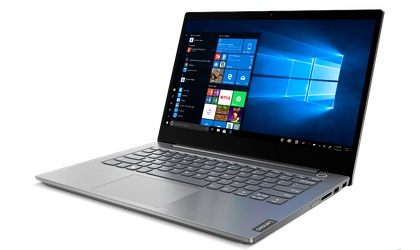 Lenovo launches in Romania the new brand of products dedicated to small and medium-sized enterprises. The ThinkBook series brings a new line of ultra-slim laptops, built to meet the mobility and performance needs of young professionals locally and to close a gap in the producer's line of laptops.
The Chinese producer, that still holds a 30 percent market share in Romania, brought the new business line to a price that it makes it affordable for SMEs. While TkinkPad remains the top-line for business, with prices that go up to several thousands of euro, ThinkBook comes with the business characteristics (a presumably 24 hours working shift, materials that can endure long usage etc.) but at a price below EUR 1,000.
Why ThinkBook
In this permanently connected world, employees need a simplified laptop, which they can use to collaborate remotely. Nearly 60 percent of what has been called the "new workforce" has grown by working, creating and communicating online through smart devices. Young employees, representatives of the millennial and Z generations, expect from employers devices that blur the lines between work, life and passion.
The ThinkBook range is specifically designed for SMEs who need consumer-grade laptops, with elegant design and affordable prices, but can no longer accept the lack of support services and extended warranties. ThinkBook allows developing companies to keep an edge in attracting tech-savvy young people with cool, yet cost-effective devices.
Inspired by users' desires
All over the world, companies are adopting a "Choose Your Own Device" (CYOD) trend. According to our studies, attended by 8,000 respondents worldwide, young employees are interested in the appearance of their laptops – colors, materials – but still prefer to choose their device from a short list offered by the organization they work for.
The ThinkBook S ultra-slim series, which includes 13 and 14 inch models, is designed for companies that do not want to compromise on essential services such as security, reliability and support, while meeting the demand for smart devices. that bring the familiar experience of the smartphone to the PC.
Ideal for any company, the new Lenovo ThinkBook 13s and 14s combine modern style and design elements such as the aluminum exterior with the integrated security features that consumers expect from the Think PC family.
Elegant and safe
ThinkBook laptops have a premium look, can be opened at 180 degrees and have an ultra-slim frame to provide a much larger screen in a portable design. Covered with a layer of aluminum and magnesium, which give the laptop Mineral Gray shade, these are very lightweight, the body of the ThinkBook 14s weighing only 1.5 kg, and that of the ThinkBook 13s, only 1.34 kg.
ThinkBook ultra-slim laptops integrate business-like features, which are rarely included in the more expensive alternatives of this device.
The features offered by this series include:
One-move authentication and system startup by touching the fingerprint sensor;
TPM 2.0 discrete standard to allow Windows 10 operating system to run security and encryption processes of user data;
The ThinkShutter slide cover that protects the camcorder;
Indium hinges to reduce WiFi interference;
Strong, clear sound delivered through the Dolby Audio system with HARMAN speakers;
Premium FHD screen with Dolby Vision (on ThinkBook 13s) for rich image;
Keyboard resistant to liquids, designed to support up to 60ml2;
Battery life up to 11 hours3 and RapidCharge feature for ThinkBook 13s, and battery life up to 10 hours3 for ThinkBook 14s.
Quick response
The Windows Modern Standby feature on the ThinkBook 13s brings smartphones to laptops in the business environment; the device can download emails, receive Skype call alerts and receive Windows application updates – even with the lid closed. In addition, it starts from standby almost instantly with the Smart Power On button or even the voice command.
Skype for Business certified dual microphones and HARMAN dual loudspeakers for clear sound enhance the collaboration experience in VoIP calls. In addition, dedicated Skype keys simplify one-touch dialing to answer a call and close it.
The technology inside a ThinkBook is designed for minimal jamming, with devices equipped with eighth-generation Intel Core processors, SSDs and powerful graphics cards, the Intel UHD 620 or AMD Radeon 540X. RapidCharge technology is also standard on the ThinkBook 13s, providing 80 percent battery capacity after one hour of charging. The standard price for this laptop is around 1000 dollars , which places it firmly into the high range of laptop computers available.
Support services
In the business environment, when a PC does not work, an unexpected chain of events can be created, which leads to lower customer satisfaction and affects the brand's reputation. ThinkBook offers a range of quality business services, including Lenovo Premier Support, warranty extensions, upgrades, and an international warranty service to minimize any downtime.
ThinkBook products are also equipped with integrated self-management functions, especially useful for smaller companies, without dedicated on-site support teams. Among them, Lenovo Vantage software provides tools for preventive hardware diagnostics, custom hardware settings, and automatic installation of critical updates.