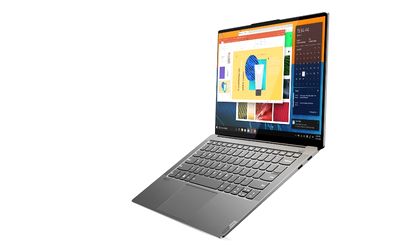 Lenovo announced at CES 2019 the new range of smart devices designed to transform and improve the way people live and work. Relying on the power of smart technology, through the Internet of Things (IoT) and Artificial Intelligence (AI), Lenovo's latest innovations offer new possibilities for users, encouraging them to overcome their boundaries and become more connected.
Lenovo united forces with Google – this time to develop Lenovo Smart Clock with Google Assistant, the newest device that complements the innovative product range for a smart lifestyle. Incorporating perfectly into any bedroom, Lenovo Smart Clock helps you relax in the evening, start your day off, control your smart home and listen to your favorite music through the connection to multi-room audio systems.
The latest Lenovo smart home device, the Lenovo Smart Clock complements a growing array that now includes Lenovo Smart Display and Lenovo Smart Home Essentials, supporting Lenovo's commitment to making it easier and more productive for families. For more information about this device, see the Lenovo Smart Clock article. Choosing the best WOW mouse can help you succeed in your gaming ventures, whether you play MMO games.
Lenovo Smart Tabs with Amazon Alexa
As a result of Amazon's collaboration, Lenovo created Lenovo Smart Tabs, a new category of 2-in-1 tablets that turns into smart full-function screens compatible with the Amazon Alexa wizard. These are indispensable for any home and are very simple to configure. Just place your Lenovo Smart Tab tablet in the compatible Lenovo Smart Dock and your tablet becomes a smart Show Mode screen with visual elements and precise sound that envelops space and highlights Alexei's responses from any corner of the room.
With Lenovo Smart Tabs, households will benefit from a full Android tablet that can serve as a hub for smart home devices. This makes the new 2-in-1 tablet and smart dock more valuable than the sum of their components, allowing new opportunities and ways to make home ownership easier.
Artificial Intelligence coupled with advanced audio and video technologies make Lenovo Yoga laptops of the new generation the smartest ever. Whether you are a digital nomad, an executive business, digital content designer or designer, the technologies embedded in the new Yoga S940, Yoga A940, Yoga C730 with AMOLED and the Yoga Laser Presenter mouse can help you solve your tasks faster and can make your life easier.
New Yoga S940 Smoother and smarter
The ultra-slim Yoga S940 notebook with Windows 10 guarantees data security and confidentiality without compromising productivity and comfort, thanks to a full suite of Lenovo Smart Assist-compatible AI features. Using artificial intelligence, this device allows you to automatically filter out more ambient noises and blurring distorted backgrounds during video calls. When you turn your head off your laptop screen, AI-controlled sensors on the Yoga S9401 can detect your absence and automatically lock the screen to prevent others from viewing the displayed data.
The device can also detect and alert you if someone looks at your screen or can increase your productivity by switching open windows to a connected external monitor, depending on the attention, intent and focus it can detect on you. The new Yoga S940 is the world's first Contour Glass laptop to wrap the frames – reducing the already thin margins for a simplified design.
Be creative with the powerful Yoga A940
For artists and designers, nothing is simpler than sketching with a pencil on paper. The all-in-one Yoga A940 was designed to complement this. Ideal for digital content makers, the Yoga A940 with Windows 10 is a powerful 27-inch, 27-inch touchscreen with 4K IPS with Dolby Vision, giving life to visual elements due to superior image quality. It includes a rotating hinge that allows tilting the screen in a convenient 25-degree sketch mode for outstanding flexibility and stability when drawing, sketching or writing with a digital pen.
The device also features Lenovo Precision Dial, a specially designed control solution for designers, photographers and video editors to help them make more accurate selections and adjustments. With the Lenovo Smart Assist AI-compatible, 1 wide-angle 4K screen and the Dolby Vision system delivering enhanced brightness, contrast, color and detail complemented by the Dolby Atmos speaker system for exciting sound, the new Yoga A940 is the ideal central element in the home or office of any content creator.
The new Yoga C730 with AMOLED
Equipped with JBL and Dolby Atmos speakers delivering immersive sound through any compatible headphone pair, the 2-in-1 Yoga C730 convertible laptop was impressed with a 4K AMOLED screen. AMOLED creates a more intense viewing experience with incredible color clarity and stronger contrast for a more qualitative resolution. Also, the screen emits less damaging blue and more enjoyable viewing at the same time while providing amazing picture quality. Portable and powerful, Yoga C730 features 8th generation Intel Core i7 processors, the Windows Ink function for connecting a Windows Hello digital pen, quick log-in, and clever comfort from Cortana and Alexa.
Twist and point your Yoga Laser Presenter mouse
Business users have plenty of objects they carry on them from one meeting to the next – laptops, phones, chargers, and more. Taking all this into account, we simplified two accessories by integrating them into one and designed the Yoga Laser Presenter mouse. With a simple twist, it turns from an ergonomic mouse with a resolution of up to 1,600 DPI, with high precision operation on almost any surface, in a fully functional (and vice versa) flat-panel laser. Exclude too many devices in the next presentation and opt for the latest Yoga mouse. Learn more about this device in the Yoga article.
Lenovo Legion gets stronger with more performance
The latest Lenovo Legion gaming range is stronger than ever – featuring a host of new high-performance PCs and a comprehensive array of reinvented gaming accessories and monitors.
Developed specifically for gamers, Lenovo Legion laptops have been improved over time. This year, these sleek and modern laptops have been optimized to meet the performance demanded by gamers. Available with the latest NVIDIA GeForce RTX graphics cards, Intel Core processors and Windows 10 Home processors, these laptops offer extremely fast game speeds to support the latest games, photo and video editing, series marathons and movies, or operating multiple tasks simultaneously. In addition, their design is discreet, with no luster or color to attract attention.
Lenovo Legion Y740 flagship offers the most avid gamer needs. The latest GeForce RTX 2070 Max-Q graphics card is available on the 15-inch model, giving it enough power to support the latest games. The larger, 17-inch version offers even more power, up to the GeForce RTX 2080 Max-Q, an uprade of previous generations in the GeForce GTX 10 series.
Both versions feature processors up to the eighth generation Intel Core i7, optional 32GB DDR4 2666Mhz memory and 100 percent CORSAIR iCue RGB anti-ghosting keyboard with retro-lighting system with over 16 million color customization options. The Lenovo Legion Y740 also features the Dolby Atmos speaker system with Dolby Sound Radar for rich sound, which puts you in action with Dolby's special speakers.
If you want to avoid blocking and jamming images, the Lenovo Legion Y740 optional 144 Hz Full HD (1920 x 1080) screen with optional NVIDIA G-SYNC has been designed to eliminate this. With support for Dolby Vision and a lighter screen of up to 500 nits, the Lenovo Legion Y740 will offer new entertainment sizes with clearer and more vivid images.
We refine the ThinkPad X1
In 2019, we upgraded the ThinkPad X1 Carbon and X1 Yoga laptops and brought a number of extensive improvements that will be appreciated by even the most critical of users. Furthermore, we have listened to our customers and developed the look and feel of these laptops to meet the demands of today's dynamic workforce.
Announcements on PC launches end with a selection of accessories that complement the digital ecosystem of desktop users at home or when they are away:
X1 Carbon generation 7th and X1 Yoga 4th generation are thinner and lighter than ever;
The X1 Yoga 4th generation is now available in a full aluminum housing;
New screen options, including a low-consumption 400-sheet FHD screen and integrated ThinkPad PrivacyGuard;
A new Dolby Atmos system with four speakers and four microphones with remote reception;
The latest Intel Core processors of the eighth generation;
New Cat16 LTE-A option and improved WLAN and WWAN antenna design;
ThinkShutter now available on both types of web cams, HD and IR cameras;
The new 43.3-inch ThinkVision P44w monitor that offers the ultra-wide capability of two edgeless screens;
A selection of accessories including the second-generation ThinkPad Thunderbolt 3 dock, a Lenovo Pro Stereo USB headset, the Lenovo VOIP 360 Speaker Camera Speaker, the Lenovo Powered USB-C Hub, the Lenovo 700 Ultraportable Bluetooth Speaker, and a Lenovo backpack Commuter.
New design variants will be evident on the new generation of ThinkPad X1 Carbon and X1 Yoga laptops. This is the first X1 Carbon model that can incorporate a carbon fiber casing integrated into the material, while X1 Yoga has been rethought and rebuilt from scratch. The ThinkPad X1 Yoga is now an all-aluminum finish, precision-machined and iron gray.
In addition, optimized security features such as the ThinkPad PrivacyGuard and Match-on-Chip fingerprint reader will ensure user protection. The experience of using the device has been enhanced with multiple viewing options, Dolby Atmos sound, four integrated microphones, and enhanced wireless connectivity features to ensure the best collaboration and productivity experience possible.