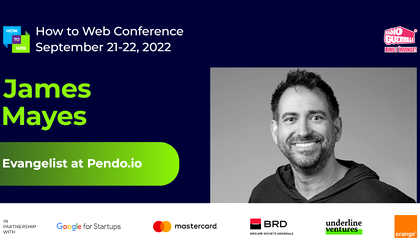 James Mayes, Pendo.io Evangelist and Co-Founder of Mind the Product — the world's largest community of product managers, will join this year's How to Web conference.
There are only two weeks left until innovation enthusiasts will meet at the 11th edition of How to Web, the flagship event for this industry in Eastern Europe. James Mayes, together with more than 60 other international experts will take the stage of the event with best practices for startups, unique insights on scaling teams and products, or seasoned perspectives from marketing and growth.
James Mayes is no stranger to professionals working in product, as he is the Co-Founder of Mind the Product, the largest product community in the world, with over 300,000 active members. He has also established himself as a thought leader in the industry, promoting  product development or establishing innovative teams for decades. Currently, in addition to his role at Mind the Product for more than a decade, James is also the Evangelist at Pendo.io, one of the global market leaders in product analytics.
In addition to James Mayes, How to Web will bring together leading representatives from companies such as UiPath, Bitdefender, Payhawk, Infobip, Google, Omniconvert, Kazoo, Mondly, and many more. Entrepreneurs, investors, freelancers, and any professional passionate about the digital industry, growth, or innovation will be able to discover proven business acceleration mechanisms.
September 8 is the last day when participants can purchase their tickets at the Early Bird price on the dedicated page: https://www.howtoweb.co/tickets/. Larger teams can contact the organizers directly for personalized offers.
The How to Web 2022 edition will take place on September 21 and 22 at the Face Convention Center Bucharest. In addition to the 4 stages that will present exclusive industry insights, the organizers are preparing a comprehensive experience with networking areas, startup exhibition, partner activations, an unmissable YouTube Music Party, and the Spotlight startup competition with the biggest prize in the region: almost half a million euros.
The event is created in partnership with Google for Startups, Mastercard Romania, BRD – Groupe Société Générale, Underline Ventures, and Orange Romania, and with the support of UiPath, Bitdefender, eMag Ventures, KPMG Romania, European Innovation Council, Tazz, Mobiversal, Fortech Investments, LAUNCHub Ventures , Endeavor, SeedBlink, Startup Wise Guys, Make IT in Oradea, Rubik Hub, and Vienna Business Agency.