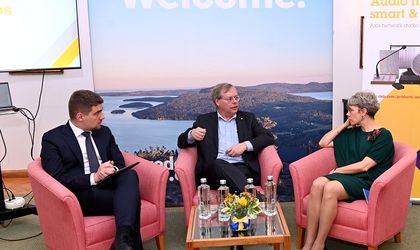 During an event organized in Bucharest, Martin Gren, co-founder of Axis, Therese Hydén, Ambassador of Sweden in Romania and Eduard Mititelu, Secretary of State within the Ministry of Research, Innovation and Digitization, discussed topics such as cyber security, the advantages of digitization and security market trends. The fact that technology has become ubiquitous in our personal and professional lives is largely due to the benefits that new innovations bring to businesses and citizens around the world by providing new, more efficient services.
"Sweden is one of the countries actively involved in everything that means sustainability. And we, as the Embassy, assume the same capacity – to continuously develop in a sustainable way, which does not affect the environment in any way. And this can be achieved with the help of technology", said Therese Hydén.
However, the depth of the integration of technology into our lives, the advancements and the increased awareness of its implications in society are also greater than ever and continuously accelerating.
"Technology directly influences the everyday life of people and companies. And the key to success towards a sustainable development is the realization of technological partnerships, which take into account the local specifics, and an uninterrupted investment in research. We are always looking for solutions to continue the process of innovation and digitization, and Axis Communications is a successful company and an example for the security industry," said Mr. Eduard Mititelu, Secretary of State within the Ministry of Research, Innovation and Digitization.
Axis Communications is the company that invented the world's first IP camera, AXIS Neteye 200, in the year 1996, and since then has continuously managed to reinvent the security industry and beyond. The company uses only open standards, avoiding proprietary protocols for a significant increase in scalability.
"The launch of the first IP camera allowed all people with an Internet connection to watch live images. From that moment until now we have developed the largest portfolio of hardware products dedicated to the security industry. We have also initiated a program dedicated to software developers, offering all partners all the necessary integration support. Romania is high-growth region and one of the key countries for Axis Communications at the European level, both from the point of view of the business itself, and from the perspective of the partner companies, which develop customized solutions for both the local and international market", said Martin Gren , co-founder of Axis Communications.
For the year 2023, Axis Communications issued 6 technological trends that will directly influence the security sector.
A move to actionable insight – The process of moving from simple incident detection towards suggesting how to properly react will be accelerated. The use of information generated by surveillance cameras can lead to rapid, real-time action to support safety, security and operational efficiency. Thus, from requests to call emergency services in the event of incidents, to re-routing traffic in cities, redistributing staff in busy stores, saving energy in buildings through more efficient lighting and heating, the analyses recommend or even initiate processes and actions designed to support human operators.
Use of hybrid architectures – 3 types of solution architecture have proven their superiority use case defined environment and combining them is the best solution for security systems, achieving the perfect mix between servers, cloud computing and edge devices. However, no architecture can be the perfect solution for all scenarios. The first step is to carry out an assessment, a process followed by the definition of a hybrid solution that makes maximum use of the advantages offered by the analysis processes of surveillance cameras. The data generated can be used in real time, and analysis of these streams can lead to operational efficiency.
Emergence of Cyber Security Sub-Trends – The importance of cybersecurity is also highlighted by the requirement to remain compliant. For example, the European Commission's proposed Cyber Resilience Act will put higher requirements on hardware and software manufacturers across all sectors to ensure the cybersecurity of their products, through fewer vulnerabilities at launch and better lifecycle cybersecurity management in product life. The security and surveillance sector will of course be included.
The act demonstrates both the importance and complexity of security. It can no longer be seen as one subject, but rather several interconnected fields. Some of these are well established, but others are developing.
Beyond Security – One of the more significant trends is to use surveillance cameras to make other areas more efficient. These have become powerful sensors, and the quality of the video information they capture, in all conditions, is increasing year by year. Today, through advanced analytics, cameras also generate metadata that adds another layer of information and value. This, of course, also improves their ability to support operational efficiency use cases in addition to security. There is now the opportunity to combine the generated video data with information captured by other sensors—monitoring temperature, noise, air and water quality, vibration, weather, and more—creating an advanced sensor network. Based on collected data each sector can do more qualified decision which ultimately leads to effectivity grow and optimization of resource usage.
Sustainability and climate change – Organizations continue to measure and improve environmental governance practices. However, given the extreme conditions of the past year, we expect a sharper focus, particularly on tackling climate change in 2023. It is clear that we are still not doing enough to stop the acceleration of global warming, and every sector will be expected to redouble efforts. For Axis, a key step has been the commitment to the Science Based Targets Initiative, which will see us set emission reduction targets, not only in our own business, but across our entire ecosystem.
An increased focus on regulation – Inevitably, given its pervasiveness and power, the technology sector as a whole and specific technologies come under strict, regulatory scrutiny. The focus should always be on regulating technology use cases, not the technology itself. And when it comes to AI, requirements for cyber security, data privacy, reducing the influence of "big tech" or establishing technological sovereignty, things are clear.
It's clear that technology companies in the security sector will increasingly need to adhere to more stringent regulations. In broad terms, this should be welcomed as ensuring business transparency and ethical practice continue to be critical.
The greatest opportunity for our sector continues to be in aligning continued commercial success with our responsibility to address the critical issues facing the planet and our population. As ever, we're optimistic that the combination of our human inventiveness, advances in technology, and ethical business practice can be combined to make the world a better place.