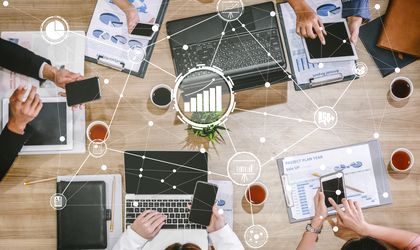 It's no secret that technology plays a critical role in this modern business world. The modernization of information technology (IT) infrastructure has helped generate innovative solutions that allow small enterprises to unleash their full potential. 
In this article, we've enumerated ways technology can make your business more effective and productive. 
Helps Automate And Streamline Operations 
Technology has allowed business owners and managers to stay on top of their business operations. With current technology, you can automate and streamline repetitive processes in every business area, from HR and accounting to marketing, sales, and even your IT department. 
With the right solutions, you can automate the most mundane tasks. As a result, you save time and allow your employees to focus on more crucial tasks. Automation also helps in reducing costs, particularly those incurred by human error. 
Moreover, technology has given rise to the IT-as-a-service business model. You may check out how managed IT services in Rhode Island RI and other areas provide the latest technological services to support the IT needs of small businesses. Thus, your business can maximize its technology-related aspects while moving on to more pressing matters.
Improves Communication And Collaboration Significantly
Technology has also greatly influenced business communications. The communication between employees and departments has improved over the years by using collaboration tools and project management solutions. 
This helps reduce communication gaps, allowing everyone to be on the same page and ensure timely action on initiative while also improving interdepartmental transparency and trust. Besides, with currently available technologies, employees can gain access to whatever information they need at any given time. 
In addition, with the work-from-home setups in most companies nowadays, technology has helped businesses to survive in terms of employee collaboration. With remote or hybrid work, communication platforms have helped employees move forward in the same direction while ensuring the completion of daily tasks. 
As businesses rely more on digital technology to establish a global presence and provide better customer services, they also become more at risk of cybersecurity threats. Fortunately, modern technology allows businesses to safeguard both business and customer data and create systems that protect the integrity of their business operations. 
Whether you operate a brick-and-mortar company or an e-commerce store, data remain the lifeblood of your firm. Thus, you want protection against data breaches if you're going to build trust and ensure business continuity. From encrypted passwords and antivirus software to data recovery and backup and cloud storage, technology can help secure your business against potential threats like cybercrime and natural catastrophes. 
Aside from digital protection, current technology also helps protect your physical business. Although most companies focus more on protecting their digital assets, you shouldn't forget about your company's physical defenses. For instance, burglars could force their way into your office or retail space, stealing valuable assets. 
To avoid these, cutting-edge smart security systems, including CCTVs and motion sensors, can help deter criminals. With these technologies, you can monitor your business from wherever you are. It also helps protect you against insider threats, preventing unauthorized access to intellectual property. 
Allows Better Marketing And Customer Service
In this increasingly competitive world, businesses must be aggressive while promoting themselves to thrive. Fortunately, the advancement of technology has resulted in a wide array of software and solutions that allow businesses to establish and increase the efficiency of their marketing strategy. 
Technology has allowed businesses to develop visually appealing websites to engage with customers on social media platforms. Likewise, technology like email marketing has allowed for more efficient communication with customers, allowing you to share news, special offers, and updates. 
Equipping your business with the right technology can elevate its performance and efficiency to meet the demands of modern consumers, and ultimately boost your overall bottom line. 
Makes Businesses More Innovative
Technology and digitalization have created new opportunities for businesses across all industries to become more innovative, developing services and products that were impossible in the past. For example, relevant software that allows you to analyze and forecast big data can help you make well-informed decisions and develop innovative offerings to stay competitive.
Furthermore, technology also provides your business with the agility needed to adapt to significant changes in your industry to deliver value in the long run, ensuring business resiliency and allowing you to stay relevant and even ahead of your competitors. 
Takeaway
The future is bright for companies willing to invest and adopt the change from in-office employee tools to cloud technologies. Indeed, technology can help your business become more competitive and efficient when used properly, ultimately pushing your organization towards success.