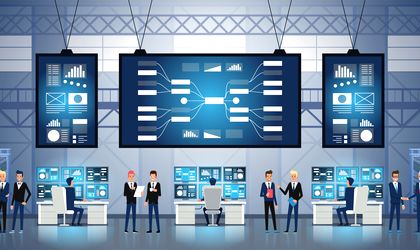 Technology has become a key contributor to the growth of modern businesses. However, as technology evolves at a lightning speed, businesses find it hard and challenging to keep up with the pace. 
This is where managed IT services prove to be valuable. In this article, we're sharing how outsourced IT can help your business thrive and become more successful. 
1. It Lowers Cost
Cost is a significant consideration for every business. As a business owner, you want to boost your profit while lowering your operation costs to survive and grow in the business world. Outsourcing IT services will cost your business. However, you're actually saving more compared to running an in-house IT team. 
Building an in-house team means you need to find the right talents and skills to fill your IT department. You'll spend time and money on job postings, hiring, onboarding, and training IT staff members. You also need to set aside a monthly budget for their salary as well as other perks like paid leaves and vacation leaves. 
Aside from labor costs, you also need to invest in the right technology. You need to equip your team with the right tools and software to do their job properly. Also, if you want to create a comprehensive IT infrastructure, then you also need enough space to accommodate your equipment. 
All these can eat up your business's budget. And for small businesses, this is simply impractical. 
However, outsourcing your IT functions to a dedicated firm can lower your capital expenditures. You don't have to find the right skills or buy the technologies and tools they need. You simply find a managed IT firm, and you get both expert skills and top-notch technology in one go. Plus, there's also the benefit of having predictable monthly IT costs. 
The money you save from outsourcing your IT functions can then be used for other core processes such as marketing or product development, helping your business grow and thrive. 
2. It Provides Diverse Expertise And Higher Scalability
As technology continues to evolve, your IT team also needs to adapt to these changes to support your business's growth. Unfortunately, with an in-house team, you're usually limited to your employees' knowledge and experience. Unless you provide them with the necessary seminar and training, you can expect limited expertise in various IT-related situations and knowledge of the latest technology trends. 
However, this is not an issue with a managed IT service company. With a managed service model, you hire an entire team of IT experts. This means you get complete access to different professionals with different expertise and skill sets. 
In addition, it's easier to scale your IT services as your business needs grow. With its pay-as-you-go service plans, you can scale up your IT solutions during the busiest times and scale down when needed. 
Also, reliable managed IT service providers often take a shared approach which means you can remove or add specialists from your dedicated team as needed, depending on the demands of your current project. 
3. It Offers Robust Security And Ensures Compliance
Technology may provide convenience and make businesses more efficient, but it also comes with inherent risks that can stop your company's growth. You need to guard against numerous cyber threats if you want your business to survive. 
An in-house team can help implement basic security protocols to protect your business. However, they're often limited in terms of the proper tools or individual expertise to ensure strong protection. 
Outsourcing IT services allows you to get more robust security and protection for your business. It ensures that experienced cybersecurity experts handle your system security. Not only that, but managed IT services also ensure that your IT processes and systems are compliant with industry-specific and government regulations. 
4. It Ensures Better Efficiency And Productivity
Improving business efficiency and productivity is one of the primary goals whenever a business invests in new technology. However, outsourcing your IT functions can do this better. 
With a reliable IT services provider, all IT-related functions are optimized and its requirements are met. You can rest assured that all technologies are regularly updated and working efficiently while resolving potential issues as they arise. They also help with strategic automation in the key areas of your business. 
With your business systems working smoothly and automated, tasks are completed faster and more efficiently. Also, it helps remove the burden of monitoring and managing repetitive IT-related issues and functions, freeing your in-house IT team as well as employees to focus more on core business processes and workflows, resulting in increased productivity. 
Take Away
Reliable managed IT services can make the difference between a growing business and one struggling to stay open. As the world continues to adopt digitization, professionally managed IT services only become more on-demand for many good reasons–from optimizing core IT functions at a lower cost while allowing you to focus more on the company's growth.