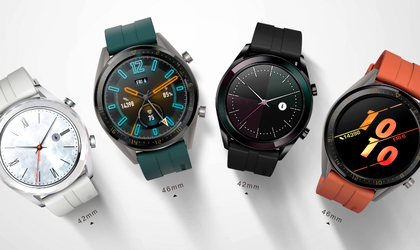 Huawei Consumer Business Group sold globally over 2 million Huawei Watch GT smartwatch since its launch in October last year, becoming the most popular smartwatch for the Chinese company. According to a report by International Data Corporation (IDC) analyst and research company on global sales in the market for portable gadgets in the first quarter of the year, Huawei posted an annual growth of 282.2 percent over the same quarter last year.
With over 5 million portable devices delivered in the first three months of the year, Huawei is ranked third among global manufacturers on this market segment. The other producers on top are Apple, Samsung and Fibit.
Since its inception, the Huawei Watch GT has enjoyed media and consumer appreciation, for things like battery life. The device is powered by Huawei's Lite OS system and features a dual-chipset architecture that delivers a much longer battery life. Users can now expect – under normal conditions of use, physical activity monitoring, sleep and heart rate activation, as well as receiving notifications – the Watch GT battery to lasts for 2 weeks until it requires charging. In fact, a study earlier this year shows that 81% of consumers buy Watch GT due to battery life.
Other technological innovations that Watch GT users can benefit from:
Huawei Truseen 3.0 technology can monitor heart rate for an entire day (24 hours) in real time, providing detailed health feedback. This technology has been nominated for the MWC 2019 Best Wearable Technology Mobile Award;
Huawei Trusleep 2.0 helps users identify 6 sleep problems and provides customized tips for boosting quality;
Over ten sports monitoring functions that help consumers track and observe exercise regimes and programs.
In the spring of this year, Huawei launched two new editions: the 46 mm active edition and 42 mm Elegant Edition, giving consumers the choice of a wide range of models.