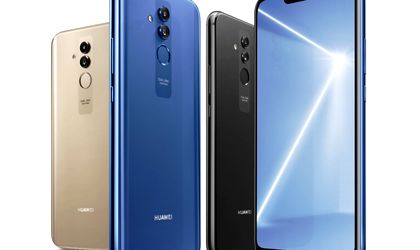 Huawei announces the local availability of Mate 20 Lite, the smartphone equipped with four artificial intelligence cameras and the latest EMUI 8.2 interface. The target consumers are entrepreneurs and early-stage entrepreneurs, but it is also good for personal use.
The 6.3 inch screen smartphone is supposed to fit the needs of young people preparing to enter in the business environment that are more demanding when choosing a smartphone. Mate 20 Lite comes with four photo cameras equipped with artificial intelligence, two main on the back and two on the front.
To significantly enhance the user experience of photos taken with the smartphone, the two front cameras were equipped with 24 megapixel or 2 megapixel sensors that can produce a "bokeh" effect, comparable to the made by professional photographers. Mate 20 lite uses artificial intelligence to allow its front rooms to recognize over 200 scenarios in eight categories: Blue Sky, Beach, Plant, Night, Stage, Flower, Indoors, and "Snow", all optimized with a unique set of configurations.
The main cameras of the HUAWEI Mate 20 lite have 20 megapixels and 2 megapixels and can recognize over 500 scenes in 22 categories, including "Portrait", "Blue Sky", "Snow", "Ancient Building", "Fireworks" "Plant", "Cat", "Dog", "Text", "Food", "Car" and "Night", this being possible thanks to the artificial intelligence system that has previously studied over 100 million images . Specifically, the smartphone automatically identifies the scene to capture and automatically adjusts the shooting options to give you a great picture so that users focus less on camera setup and more on finding special moments.
Also, HUAWEI Mate 20 has integrated the new Qmoji 3D system, as well as five types of professional lighting effects, including "soft lighting" ("Rembrandt light"), "butterfly lighting" and "stage lighting".
The smartphone is also equipped with Kirin 710 chipset and the latest EMUI 8.2, the interface that becomes not only a communication tool, but also a personal digital assistant who knows and understands the preferences of the users.
The product is available in HUAWEI authorized partners' offer, in three color variants: Black, Platinum Gold and Blue Sapphire.
The phone size is 158.3 mm x 75.3 mm x 7.6 mm and a weight of 172 g. The screen is 6.3 inch, 19.5 : 9 ratio and FHD+ at 1080 x 2340 pixels, with a density of 409 PPI. The processor is Kirin 710 Octa-core(4 x Cortex-A73 2.2 GHz + 4 x Cortex-A53 1.7 GHz) and 4 GB RAM with 64 GB storage. The phone is dual-sim and the battery capacity is 3750 mAh. The recommended price is RON 1,600 lei.