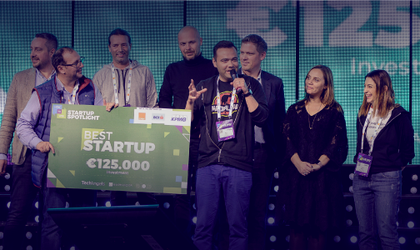 How to Web 2020, one of the largest tech conferences in Eastern & Central Europe, is set to become Startup Spotlight, the post-COVID version of How to Web. How to Web Live, a free webinar series, and Online Workshops, a paid workshop series, are also features of the new concept of the event.
Startup Spotlight Online will be a support program for startups held over two months. The best startup is also set to receive an investment worth over EUR 100,000. Over the course of the two-months program, the 40 competing startups will meet with over 70 leading experts and investors, among them Des Traynor (Intercom co-founder), Marius Tîrcă (UiPath co-founder), Mada Seghete (Branch.io co-founder), Marvin Liao (investor & consultant, ex-500 Startups San Francisco), Irina Scarlat (Global Head of Growth at Revolut), Chris Massey (product expert and curator Mind the Product) and Raul Popa (co-founder and CEO at TypingDNA), and many other top professionals from companies such as Shopify, Dropbox, Booking.com, Omniconvert, but also some of the most important investors in Europe, such as Irina Haivas (Atomico), Carlos Espinal (Seedcamp), Andrei Brașoveanu (Accel), Ondrej Bartos (Credo Ventures), Dan Lupu (Early Venture Capital), Dan Mihăescu (Gapminder Venture Partners), Jon Bradford (Dynamo VC), Mălin Ștefănescu (TechAngels) and representatives of investment funds such as Notion Capital, 500 Startups Istanbul, Launchub Ventures, Early Game Ventures, Smok Ventures, Gecad Ventures, Simple Capital.
More than 350 startups are expected to apply for the program, from which the best 40 will be selected to compete in Startup Spotlight Online. Applications are open until September 28, while the program will run between October 5 and December 4. The prize worth more than EUR 100,000 is offfered by TechAngels, Gapminder Venture Partners and other private investors.