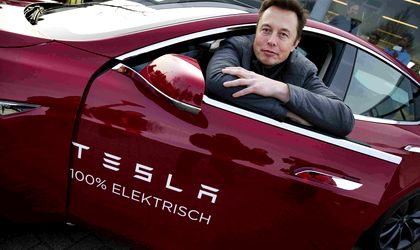 Elon Musk may need to tap capital markets for more than USD 10 billion by 2020 to fund Tesla Inc.'s automaking operations, new products and an expected expansion into China, according to Goldman Sachs Group Inc, according to Bloomberg.
While Tesla has access to new bonds, convertible notes or equity, each of those choices has downsides for investors, Goldman analyst David Tamberrino said in a research note Thursday.
"We see several options available to the company to refinance maturing debt and raise incremental funds, which should allow Tesla to fund its growth targets," Tamberrino wrote. "However, issuing incremental debt (including priming current creditors with secured debt) may weigh on the credit profile of the company while issuing additional equity or convertibles at lower premiums would dilute current shareholders." A representative for Tesla didn't immediately respond to a message seeking comment outside of normal business hours.
Cost Cutting
Musk, who co-founded the electric-car maker and serves as chairman and chief executive officer, is furiously cutting costs to avoid raising capital this year. He insists he won't have to, cutting off analysts who asked probing questions on a conference call this month. The company is struggling to meet production targets on its first mass-produced vehicle, the Model 3, and burned through more than USD 1 billion in the first quarter.
Goldman joins a growing chorus of investors and analysts who see additional financing as not only wise, but vital. Moody's Investors Service, which downgraded Tesla's credit rating further into junk in March, expects Tesla will need to raise about USD 2 billion to offset cash burn this year and account for debt maturities through early 2019. CreditSights has a similar expectation, though that could be less if the company follows through on its production targets or borrows through its bank credit line.
'Mathematically Correct'
"Tesla's view that it doesn't require a debt or equity raise this year is mathematically correct, but highly imprudent from a credit and risk perspective if followed," Bloomberg Intelligence analyst Joel Levington said in a report last month.
Musk said in 2016 that Tesla's ambitions could cost tens of billions of dollars. He added that he didn't plan on spending billions more right away after a
tour of the company's battery factory in Nevada, which was under construction at the time.
The company set up a unit in China this month, taking a step closer to producing electric vehicles in the country and setting up its first gigafactory outside the U.S.
The shares, which were little changed at USD 285.12 in early New York trading on Thursday, are down about 8 percent this year, giving the Palo Alto, California-based company a market value of $48.4 billion. Its 5.3 percent bonds due 2025 were last quoted at 87.25 cents on the dollar, according to Trace bond-price data. Tesla had about USD 2.7 billion in cash at the end of the first quarter.
Goldman's Tamberrino recommends selling Tesla shares, and sees them slumping 32 percent to USD 195 over the next six months. The stock has 10 buy ratings, 11 holds and 9 sells, according to data compiled by Bloomberg.