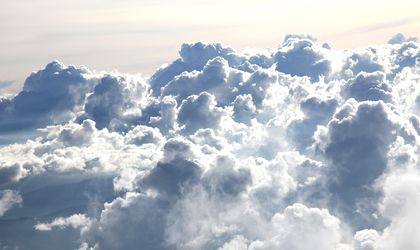 While many companies are starting to see the silver lining of cloud computing, the uptake of these services is still in the pioneering stage. The appeal of cloud is that it adapts: it can suit the interests of both a corporation and an SME, but can also serve entities in the public sector. An ecosystem has already started to form around cloud, but like any untrodden path, there are still a lot of information gaps and misconceptions about what cloud can do and when it is suitable.
Otilia Haraga
Market status
The value of the worldwide cloud computing market is set to reach a total of USD 150 billion by 2014, according to Gartner. This means that it will have doubled within four years from 2010, when it totaled USD 68 million.
A local bird's eye view is offered by Pierre Audoin Consultants (PAC), which predicts that by 2015, the Romanian cloud computing market will see a 40 percent boost.
However, PAC does not provide a concrete value for the cloud market in Romania. This is because there are several types of cloud – the most important being public and private.
"The public cloud in Romania generates rather small business, falling in the mostly free-of-charge category of services. The private cloud is generally dedicated to large companies in utilities, telecom, retail and the banking system, and its adoption in Romania is slightly on the up. These companies are in fact the first entities that will adopt this technology," Valentin Tomsa, general manager of SAP Romania, tells BR.
In developed states, the degree of cloud adoption is higher than in Romania. "The reality is that cloud needs are lower in Romania than in Western Europe or the United States. IT projects for the Romanian market rarely need higher computing power on demand and also seldom need capacities to simultaneously cater for a very numerous public," Alexandru Lapusan, CEO of Zitec, tells BR.
Still, IDC estimations are that the local cloud computing market is set to grow at least five times faster than the IT market at large between 2011 and 2015.
IDC also predicts, in a survey carried out for Microsoft, that 14 million new jobs will be created in the world by 2015. "In the case of emerging economies, the pace will be faster. The split will be pretty much equal among large companies and SMEs. Moreover, the split will be equal across the various industries," Daniel Rusen, product manager for Office 365 at Microsoft Romania, tells BR.
Together with mobility and business intelligence, cloud computing represents "one of the three priorities over the next years in the technological development of companies," Tomsa adds.
Today, 40 percent of all the businesses surveyed by KPMG are aware of the existence of the cloud – with 19 percent of them currently evaluating the possibilities and 21 percent actually using or testing the technology, Aurelia Costache, partner in advisory at KPMG, tells BR. Large organizations have already migrated email, CRM, components of HR, point of sale, hosting, and other applications to a cloud environment.
Another 13 percent of companies are beyond the testing stage and are now transitioning core business processes. "Even more striking, one in ten enterprises are already running core IT functions in the cloud," she says.
"Cloud computing is evolving and we expect it to be implemented on a large scale in three-four years. We believe that the cloud will be most advantageous to the government, healthcare and education sectors, as the stakeholders include large sections of society. However, companies will be the first to adopt the cloud," says Costache.
otilia.haraga@business-review.ro
Read and download the full report on cloud computing, including a list on cloud computing providers, by registering on the Business Review homepage – www.business-review.ro, under the  Cloud Services Market Report section. You can spot it below the Current issue section.