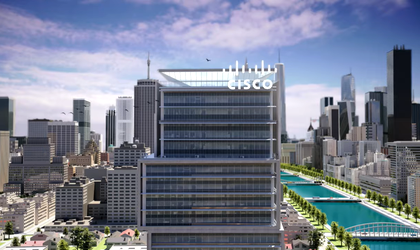 Today, Cisco unveiled at Cisco Live! a series of innovations that will help customers reimagine their applications, empower their teams, secure their enterprises and transform their infrastructure, while yesterday the company announced the availability of purpose-built technology and solutions that help companies reimagine how they work – and keep employees safe.
Between March 31 and April 1, 2021, Cisco is organizing the Cisco Live! virtual global event, with over 90,000 customers and partners in attendance from over 200 countries around the world. The two-day digital experience with the theme, "Turn IT Up," will celebrate customers and partners who are the IT heroes of their organizations, especially during these challenging times.
The past year has shown us we're stronger together and that technology can empower us to find new ways to connect, secure and automate a world that is ever-changing and increasingly digital.
"We are at a unique point in time in which we can shape the future ahead of us, and to do that, we need the right technology to form the foundation," said Chuck Robbins, Chairman and CEO at Cisco. "With the innovation we are delivering this week, our customers around the world will not only be able to connect, secure and automate the future of IT, but also leverage technology to truly power an inclusive future for all."
New Solutions Enabling Trusted Workplaces and Safe Return to Office
Whether an organization's goal is to bring people back into the office, or to evolve support for a remote or hybrid workforce, Cisco's new innovations – and the breadth of Cisco's networking, security, cloud and collaboration portfolio – support multiple options to create a Trusted Workplace that helps enable a Safe-Return-to-Office and a Secure Remote Workforce: from automating, securing, and scaling network connectivity, to social density and proximity insights for employee health and safety, to securely bringing people together to work however and wherever they want through Webex and collaboration devices that leverage AI, sensors and alerts.
For a tour of these Cisco technologies, watch this video.
Recent research shows:
A real fear of returning to the office, with 95% of respondents feeling uncomfortable about returning to the office given the current health crisis1
The desire for more advanced tools, with 96% of respondents wanting intelligent technology to improve work environments2
More prioritization of the employee experience, with 86% of respondents stating that empowering a distributed workforce with seamless access to applications and high-quality collaborative experiences is important or very important – this jumps to 95% for companies with 1000+ employees3
In response, organizations are looking to transform their workplace for a hybrid workforce and create a more inclusive future of work for all. This transformation requires organizations to prioritize adaptable, engaging, and trusted work experiences for their employees, customers, communities, and ecosystems. Business agility and resilience are core to this transformation, with research revealing 90% of CIOs and IT decision makers saying that, in the future, business agility and resilience will be inextricably linked 4. This exemplifies the need for tools that connect, secure, and automate technologies and applications in order to transform at scale and bring the workforce and workplaces together – regardless of where employees work.
Cisco's portfolio and deep expertise in helping customers navigate challenging technology transformations, provide the tools to:
Empower a workforce to securely work from anywhere, on any device, anytime.
Enable a safe return-to-office by transforming offices and facilities optimized for productivity into trusted workplaces connected for health and wellness.
Break down the barriers of different geographies, personality types (such as introverts and extroverts), language preferences, and tools to fully realize communication experiences where everyone is included.
"As we think about the return to office, Cisco is helping our customers find solutions that work best for their teams. Whether they are in the office, at home, or on the road, every employee deserves the best experience," said Todd Nightingale, SVP and GM, Enterprise Networking and Cloud at Cisco. "We are committed to delivering solutions with the simplicity, agility, and resiliency businesses require to meet today's needs and thrive in the face of tomorrow's challenges."