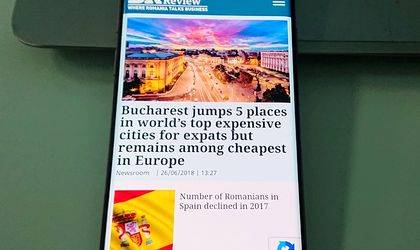 Samsung Galaxy S9 Plus is one of the best smartphones on the market right now. Together with devices like Huawei P20 Pro and iPhone X it sets the standard for all other hundreds of phones available.
If it's worth RON 3,900 – 4,000 is another question. But right now we shall see how it works on a daily bases, as a main phone.
First of all, it is already one year since the smartphones become small computers, able to keep up when used as such, plugged into a big screen and a keyboard. The technology is here and it is amazing; most probably, in the near future we shall see even more uses for the small devices that we carry around all day and has become an extension of ourselves. It might not be the case for everyone, since not everybody is moving up with technology at the same pace, but it is unavoidable.
So, having the best the industry offers is not so crazy anymore or just a fashion/status statement. Sooner or later it will be in everyone's hands.
This is the way we should look into the smartphone industry due to the fact that this devices are the first things we are connecting with the technology and the entire world.
Better than S8 Plus
No matter from what angle we are looking at it, S9 is better than S8. But it is not a huge update from the phone launched last year and this might be the reason why people that already have the S8 don't really have to upgrade. Considering that people still want to use a mobile device for two years before upgrading, and the cost is an important fact here, it is only the marketing that forces the producers to come up with something new every other year.
In terms of performance, S9 is flawless, equipped with anything you need for daily use or even for gaming. First of all, the 6.2 inch screen is great, by far one of the best you can find. With a 18.5:9 AMOLED panel it has the same Quad-HD+ 2560×1440 resolution as the predecessor but brighter and more stunning.
It is no wonder why Samsung has the best screens on the market since is one of the biggest producers (until recently was the screen producer for Apple also). Good viewing angles and outdoor visibility, with vivid colors and a warm overall feel.
The design of the phone is the same as S8 with curved glass and an aluminum rim, that feels sturdy in hand. But it is big and difficult to keep in the pockets of your pants. Even more if you want to keep it safe (and think it's safe) you will get a back cover or a flip cover and that will only make it bigger. So if you need a pocketable phone, you might go for the regular S9.
It is interesting that we can already talk about 'mobility' when we consider phones, which should be by definition 'mobile'. But since the flagships are over 150 mm in length we shall probably see in the future a differentiation between 'mobile phones' and 'phones', just like we see  in laptops.
When used, S9 Plus is ok even if it is big and you can almost use it with one hand. The fingerprint sensor is still on the back of the phone, but lower from the camera, so it is easier to use. However it is not the best feature of the phone, not seeing the fingerprint from the first touch all the time.
The phone has a 3.5 mm port for headphone, which is great, wireless charging, microSD slot/dual sim, is water-resistant (IP68) and has a home button. It is not more you can ask from a smartphone these days.
Performance, battery and camera
The latest Snapdragon 845 is better than the old 835, but in terms of usability it is difficult to see the difference, as I can see on Nokia 8 Sirocco (packed with 835). The same for Exynos 9810 Octa processor. But apart from the benchmark tests, that I'm not interested in while talking about usability, the performance is best.
Bixby, the personal assistant has no noticeable improvements, we have to wait the autumn of this year for the second version of Bixby to see how it will be better. But since I'm not a regular user of Bixby (or any other voice activated assistant), I don't see it as a problem.
Voice quality is very good, it even has VoLTE with some mobile providers, and the speed data traffic is as high as it can get.
The battery is the thing that is still 'in the old days' in terms of technology. It can go for a whole day even when hard-used, but that is just the standard today, not more. Anyway, the 3,500mAh battery is helped by software to close any unused apps and save power. You will see that after a few days of using, not right away.
The camera and verdict
Apart from enough performance power the phones today are fighting over better and better cameras. The more recently launched Huawei P20 Pro is seen as a winner right now (haven't test it yet) but S9 Plus gives pretty much all you need in terms of photography.
The dual camera on the back has a good enough aperture (f/1.5 and f/2.4) for photos in low-light and very good colors for the rest, helped by dual-pixel autofocus and optical image stabilization.
Emoji AR are pretty much gone, since people are not using it, and slow-motion video capture it is kind of the same path. It is a fun feature to use when partying with friends, but not much more. Also, as the phone will tell you, it is not a feature to use in artificial light, as you can see in the video I took when getting coffee.
The verdict is quite easy: sooner or later you will have a phone with this specs and performances. If you own a S8, probably you will wait for the next flagship, but if you don't and you are willing to pay for it, it is worthy. Or you can wait for the price to go down a bit more.